The 1950s were nostalgic times of peace and tran­quility in America. World War II and the Korean War were over and millions of Americans married and moved into houses in new suburbia. Rock and roll was infiltrating the teen­age population and clothing, especially for women, became highly fashionable, often mimicking the haute couture of French designers. Whether for school or church, little girls always wore dresses, and like their moms, they add­ed accessories such as white gloves, hats and dress shoes. Stores like Marshall Field's even sold matching mother-daughter dresses so that little girls could feel as elegantly well-dressed as their moms.
Madame Alexander's dolls of the 1950s beautifully document the quality of styles and designs from that era. The early Alexander clothing actually had darts at the bust line and lined bodices, features that disappeared later because of the labor intensity and cost. Slips were made of taffeta with layered rickrack tulle. The fabrics used for outfits were the best–satin, taffeta, cotton, wool felt or other lovely selections. It is unfortunate that some materials did not fare so well over time. Many of the taffetas faded and the wool felt deteriorated, leaving holes or pockmarks. The cottons, on the other hand, are so sturdy and colorfast that they can be gently laundered and ironed to look like new. The velvet trims are not colorfast and must be removed before washing.
Some of my favorite Madame Alexander outfits are those made for the summer season. Cissy, Lissy, Cis­sette, Elise and Wendy all had them. Like the mother-daughter dres­ses, each doll had matching, multi-piece coordinates. There were swimsuits with matching robes or wrap skirts, complemented with hats and sandals. The suits themselves are all one-piece outfits with fitted bodices and string ties around the neck. When tied around the waist, they become circular skirts to create a new fashion look.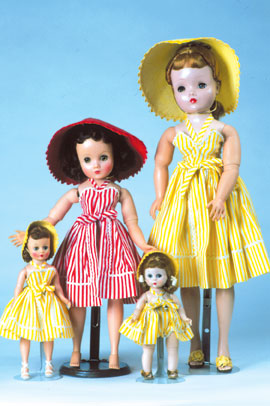 Many of these ensembles were yellow and white striped, trimmed with white rickrack.  Elise and Wendy had red and white stripes. Other varieties are usually bright floral prints. Suits without wrap skirts were sold separately as were some of the two-piece outfits. Some of the outfits were sold on the doll and had matching straw hats and sandals. Ironic­ally, Cissy and Cissette with molded high-heeled feet, had to wear high-heeled sandals, which are not the most comfortable in the sand!
Another group of clothing in Alexander's summer war­drobe consisted of three-piece outfits, usually featuring a blouse, shorts and skirt. Lissy had the same outfit in stripes and ginghams. Cissy had similar outfits. A more unusual one is the white, three-quarter-length jacket with navy line shorts and a polka dot halter-top.
Cissy sported several nautical cruise wear coordinates, usually with an emblemed blazer, halter-top and slim fitting shorts or pants. Cissy has a rare three-piece outfit of white cotton trimmed with red and blue stripes and brass buttons. The full skirt buttons down the front, as does the white puff sleeve blouse. The white under shorts complement the blouse with coordinating red and blue stripes. Together with her red flowered hat, red heels and sunglasses, Cissy is ready for a mid-summer day excursion.
The extensive summer war­drobe created by Madame Alexander represents some of the loveliest and most fashionable doll clothing of the 1950s. Her passion for quality and style are re­flected in her de­signs and modeled so exquisitely by her hard plastic dolls. Cissy, Lissy, Elise, Cissette and Wendy re­flect an elegance and quality unsurpassed in the doll industry. Madame Alexander captured a part of American fashion history with her doll clothing that will fascinate and attract us forever.