Back in 1967–the "summer of love"–the Beatles were asked to contribute a song for a televised Our World concert. Surrounded by balloons and heart-shaped signs, Lennon and McCartney harmonized and rhapsodized how "All You Need is Love." The performance, which was broadcast globally into villages and valleys, tried to lay the groundwork for international peace and understanding. In Russia, in the town of Odessa, two young people were deeply affected by the Liverpool lads' urgings. Young Alexander and schoolgirl Marina were touched by the singers' refrain of love as a potent healing tool.
Decades later, Alexander and Marina are now married artists. They've traded in their Black Sea dwelling for a Big Apple address, but the talented pair is still under the influence of John and Paul. When Alexander Royzman is asked about his collaborations with wife, Marina, he often quotes the Lennon composition. For instance, when he's queried about which Royzman sculpts and which Royzman designs the costumes, he responds wisely: "We don't consciously think about how to divide the work. Usually we supplement each other on every decision, and it's easy to get over any disagreement. To produce a doll, 'all you need is love.'"
An affinity for public heroes is not unusual, but when it comes to the Royzmans, it is startling to learn that their dedication is to Lennon, and not Lenin. For a decade or so, the couple had been inextricably connected with the world of ballet and the Russian performers who catapulted that medium into worldwide recognition. Known for their breathtaking interpretations of Nureyev and Nijinsky, the Royzmans were the unofficial ambassadors of glasnost.
They are quick to point out that "dance is a universal language understood by everybody, without any need of translation. Ballet was the first major art form that introduced Russian culture to the Western world. Diaghilev's Ballet Russo opened the doors to the Russian avant-garde, and the ballet allowed the Western public to see the great performers Anna Pavlova and Vaslav Nijinsky, both of whom became immigrants later in life. This plays a close chord to our feelings."
In 1990, the Royzmans immigrated to the United States, where they chose New York as their new home base. "This was the city of John Lennon. I wanted to settle here," exclaims Alexander.
Did the couple find it difficult to adjust to the hustle-and-bustle? "Life is full of sudden and unexpected turns," philosophizes Marina. "I know that we are now at the place where our destiny has brought us. Also, it's impossible not to become 'American' in some ways, especially with our kids who consider themselves nothing but American. I do try to teach them about where we came from, and they do speak Russian at home–though with a New York accent."
Marina and Alexander are the beaming parents of three artistically thriving offspring: Anna, age 16, a budding Julliard pianist; Beata, age 13, a singer/dancer in training; and Eugene, age eight, a neophyte artist.
The Royzmans are smitten with their home life, which effortlessly blends creativity with domesticity. It is ironic that Marina and Alexander decided to tie the knot, in 1987, while collaborating on a book about Leo Tolstoy. The Russian novelist is famous for his caustic quote: "Happy families are all alike, every unhappy family is unhappy in its own way." The Royzmans prove that the revered grandfather of Soviet prose was mistaken in his cynicism. They are delighted that their marriage still evolves and that their children are uniquely making their marks. "I am first of all a mother, and I am proud most of all to see my children growing up smart and independent before my eyes," asserts Marina. "My happiest day was probably Anna's first solo recital."
Alexander speculates about what their mutual support might breed. "We have started a new series based on mythology and American icons. At first, we thought of two separate series, but they overlap so often that we can't say exactly which work belongs where. For instance, does the portrait of Marilyn Monroe as Venus belong to myth or to Americana? Perhaps it is both."
Marina jokes that Al Pacino should be next on their drawing board: "Alexander believes that they are somehow related; he has been stopped on the street and asked for an autograph too many times!" (As this article goes to press, Alexander and Marina are working on a re-creation of Jacqueline Kennedy as a Greek Muse. Again, a blending of classicism with pop culture.) Alisa Benaresh, owner of Alisa's International Doll Art, located in Toms River, New Jersey, is a passionate proponent of the Royzmans. "Their work is dignified and magnificent–it can stand on its own without costuming. Plus, they have a scope that is extraordinary. They can work in paperclay, porcelain, soft sculpture. No matter what medium, the results are unequalled. I had a customer once say, 'I didn't know such work existed.' And that's what is so powerful. The Royzmans invite you into a world that you want to be a part of; it's not purely dolls and it's not simply figural sculpting. Their world is a world of beauty, made real in three-dimensional form."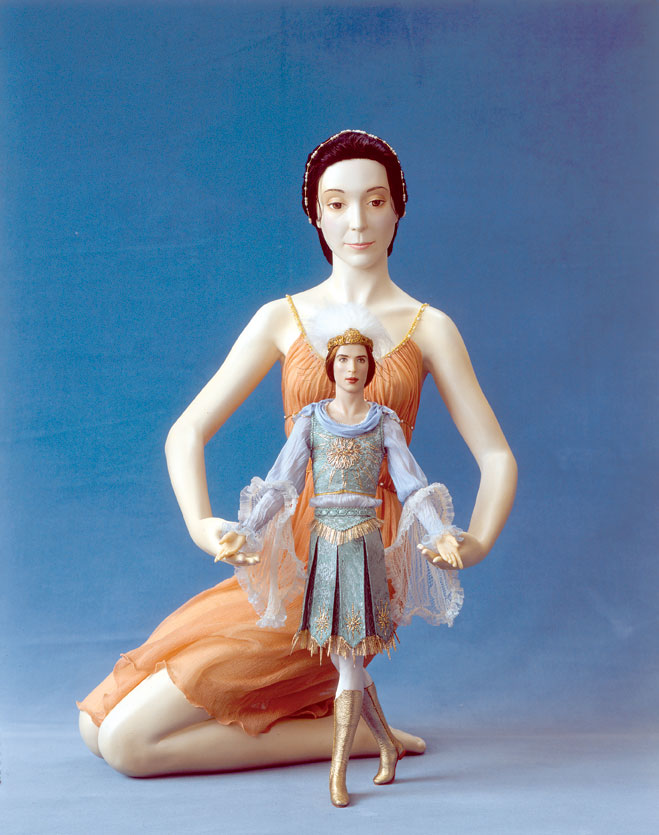 Taking a walk on the wild side might be professionally risky for other artists, but not for the Royzmans. They have one another to lean upon. Just as Baryshnikov brilliantly partnered Kirkland, the Royzmans embody a fluid duet in composition and challenges. As they work beside one another–classical or jazz music wafting in the background–they bounce ideas around, and they listen with their ears and with their hearts.
"Doll art is an act of love for them," notes Neil Zukerman, proprietor of the CFM Gallery in New York's SoHo. "Anything they put their hands on becomes artwork. They are creative souls, and whatever direction they head in, they will challenge the collector with their visions. They will improve the landscape."
Jo-Ellen Trilling, a painter and doll artist based out of New Jersey, is "awestruck" when she sees the Royz­mans' collaborations. "Aes­thetic­ally, there are no flaws to their work, and it is impossible to tell where one person's work begins and the other one's ends." Trilling counts the Royzmans among her friends. "They are wonderful people, and they are both so smart. Since they are classically trained, their work is solid with its research. They bring an educated background to their dolls." Marina is touchingly modest when she learns of this abundant praise. "I am honored to know that people discuss my artwork at all. There are so many great, talented artists who never got the opportunity to be heard. Even Bach's works became known only after his death. I have never thought about how I want to be remembered. I have enough of a child in me to still consider myself immortal."
And Alexander considers all the praise to be reserved for postmortem patter. "I thank God that I am not a politician and have to worry about being remembered in any certain way." How­ever, he does grow serious for a moment:  "Not long ago, we received the sad news of John Darcy Noble's passing. He was one of the leading advocates of the movement of dolls as art. While we mourn his death, we think it's also a time for celebrating his life. Just having a short conversation with him was a gift–and we will forever value his understanding of our works."
Today's collectors and Royzman's colleagues feel a similar way about this married duo. "Sometime in the future, we will have a group of artists elected as 'national treasures,'" speculates Hanna Kahl-Hyland, a noted artist residing in Connecticut. "I am certain that the Royzmans will be at the head of such a list."
Marina and Alexander Royzman can be contacted at marsasha@aol.com.