Doll connoisseurs know that Barbie evolved from a saucy German "cousin" spotted by a vacationing Ruth Handler, the doll's creator, but even though we recognize her roots are European and acrylic, to boot, she still seems like an honest-to-goodness, flesh-and-blood American gal.
Yet who are the talented men and women who help shape and fashion the fantasy of this great American icon? To find out, DOLLS had the unique pleasure of chatting with the guys and gals whose task it is to ensure that Barbie attains her best-dressed appearance year after year. This blue-ribbon panel of fashionistas consisted of Mattel's creative A-team: Robert Best, Kitty Black-Perkins, Heather Fonseca, Katiana Jimenez, Byron Lars, Bob Mackie and Sharon Zuckerman.
This coterie of clothiers knows every bend of Barbie's knees, the slight­est slope of her neck, the width of her arms; and though they are quite aware of her 11 ½-inch stature, they all swear she is larger than life and an indelible part of the American consciousness.
Best of the Best
Robert Best has been a powerhouse for Mattel since the mid 1990s. Prior to joining the Barbie Collectibles team, he made his mark alongside fashion luminaries like Anne Klein and Donna Karan.
Having spent years designing for the runways of Manhattan and Milan, Best approaches his Barbie outfits with an assured, proven sense of confidence. "I basically think of Barbie as if she were real, and even though there is fantasy in my work, I always think of what a real woman would wear. I then translate that into doll scale."
A Best design has become synonymous with playful soph­istication, vintage sexiness and a welcome return to white-glove-and-pearls elegance. Some of his best-known designs are "Billions of Dreams Barbie," "Millennium Bride Barbie," "Wedgwood Barbie," as well as the celebrity likenesses of Audrey Hepburn, James Dean and Marilyn Monroe.
His ever-expanding Barbie Fashion Model Collection encompasses everything from lace-trimmed lingerie to hand-beaded evening gowns, a trousseau worthy of a blushing bride or a society stalwart. "In the end," Best says, "I think most women want to look pretty; the same can be said of most dolls."
Feline Elegance
As hard as it is to believe, Kitty Black-Perkins has been sharing her perfect taste and her beautiful sense of style with Barbie for more than a quarter of a century. Chief designer of Barbie fashions and doll concepts for Mattel, Black-Perkins was born in Spartanburg, South Carolina. At the age of eight, she realized she had the po­tential and the desire to become a world-class fashion designer. She eag­erly practiced her craftsmanship on her large collection of play dolls.
After graduating from the Los Angeles Trade Technical College, she designed children's clothing, junior sportswear and couture gowns. It was the perfect proving ground for the designer who would become responsible for dressing up America's sweetheart.
"Working at Mattel is a dream come true," enthuses Black-Perkins. "Barbie is the ideal fashion model. She's so pretty, she's the perfect size, and she loves everything I put on her!"
A Barbie collector herself, Black-Perkins seems to know what works best with her "client's" hourglass charms. "I try to imagine myself in her environment, and I'm looking at her and thinking about the outfit that I would like to see her in. I think collectors collect Barbie for all kinds of reasons. My daughter, for instance, who is now 18, played with Barbie until she was 13."
Some of Black-Perkins' most recognizable pieces have been "Holiday Barbie" (1988, 1989, 1990, 1996), "Black Barbie," "Sweet Roses PJ," "Brandy" and "Shani."
"I have a daughter and a son, along with several other children in my life, who think I have a wonderful fantasy job. Several of these children want to design for Barbie as well. I think if Barbie could actually speak, she would thank all of her designers for keeping her current, popular and a role model for anyone who is fashion conscious."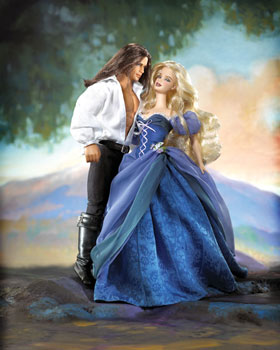 A Regal Touch
California native Heather Fonseca could just as easily have been reared at the royal courts of England, Austria or Moscow. Fonseca has been responsible for de­signing all of the prin­cesses in the Dolls of the World Collection since its inception in 2001.
"Once you've worked with Barbie for a while, you get to know her really well. I know what sorts of styles flatter her figure and I have all sorts of tricks to make her look taller and slimmer. When I design the Dolls of the World, I try to take a particular world culture and fold it over Barbie so that she becomes a beautiful representation of that country. Or when I'm designing a glamour doll, I might be in­spired by a piece of fabric or an image from a magazine. I always keep in mind that if Barbie were a real woman, she would really enjoy her vast wardrobe. I think she would have fun changing her look, her hair color and her makeup constantly."
Associated with Mattel for a decade, Fonseca, who is a veritable chameleon with her sketchpad, craves normalcy and constancy in her private life. Married to her husband, Hugo, a grammar-school teacher, for seven years, and the proud mother of a two-year-old daughter, Sofia, she loves to unwind by remodeling and decorating her own dream house.
"I feel a great deal of gratitude that people enjoy my de­signs and display them in their homes. To tell the truth, fame seems sort of secondary; the fact that my designs bring joy to people is what's im­portant to me."
Confidence and Charisma
When designer Katiana Jimenez is asked what Barbie stands for today, she pauses for a moment and then announces, "Confidence and charisma. She represents what all women can be today. She has style and she has smarts." Jimenez could just as easily be talking about herself.
Born in San Juan, Puerto Rico, Jimenez moved at age seven with her family to San Diego. From primary school to adolescence, she loved drawing and fashion. "When I was 12, if you asked me what I wanted to grow up to do, I would have said a veterinarian or a fashion designer. My aunt was a vet. Eventually, though, I began to see I had a real talent for the arts. I liked animals, but I was really getting drawn more to my creative side."
As a self-described "little girly-girl," Jimenez had dozens of Barbies to dress and groom. "As a child, I never once thought that there were people who designed Barbie dolls. They just sort of existed for me to play with."
While attending college, Jimenez entered a student competition sponsored by Mattel. Her doll, dressed to emulate the painting style of Gustav Klimt, snagged a great deal of attention. She soon found herself temping at Mattel as a designer, and then was asked to join the team full-time.
"I love fantasy clothing, and I am partial to opulent, ornate styles. Working with Barbie has allowed me to de­sign outfits that are mystical and magical. I have designed for the characters of Merlin and Morgan Le Fay. You can't do that in real life."
Jimenez still pinches herself every morning when she heads to the office. "You don't often think of a corporation and creativity going hand in hand, but they do here. Right now I am really dedicated to keeping my eye on current trends, seeing what is cool and what is popular. I know that a lot of young kids have a real quirky, individual style. They dress how they want; they don't want to be dictated to. That's my next challenge for Barbie–I want her to look real, young and alive."
Upbeat and Universal
Even over the telephone, Byron Lars can light up the room. His voice is melodious, his laugh is infectious, and his candor is delicious. The California native has a positive attitude and his love of life is displayed through his conversation and his occupation. He is a fashion designer who makes women look marvelous, and for the past few years he has been making Barbie look spectacular, too.
"Barbie is emotionally connected to so many women. She is wish fulfillment for little girls and for grown women. When I was much younger, I had a best friend who had a really precocious, bright sister named Chelise. She was a real smart kid and she was obsessed with Barbie. Couldn't get enough of Barbie! She was passionate about playing. I see that same desire in adult women today for Barbie and I understand it. She brings them back to their childhood and she reminds them of when all things were good and possible."
Lars is a big believer in the possible. While a teenager, he decided to turn his sewing skills into a profitable sideline. "Other kids were flipping burgers; I decided to see if I could sell my clothing designs to other students." He sketched, designed and hand-made prom gowns for many of his classmates.
"At a personal appearance I once did, a girl named Sheila came up to me. I had gone to school with her and she was one of my early 'clients.' She had the gown with her and asked me to sign it. It was so hilarious. I didn't really know anything about finishing a dress back then, so the inside really wasn't properly done. It looked like mice had gotten inside and run wild. It was embarrassing to see it now, but I was really proud of that design back then."
Today, Lars' creations are divine inside and out. His most recent Mattel doll is "Tatu Barbie," third in the Treasures of Africa Collection. "She's not a realistic depiction of Africa," Lars notes. "She's more of an edgy metropolitan view of the continent. She's a city girl with an African overtone. I really am impressed with Tatu. She harkens back to a tribal influence, but she also is one with the land."
Years ago, Lars visited the Ivory Coast of Africa and wasn't sure if his trip would open up fashion floodgates. "I know it's so stereotypical. A designer goes back to his ancestral homeland, and suddenly a creative lightning bolt strikes. It's a cliché, I know, but it did happen to me. You can't go to Africa and not come back affected somehow. It gets under your skin."
The current African series and his prior Runway series have reflected Lars' personal and professional biography. He's confident that his next project for Mattel will be just as rewarding and just as personal. "We all draw from our life experiences. No matter what we do. The important thing in life is this: Whatever you want to be, start being it. My friend Tracey always says that, and it's so true. Don't worry about how do I start, when should I start, should I start. Just start. Life's too short and your dreams are too precious."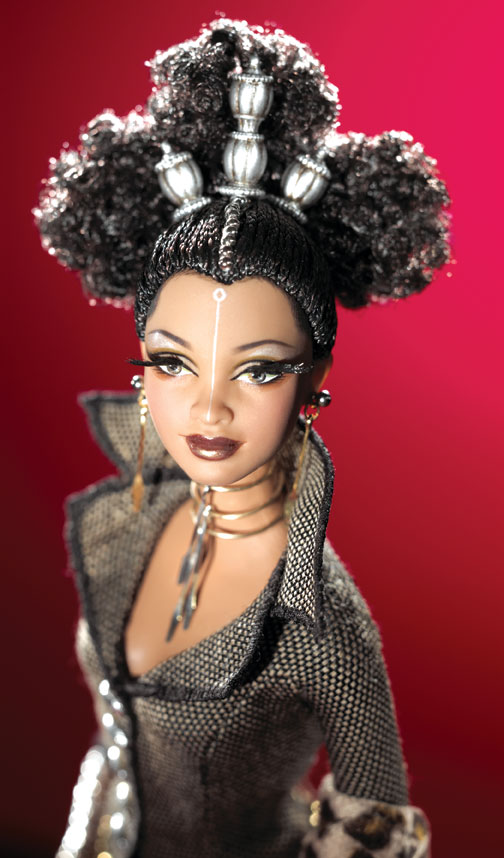 The Prince of Glitter
He's dressed giants of showbiz– Judy Garland, Diana Ross, Raquel Welch, Bernadette Peters, and, of course, Cher. And through it all, the man who is oft described as "The Prince of Glitter" remains just plain Bob. Bob Mackie, that is.
"Because of an older 'cousin Robert,' I became 'little Bobby.' When I was about 13, a more sophisticated 'Bob' seemed more appropriate," Mackie has explained. "But later on, after seeing my first screen credit as Robert Mackie, I quickly decided that Bob was less pretentious. Bob is a funny word or name, and hopefully it conveys that I don't take myself all that seriously."
Mackie's sense of humor served him well when he joined the creative design team for The Carol Burnett Show. Week after week, year after year, he was challenged to dress Burnett, her supporting players and guest stars in costumes that ran the gamut. His hilarious take on Scarlett O'Hara's dress made from drapes still provokes  laughs decades later. (For those too young to remember, Burnett played Scarlett swaddled in green velvet curtains with the rods still attached and sticking out from her shoulders!)
The winner of eight Emmy Awards, and a nominee for three Oscars, Mackie turned his energies toward Barbie in 1990. She was the perfect canvas for his flashy, funky, fabulous styles. "Neptune Fantasy," "Masquerade Ball" and "Goddess of the Sun" are just some of the Barbies he's designed. "I wanted to be Gene Kelly when I was growing up," he has admitted. "I had to readjust."
From a five-year-old boy who drew paper dolls and then constructed lit stage sets via a flashlight and cardboard, he has evolved into a man who has bedecked runway models, movie stars and the world's most popular doll.  "It's a life I couldn't have imagined. I love it so."
It's That Designer
She has long, dark, bouncy hair; she grew up in New York; she's determined to make it on her own, and there's a gleam in her eye that states she's bold, bright and brainy. Sounds a lot like Marlo Thomas in That Girl, yes? Well, you're close. It's actually Sharon Zuckerman, the Mattel designer who re-created Thomas' Ann Marie character for the Pop Culture series of dolls.
With a grandfather who owned a doll company, little Sharon knew that a future could be made with fabrics, paint pots and imagination. In fact, Zuckerman was training to be a "Barbie beautifier" since her days of teddy bears and Rainbow Brite. "As a child, I used to make clothes for all of my dolls and stuffed animals. I definitely loved my school art classes."
She matriculated at New York City's Fashion Institute of Technology, pursuing dual degrees in toy design and fashion design. During the summers, she headed out to make magic.
"During my college days, I had an internship in the costume department of Walt Disney World," she relates. "I worked there for two summers. I also interned at Mattel and began working there full-time in 1993."
During her decade as a staff designer, Zuckerman has been entrusted with preserving the recollections of millions of baby boomers. She's become the queen of syndicated synergy, if you will, connecting Barbie with classic TV heroines, superheroines and supernatural females. She's dressed the beloved Lucy Ricardo doll, Barbie as I Dream of Jeannie, as Wonder Woman, and for The Munsters and The Addams Family sets.
"I have always loved fashion. When I was in high school, I was encouraged to pursue my talent. As you can imagine, this is the job of my dreams. I just love it," that designer declares.