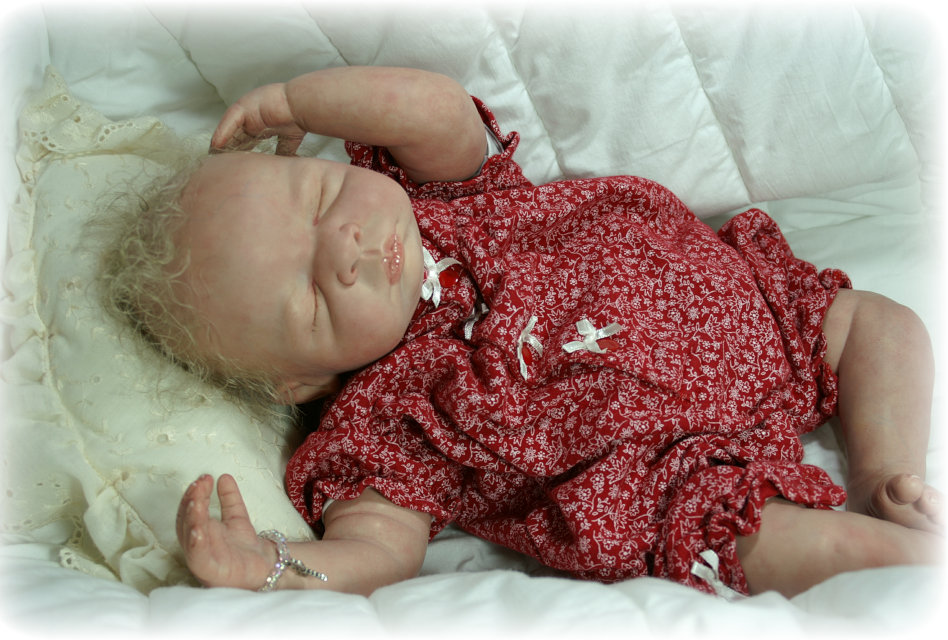 By Sharon Azzinnaro
I have been reborning since 2004, and I remember what a challenge reborning was back then. In order to create a lifelike baby doll — there were no reborn kits at the time — a reborner had to customize manufactured dolls. I used the JC Toys Berenger dolls, Ashton-Drake dolls, and just about any baby doll I could get my hands on. The dolls were not made from soft vinyl; the heads were hard, making rooting hair even more of a challenge.
First, I would take the doll apart and remove all the coloring. If the doll had painted-on hair, that paint would have to be removed and the head sanded smooth. If the doll had a wig or glued-on hair, it took a lot of elbow grease to clean off all the hair and glue from the head. The final step prior to reborning was to remove the eyes. Once the doll was cleaned up, it was time for painting. Acrylics, stencil creams, and even stamp pads were used to achieve the most realistic skin tones, blush, and other coloration possible.
Reborning has advanced a lot since then. There are more doll sculptors focusing on the needs of reborners by producing reborn kits, and many more coloring products to choose from. Genesis heat-set paints and varnishes are my primary choice; I also like to use water pencils for some detailing. I love the different shades of color and the effects I can create using Genesis paints.
Not long after I started reborning, award-winning doll artist Pat Moulton recognized the need for a doll kit that could be reborned without all the extra preparation. It was really nice to have a sculptor recognize the reborn community and create a kit just for us. I remember Moulton specifically asking reborners how we felt about her sculpting a baby and producing it as a kit for reborners. She asked us what we wanted — open eyes, closed eyes, size, full or three-quarter limbs, color, etc.
Moulton was the artist who paved the way for the whole niche of reborn kits, and many sculptors have followed her lead since she created the first reborn kit in 2005. Here, in Moulton's own words, is the artist's recollection of how she came to create her first reborn kit:
"I received an e-mail from a friend telling me to look at a listing of my baby doll ('Eskimo') on eBay. Well, since I had never sold anything on eBay, I was excited to see what she was talking about, so I quickly clicked on the listing. Wow! I was so amazed to see my doll and to see that she didn't look the way I had made her — she was amazing! I loved her new look. Right away I e-mailed the artist – her name was Ally Ica. This was my first encounter with a reborn artist. I had to e-mail her to let her know how much I loved what she did to bring my doll to life.
"Now here comes the funny part: She e-mailed me back to say she was happy that I approved of her taking my doll apart and reborning her. Her very own words were, 'Oh my gosh, I can't believe you are talking to me, LOL.' I have to say I was very impressed with her art and told her so.
"This is when it dawned on me that reborn artists didn't have any dolls they could reborn without removing all the paint and wig. They had to buy dolls that were already manufactured and put together, and then take them apart to get them ready for reborning.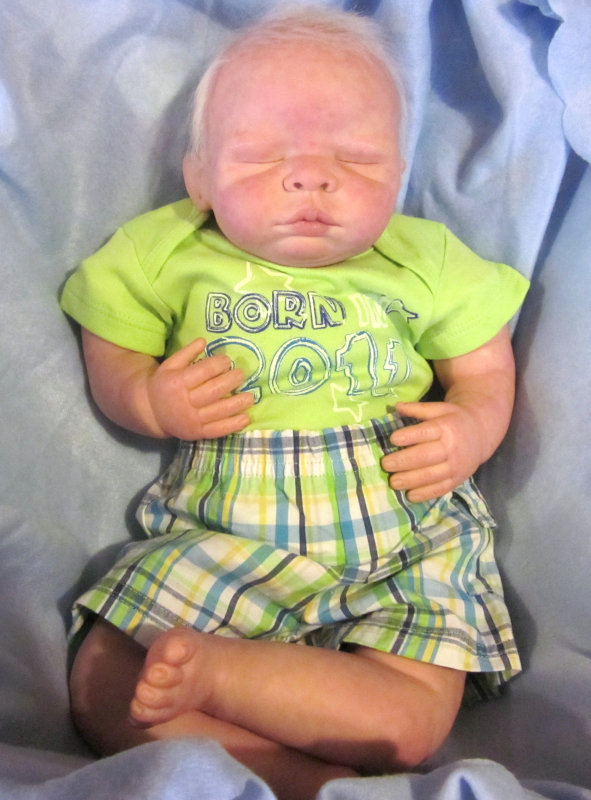 "Giving it a lot of thought, I felt I could do something no one else had done, or was even offering to do — sculpt a baby that the reborners wanted, just for them and just the way they wanted it. It would be in a kit form, so the reborners could work their magic on it, and it would be their very own baby.
"I asked the reborn community if I could sculpt a baby for them and what they'd like the baby to look like. It was so exciting to get their input! They requested that it be a sleeper and chubby, with no paint or hair.
"I also made sure the kit came in a gift box with a certificate. I named this baby 'Pork Chop' because she was chubby — and all the reborn artists renamed their babies anyway. After all, this baby's name will always be remembered as mine. The next reborn kit I produced was 'Lamb Chop.'
"I was asked, 'Why would you want to do this for other artists and companies, as well?' But not only have other artists followed my lead, so have some companies. I am pleased to have been in the forefront and to have supported the reborn community; they are wonderful artists that I admire very much."
See more of Pat Moulton's work at her website. The author, Sharon Azzinnaro, is a reborner and sculptor, and has released two of her sculpts as limited-edition reborn kits.