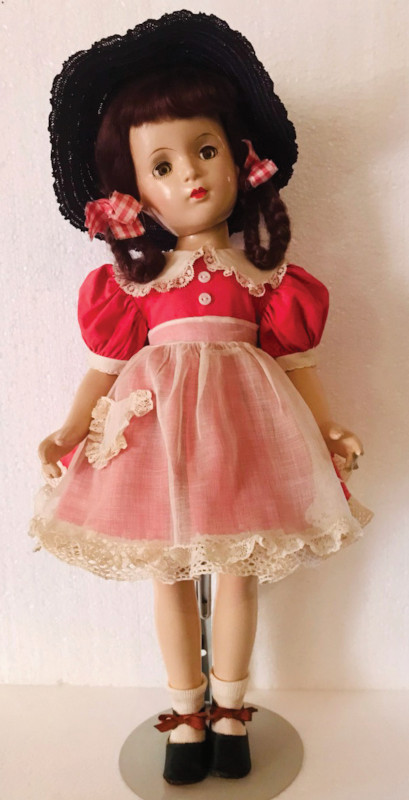 By A. Glenn Mandeville
Q: I won this stunning 21-inch composition Margaret O'Brien doll by Madame Alexander at an auction. The original owner had purchased the doll new in the original box with the clover wrist tag that said Margaret O'Brien. For some reason, the previous owner discarded the box and the wrist tag but kept the doll in a glass cabinet. Her son had put the doll up for auction. She is flawless, and the dress is tagged Margaret O'Brien. I also have a Margaret O'Brien Madame Alexander doll in hard plastic, and I was wondering when the change from composition to hard plastic occurred?
A: What an incredible doll! I'm sure many readers are groaning over the loss of the box and especially the wrist tag! The Margaret O'Brien doll was one of the few times when Madame Alexander actually paid to use the full name of a celebrity.
The first dolls were introduced on a television show in 1946, and then in an official ad the same year for John Wanamaker's department store in Philadelphia. However, it has come to light that a month before that official release, Marshall Fields had a similar ad. The dolls in these ads were 14 and 18 inches.
The 1946 Sears catalog also featured a 21-inch size — the size of your doll. The doll was an instant success and generated much publicity. The 14-inch size was issued in a gift set window box that included a sun suit, bed jacket, and nightgown.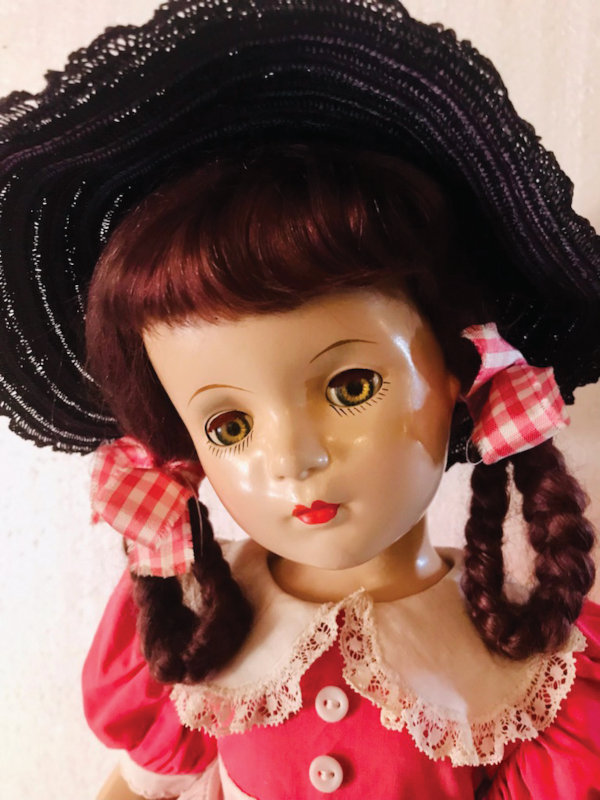 The Margaret O'Brien sculpt would be used extensively in dolls, including an Alice in Wonderland, a fairy princess, and even a stunning doll with a human-hair wig of Madame Alexander's granddaughter, Wendy Ann.
The big news, however, occurred in 1948 when companies realized that the same molds used for composition dolls would work with the new hard-plastic material used extensively in World War II. This new material changed the entire doll industry, which for decades had been using the more fragile composition dolls.
If your doll still had the original box and wrist tag, the value would be much higher, but I feel your doll, being so mint, would easily sell for $1,200 to the right collector. I have noticed smaller sizes are bringing a higher price in general, possibly because of display issues with larger dolls, but that is a very general statement.
Please enjoy your purchase, as the 21-inch Madame Alexander Margaret O'Brien doll is difficult to find.
A. Glenn Mandeville is the author of numerous books on dolls and doll collecting and writes his Curious Collector column for each issue of DOLLS magazine. Send your queries about vintage and modern dolls, with photos, to Curious Collector.
Subscribe now to get access to DOLLS online archive of past issues!