Cupid, hearts and flowers, doves and rings are all symbols of love associated with valentines. Valentine's Day has been set aside to celebrate the wonderful feelings of love. At first, Romans celebrated Feb. 14 to honor Juno, goddess of women and marriage, with Lupercalia a festival of fertility beginning on Feb. 15. In 269 A.D., Christian martyr Valentinius was put to death on Feb. 14 for refusing to denounce his Christian beliefs. Tradition records that he sent a letter to the jailer's daughter, who had become his friend, which he signed "From your Valentine." Several centuries later Valentinius became St. Valentine. He was recognized as the patron saint of lovers, and Feb. 14 became a time to send notes and gifts to loved ones.
Today Valentine's Day is a time to recognize all kinds of love—romantic love, of course, but at the start of the 20th century, sending valentines also expanded to a custom that included children. We now send valentines with wishes of love to our children and grandchildren, and children also share Valentine's Day wishes with their friends. Once valentines began to be designed for children, dolls and other toys became popular subjects in cards; and many paper-doll cards were produced to send to children.
Decorated valentines are reputed to date back to the Middle Ages. Handwritten valentines have been documented from the 15th century. After the world's first postage stamp was issued in 1840, greeting cards became increasingly popular and affordable by the 1850s. Soon, many valentines filled with sentimental verses were being published for sweethearts. Beginning in the 1850s, Esther Howland, the daughter of a stationer and a graduate of Mount Holyoke College, produced the first valentines in the United States. She created handmade valentines combining European scrap with lace, colored paper and ribbons. Many were sold for $5, but her very elaborate valentines could cost as much as $35. From a small business in her home she eventually built a successful enterprise with young ladies working for her "assembly style." Howland always marked her valentines with a red "H." In 1871, Raphael Tuck published his first Christmas cards in England. The company had a flourishing printing bus­i­ness. In 1894 the company began experimenting with pictorial postcards. Adolph Tuck pursued a change in the form of the postcard to permit one side of the card to be covered with a picture. After four years the postmaster agreed, and the grand era of the picture postcard emerged. These new postcards could be mailed for one cent. The Tuck company became a leading producer of penny postal cards. Valentine postal cards were soon being produced. Artists like Frances Brundage, Ellen Clapsaddle, Grace Drayton (Dolly Dingle), Magnus Greiner, R. F. Outcault (Buster Brown), Charles R. Twelvetrees and Mabel Lucie Attwell illustrated many of Tuck's postcards.
Brundage favored children, many of whom were often holding dolls or pushing baby buggies. Over the years, a variety of paper- doll postcards, much sought after by collectors today, were published by Raphael Tuck and other companies. Tuck printed several series of paper-doll postcards titled "Dressing Dolls' Fairy Tales" with nursery characters such as The Knave of Hearts. One series was illustrated by Louis Wain featuring his famous cats, which could be sent for any occasion. Other artists well-known to doll collectors also drew valentine postcards featuring dolls for a variety of printing companies such as Nister/Dutton, Stecher and Gibson Art Co. Margaret Hays, Grace Drayton's sister, drew the Miss Polly Pig-tail series of valentines. These little dolls wore huge hats and colorful costumes. Florence Upton's Golliwogg and his companions, the Dutch wooden dolls, were actually drawn by several different artists because the Golliwogg was never copyrighted by Upton. Rose O'Neill's famous Kewpies were perfect valentines.
The R. Tuck Co. also produced an outstanding group of embossed die-cut toy "pantins" or "marionettes," which could be given as valentines. The arms and legs of these pantins moved when a string attached to the back was pulled. This made them appear to "jump" or "dance," a great amusement. Some of these large colorful pantins, which measured more than 12 inches, were inspired by comic characters: Little Nemo, Foxy Grandpa and the Katzenjammer kids, as well as others including boys and girls with character faces, teddy bears and even a large Golliwogg holding two small Gollies. A new interest in greeting cards developed around 1906. This "modern era" for greeting cards grew from dissatisfaction with the cheap foreign cards that were being imported. New companies, headed by men such as Paul Volland, Joyce C. Hall (Hallmark), Fred Rust (Rustcraft), the Gibsons and the Norcrosses, sprang up.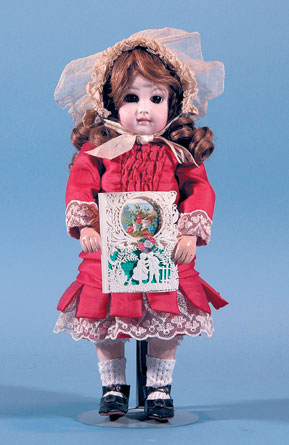 Early in the 20th century children began receiving and exchanging valentines. Once greeting cards were marketed for children, it only followed that cards with paper dolls would be published. Some of the paper dolls were die-cut and sent tucked into the card, others were designed to be punched out and still others required cutting. Some valentines had pictures of little girls holding dolls, walking them in strollers or buggies, having tea with them or perhaps little boys giving dolls as gifts. Some of the cards were drawn with little girls that looked like dolls themselves. Boys were often shown with pets or teddy bears.
The P. F. Volland Co. of Chicago, with its reputation for high-quality printed books and other products, produced some of the earliest paper-doll greeting cards. They published cards in soft watercolor tones on very high quality paper. The paper dolls and their clothes were die-cut and inserted into the cards. Paper dolls published for their greeting cards also appeared in boxed paper-doll sets. In the 1920s the Volland company, who published the Raggedy Ann and Andy books by Johnny Gruelle, also published some Raggedy Ann and Andy valen­tines designed by him.
Walking paper dolls became another new novelty for children. Many companies produced them. Some could even walk and roll their big eyes in keeping with the "googly eye" craze.By the 1930s, a variety of paper-doll cards were available for Valentine's Day. Many of these cards were die-cut and offered one or more dolls with several outfits, which came in their own glassine envelopes glued inside the cards. The same dolls were often used in more than one card and combined with different costumes. Paper dolls found in valentines often reflected the times, so it is not surprising to find a number of paper dolls with military uniforms during the years of World War II—very patriotic! The 1950s, a period of prosperity brought another flood of paper-doll cards. Birthdays, Valentine's Day, Easter and Christmas were all celebrated with cards for children. Reflecting the taste of the period, paper dolls were dressed in full skirts and Mary Jane shoes with hats and purses, or as majorettes, nurses or cowgirls. For the boys, fishing, baseball and cowboy attire prevailed. During the 1960s, 1970s and after, well-recognized artists such as Joan Walsh Anglund, Lucy Rigg and Evelyn Gathings turned their talents to designing the ever-popular paper-doll cards. Popular children's doll characters such as Strawberry Shortcake and Barbie also appeared on these doll cards. The demand for paper-doll valentines remains strong today, especially among collectors. Companies, such as Hallmark and American Greetings as well as some smaller specialty companies, have continued to produce these charming paper-doll cards despite in­creasing costs.
Including postcards, trade cards and greeting cards in your collection is fun and inexpensive. These paper treasures are easy to find while hunting for dolls.