You may sometimes ask yourself "Why hasn't DOLLS written about this artist or that one?" In the case of mother-daughter team Lucia and Judith Friedericy, the fact is, their dolls are so popular and sell out so quickly, it's hard for us to catch up with them! Often by the time the paint on a Friedericy doll has dried, it's already in a collector's hands.
"Organic" seems to be the best way to describe Lucia and Judith's creative process. From the beginning, Lucia's fairy tale, little girl and lady dolls have reflected a fluid, living design in their smooth, beatific faces, complex fabrics and original poses. The dolls are sculpted in porcelain clay (rather than shaped in molds), painted, coated in wax and finally costumed for an ethereal, playful look that successfully blends the play dolls of yesteryear with the art dolls of today.
"We've worked this way since the beginning," says California-based Lucia. "When we started, in 1989 or 1990, I worked with my brother, John, who was an artist." Lucia's son had been born prematurely, and she couldn't return to her job as a costume designer at the University of Southern California. Looking for something to do, John suggested artist dolls and offered to sculpt the heads. At their Toy Fair debut in 1990, the Friedericys made their first sale to actress Demi Moore. Since then, Friedericy dolls have become highly collectible and attract an ardent fan base.Unfortunately, soon after their debut, John passed away due to complications from AIDS. Lucia's mother, Judith, an art teacher (who retired earlier this year), gamely stepped up to the plate. "I had never worked in porcelain before, and am basically a two-dimensional artist," she explains, "but when John died, there was no other way of keeping the dolls going. I told Lucia, 'Let me try.' I honestly don't know how the transition worked; I guess from watching John all those years. And he still is watching me, too.
"Judith sculpts the porcelain, then hollows each doll out, the same way John did. Lucia then paints the faces, coats them with wax, and designs and creates costumes. Wire-formed muslin bodies give the dolls life and action. The results are one-of-a-kind whimsical beauties that develop and evolve throughout the creative process.
"The reason we did it this way was that, in the beginning, none of us knew how to make dolls," Lucia says. "John said, 'I'll go buy some porcelain clay and sculpt it.' When he found they were too heavy, he said, 'Well, I'll hollow them out!'"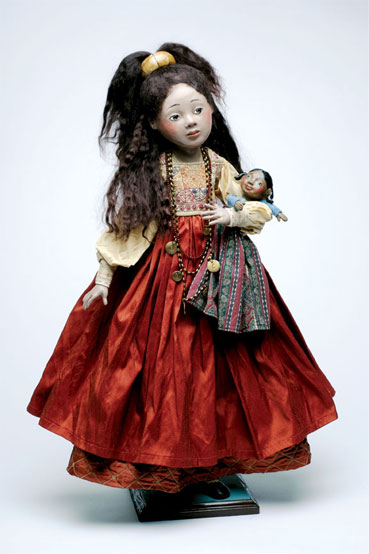 The collaboration has worked so well that the Friedericy ladies continue to stick by the formula. "It's now been a very long time," Lucia says. "Sometimes I'll suggest, 'Why don't we at least do molds of the hands and feet,' and she'll refuse, saying 'It's much faster the way we're doing it.'"
Faster indeed. Lucia and Judith make about 75 dolls each year, most exhibited at industry and collectors' shows. New pieces are priced from about $1,700 to $4,000, though some ensemble character pieces may cost as much as $10,000.
"We began making smaller sizes about five to six years ago," Lucia says. "It reflects market demands, but my mom also found she likes working in the smaller scale, with all the intricate details."
Get It Together
There are a few collaborative duos in the doll world, and each finds its own way to design. Some share a studio and brainstorm/gossip while they work. Others practice their part of the craft in separate rooms. Lucia and Judith choose to work from their own homes, about a mile apart.
"My mom does the dolls in batches of ten," Lucia explains. "She'll call and say, 'There's a kiln ready,' and my son will pick them up. I call her when they're done."
The process may sound chaotic ("Sometimes I come up with ideas be­cause I've seen the dolls, and sometimes the dolls are created because we've found great new fabric," Lucia notes), but for this creative pair, it works quite well.
"We talk all the time," Lucia says. "We think of the things we feel like making or need to make. It works for us because we kind of leave each other alone. On the other hand, sometimes when you're working on something, you kind of lose your perspective. She'll call, or I'll go over there, and we'll talk. She's my biggest fan and I'm hers."
Judith concurs, saying the surprises the collaborative process encourages has a lot to do with what makes their dolls unique. "It's part of the energy of what we're doing. I'll give her these blank-looking heads, and I don't get to see them again until they're all finished. I give her the gesture, the palate with which to work, and she takes it from there. About 90 percent of the doll's magic is what Lucia does. It's the most remarkable surprise."
On more complex pieces, the advanced planning and verbal strategizing becomes significantly more detailed. For "Into the Woods," which features a variety of classic Grimms fairy-tale characters, the mother and daughter discussed the desired characters, the overall size and the setting of the piece.
"Lucia also likes action pieces; dolls that look like they're flying," Judith explains. "If she's working on something like that, I'll try and make a face that reflects the action, so the design of the sculpts is not just accidental."
At the time of the interview, Lucia was busy working on a piece inspired by Van Gogh's luminous painting "Starry Night."
"With something like that," she says, "I'll decide I want, say, a fairy doll surrounded by swirling stars. So I'll tell my mother what I'm going for, and I'll wait and see what shows up at my doorstep."
In general, Lucia notes the whole process is "very laid back. A lot of times I won't know what I'm going to do with the dolls until I see the person they've become."
"Working as a duo is incredible," Judith adds. "Very few mothers get the chance to watch their children create or do what they do at their jobs. It's been an enormous joy for me to work with Lucia."
Into the Future
Despite finding a creative formula that works, Lucia and Judith are anything but stagnant. "Our dolls do change—that's one of the reasons we've stayed in the business for as long as we have," Lucia emphasizes. "You have to make each doll like it's your first and best one.
"A lot of our ideas grow organically from what we're doing at the moment," she continues. The duo's smaller scene pieces, for example, grew out of market demands and a brief collaboration with Richard Simmons to create resin versions of Friedericy dolls. "It was also a time when I started creating accessory pieces, such as bodices and crowns, and learning I could shape them in paper clay," Lucia explains. "While doing this, I found I could make the dolls do really interesting things like standing free form, or making fairies 'fly.' It allows us to get a lot more sculptural."
Lucia and Judith also recently worked for the first time with another doll duo, Tom Francirek and Andre Oliveira, during the Magnum Opus doll show last February in Manhattan. The meeting of minds produced an elaborate Snow White and the Seven Dwarves piece for the show. "We did that one really fast; it was fun," Lucia recalls. "I was really nervous! But the way we collaborated with Tom and Andre was great be­cause it's the way we work—we picked a story and we each did our part."
Francirek and Oliveira also found the debut effort positive. "We'd admired their work for many years. It was such a pleasure to finally meet Lucia and become friends with her. She's truly one of the sweetest, kindest peo­ple we've had the pleasure of meeting.
"The collaboration with Lucia and Judith was a wonderful experience. It seemed difficult at first—they're in California, and we're in Canada. It took many e-mails and telephone conversations. Photos were sent back and forth as we excitedly shared our progress with each other. Ultimately we were so happy with the result. We look forward to working on other pieces with them in the future."
In the meantime, Lucia continues to ready herself for upcoming shows, including IDEX 2007, the Doll and Teddy Bear Expo, the Watchanoff Gallery show in Moscow, Russia, and The Dollery's annual In-Store Show in Whitman, Mass. She's also exploring watercolor backgrounds on the doll scenes, and she and Judith have been crafting a series of works inspired by famous painters, where Judith also provides the background paintings based on famous works. Most recently the duo completed a piece inspired by the iconic painting "Sunday on La Grande" by Georges Seurat. Next up may be Renoir.
"I'm always full of ideas," Lucia confides. "I wish there were two of me." Future plans may include expanding a series of "Bookend" dolls and encouraging interior designers to incorporate her more sculptural pieces. But who knows? The process continues to grow, evolve, mutate and take on a life of its own, and that's exactly the way Lucia and Judith like it.
"I try not to plan ahead too much," Lucia insists. "You have an idea of what the characters will look like, but you adjust as you see what you're working with. I think this will keep our work fresh for many years to come."