By A. Glenn Mandeville
Q: My mother was an avid doll collector, and so am I. When I inherited her collection, among the mini dolls was this souvenir set of 8-inch hard-plastic Ginny twins. They are absolutely adorable, and each comes with its own wooden rocking horse and a flyer regarding their theme. They use the traditional Ginny molds — I have many of the 1950s Ginny dolls in my collection. Can you tell me more about this special set and perhaps a value? I plan to keep them, but I'm curious.
A: Your spectacular Ginny Twin set was a souvenir made by the Vogue Doll Company for the United Federation of Doll Clubs (UFDC) National Convention held in Kansas City in August 2004. The molds used on the modern Ginny doll were allegedly given to the Vogue Doll Company by Virginia Graves Carlson, the daughter of Jenny Graves, who founded the Vogue Doll Company in the early 1920s. Your set and other dolls from that period are particularly well-made and capture the essence of the 1950s dolls.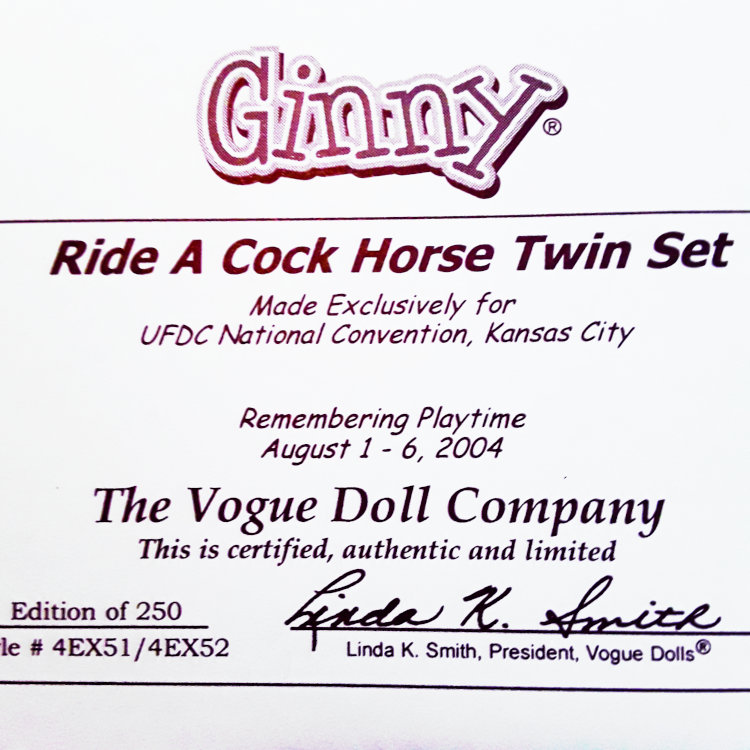 Establishing a value is difficult, because most souvenir dolls fetch higher prices when first issued and when they're desired by people who could not attend the event. While not true in every case, values tend not to increase in the future as one would expect. I personally feel that this is one of the best examples of dolls from that era.
I have only seen a few examples of this set. They have been sold privately in the range of $150 and up, which I feel is low. I am glad that you are keeping the dolls, because they were limited to only 250 sets and don't come up for sale that often. Please enjoy them as a reminder of the great love for dolls shared by you and your mother!
A. Glenn Mandeville is the author of numerous books on dolls and doll collecting and writes his Curious Collector column for each issue of DOLLS magazine. Send your queries about vintage and modern dolls, with photos, to Curious Collector.
Subscribe now to get access to DOLLS online archive of past issues!