By Jan Foulke
Photos courtesy of Morphy Auctions
Q: I found an unusual 22-inch cloth doll at an estate sale. It is stamped in black ink on the body and the clothes, "Milwaukee WPA Handicraft Project #7040 sponsored by Milwaukee County and Milwaukee State Teachers College." Do you know anything about this doll? I have never seen anything like it.
A: The Works Progress Administration (WPA), was established by the federal government and President Franklin Roosevelt to provide work for people during the Great Depression of the 1930s. Many WPA projects were large construction jobs, but there were also smaller handicraft projects designed to employ women, artists, and young people. The Milwaukee WPA doll project was one of the most successful, and these dolls are sought-after by a dedicated group of collectors.
Under the leadership of Elsa Ulbricht, the Milwaukee project aimed to create a play doll clothed in contemporary children's fashions. Sculptor Richard Wilken modeled a child's head in clay especially for the project. The doll heads were made from stockinet knit underwear material, which was pressed into a mold and stiffened with starch. This fabric had the advantage of being easy to mold. It was also washable — ideal for a play doll.
The eyes and mouth were very simply painted. The hair was made of cotton carpet warp that could be washed and combed. Hair styles were simple, generally braids, bobbed with bangs, or very short and curly. The bodies, designed by Helen Clark, were made of cotton, with stitched mitten hands and feet with cardboard bottoms so the dolls could stand. The hip joint was unique, in that it had an extra fold of material which allowed the doll to sit up without tipping over.
The outfits, also designed by Clark, were simple but attractive and colorful. Cotton fabric was trimmed with coordinating colors and white buttons large enough for little fingers to manipulate. Most of the dresses had a matching undergarment, and some had hats and matching cotton shoes. Coats, pajamas, and slippers were also available. The clothing was well-constructed and sturdy enough to survive quite a bit of play wear.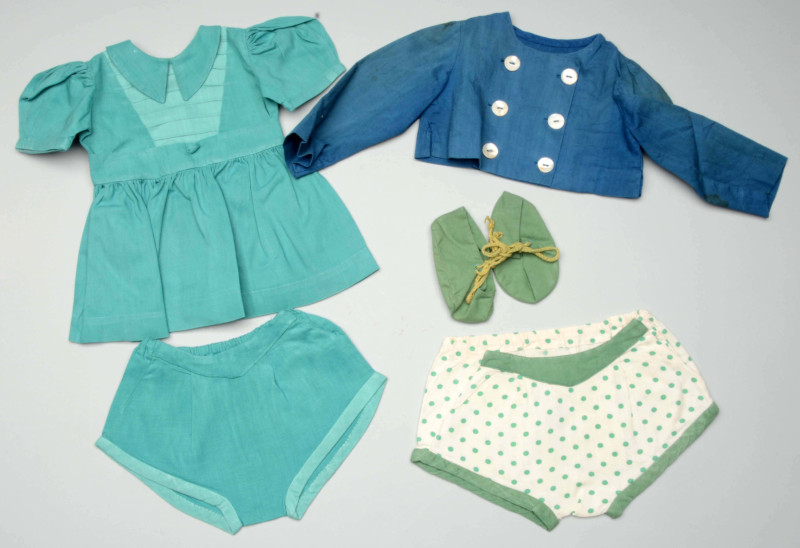 Much of the clothing, but not all, was marked in black with some variation of the Milwaukee WPA Handicraft Project stamp. Additional outfits could be purchased separately, so there was lots of play value. Many dolls were used in nursery schools to help children practice and learn how to dress and undress themselves.
The dolls went into production in 1936 and ended in 1942. Designs were made in three basic types: American children, foreign children, and storybook characters. The American dolls were dressed like typical children of the day and sold for $2.25. The foreign dolls, added to the line in 1939, were dressed in colorful, detailed national costumes. Storybook characters included Little Black Sambo, which is to this day the most popular of all the Milwaukee WPA dolls.
Jan Foulke, recently retired, is an authority on antique and vintage dolls, with over 40 years of experience in the field. She's the author of the full-color reference book "Jan Foulke's Guide to Dolls." Subscribe now to read Foulke's columns in DOLLS online archive of past issues!