Just off New Jersey's suburban Route 202, about an hour north of Philadelphia and past roadside vendors selling fresh produce, sits a squat, gray-columned warehouse. At first blush the depot looks bland, like storage for dusty, unloved objects. But step inside the building and you'll be greeted by Northlandz, an unlikely doll wonderland.
Then ten-year-old Northlandz is a museum channeling seemingly opposite childhood passions. First is its Great American Railway, which the Guinness Book of World Records has dubbed the world's "largest model railway." It's no wonder: Eight miles of track contain more than 100 trains running through monstrous gulches, across 40-foot bridges and up towering 30-foot mountains. Then there's the hundreds-of-pieces-huge doll museum and nearly hundred-room dollhouse. How the hobbies came to this warehouse is a journey that be­gins underground.
In the early '70s, musician and computer-game designer Bruce Williams Zaccagnino (pronounced "Zack-a-knee-no") started crafting train layouts in his basement. They soon filled that, so he dug another, and another, and another, eventually totaling five basements. His twice-a-year open houses attracted such international acclaim ("We're not big-time like Mount Rushmore, but we're well-known," he says) that, in 1990, he bought 16 acres in New Jersey and had a warehouse built.
Zaccagnino spent the next four-and-a-half years toiling "19 hours a day, seven days a week" to bring Northlandz's trains to life. His wife, Jean, who passed away in early 2006, be­lieved "dolls are ladies' little-girl items, and trains are men's little-boy items," she told Nat­ional Public Radio. So while her husband built a choo-choo world, she made sure dolls were well represented.
The result is that "we've created an attraction that appeals to everyone, from little kids to grandparents, men and women alike," says Zaccagnino, who works at Northlandz 365 days a year, even living and sleeping above the museum. "The scenery and trains will make everyone happy."
If visitors can make it through Northlandz, that is. The exhibition is a mile-long hike that will tax all but the hardiest explorer. It's an effort worth undertaking, however. Intricate train landscapes are interspersed with dolls that appear magically, like prizes in the bottom of a cereal box. The tour begins with train whistles, helping transport you to a magical, miniature world.
Elaborately painted, lush-green fields abut roller coasters, abandoned mining towns and countless whimsical touches such as an outhouse factory and the "world's only toothpick farm," which took Zaccagnino countless hours to construct. The tour winds back and forth, up and down, past grave­yards and ghost towns. You think you've seen the whole thing, then you spy the sign announcing you're only two percent finished with the tour. And you haven't even seen the dolls yet!
The doll portion begins with Maria Sinelnikov Farber's fabulous cloth-doll creations. Standouts include a European peasant girl complete with long hair, pink roses and a billowy shirt. There's also a lace-dressed flamenco dancer, her back arched, sultrily fanning herself. King Tut's wife, Ankhesenpaaton, is regal in her golden glory.
"She looks so beautiful," a passerby says, entranced by the display.
Past more chugging trains, and around the bend from a massive medieval castle, you'll find La Peep Dollhouse. It's a nearly room-size mansion—sliced in half for easy viewing—constructed by Jean.
"I have the world's greatest, biggest dollhouse," Jean said in her interview. "It used to be 105 rooms, and I couldn't get in to wallpaper, so I made it 94 rooms instead."
Each scene is a treasure-filled snapshot. "You have to really take the time to examine each room," a mother tells her pony-tailed daughter. "Each room holds a little mystery."
A doll family relaxes in a two-story library fitted with miniaturized V.C. Andrews and John Grisham novels. In the garage, a mechanic fixes a cherry-red car, while swimmers luxuriate in a pool. Upstairs, bakers bake, beagles romp with little boys, women wash babies and butlers serve gents beneath faux deer heads. La Peep is mesmerizing enough to spend an hour examining, but more attractions await.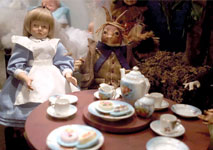 After passing a sign announcing the tour is 75 percent complete, you'll enter a soft-lit room chock-full of glass display cases: Jean spent years acquiring this 200-item-plus collection, which features enough eye candy to appease doll lovers of all levels. In one case, Pocahontas holds court with a Pee-Wee Herman, and the Little Rascals are found near the complete cast of Gone With the Wind.
"Look at all the ba­bies in Heaven!" ex­claims a little girl with braided hair as she presses her face to glass to admire babies blissfully floating in cotton clouds.
Additionally, Victorian maidens frolic in their frilly finest, while Barbie and Ken hold a dream wedding atop a tiered, pearl-bedecked cake. It's a mixture of highbrow beauties and sights for the everyday collector. Fittingly, the museum concludes with school-kid dolls clambering around a sandbox playing with—naturally—train cars.
Pass several more twists and turns— and locomotives puttering across the seemingly endless tracks—and you'll find doll delights keep coming. One gigantic display is devoted to international lovelies like Effanbee's Romanian girl bedecked in pink striped stockings and a Goebel Hummel German girl tending to a goose. These lead into Paradise Galleries' fantastical "Fairies of Love," and there's even Haakon and Kristin, the blond-haired, blue-eyed Norwegian mascots from Lillehammer's 1994 Winter Olympics.
Soon, though, the maze-like Northlandz has relinquished all its secrets. The hours-long journey ends not with dolls or trains, but with music: In the center of an auditorium filled with wooden benches for 500 is a snow-white, gold-edged, 2,000-pipe organ fitted with fire-engine-red keys. It's as beautiful as a Madame Alexander original. And when Zaccagnino takes to the organ, as he does several times daily, the room fills with an avalanche of sound. Sweet, dulcet tones wash over ears as his feet fly across the organ pedals, footwork as fancy as those of a ballerina. Too soon, the music dwindles to silence. Too soon, it's time to leave this transformative fantasyland.
"People come for the dolls," Zaccagnino says, his voice swelling with pride, "then they fall in love with everything else."
For more information, please visit northlandz.com.