Unless you've been hiding under a rock since the original movie first came out in 1988, you've no doubt heard of Hairspray—the feel-good tale of a pleasantly plump teen from Baltimore whose dream is to dance on the Corny Collins Show. John Waters' cult classic inspired a Tony Award-winning musical and, just when we needed some cool new dance moves, this summer's revival of the film. And this time around, it's not just the movie—featuring a dream cast that in­cludes John Travolta, Michelle Pfeiffer, Christopher Walken and Queen Latifah—that has us movin' and groovin'. Coinciding with the late-July release of the film, Play Along Toys has been setting collectors' hearts aflutter with a set of fashion dolls, ranging in height from 10½ to 12 inches, featuring six of the film's main characters. Of course, we love them, and so do the actual actors who are represented in miniature.
"I'm a doll!" exclaimed Nicole Blonsky, the 18-year-old ingénue who tears it up as Tracy Turnblad in the film. Upon seeing her likeness for the first time, Blonsky was more than thrilled. "It's adorable!" she told USA Today. "The first thing I'm noticing are the chubby hands and short fingers. That may sound weird, but I have very small hands, and those are my hands!"
John Travolta, who plays Tracy's mother, Edna Turnblad, in the musical comedy, had quite a bit to say about his tiny alter ego, according to an interview with AccessHollywood.com: "In the movie, I had a smaller waist, and my butt was bigger." Apparently, this isn't a bad thing; the actor told USA Today he thought the Edna doll's outfit was "perfect." Or, as we like to call it, bouffant-tastic…The actors' thumbs-up came as no surprise to the dolls' creator, artist/puppeteer/Renaissance woman Kamela Portuges. "I usually hear that everyone is really happy with their dolls," the artist notes. "It's fun to have a mini me!"Portuges' long list of celebrity doll portraiture includes Rita Hayworth, Pamela Anderson, Venus and Serena Williams, Britney Spears, Kate Winslet and the Spice Girls. You may have also seen her work in the film Being John Malkovich, for which she sculpted marionettes of Malkovich, John Cusack, Cameron Diaz and Catherine Keener. Are you thinking about now that it probably takes a lot of work to depict faces that are so famous? You'd be correct.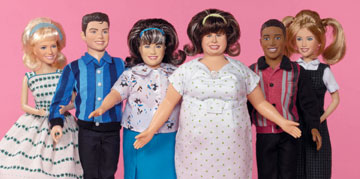 "I start by creating a photo file of the celebrity," Portuges says. But not just any photos, mind you. "The same person will look amaz­ingly different in a re­touched photo, so I like to see natural pictures of people, pictures that aren't retouched." And if this en­tails hopping on a plane in search of unaltered archival material, as was the case when she was sculpting Hayworth and needed access to fan club archives in Minneapolis, Portuges is game in the name of art. Re­search materials may also include magazines, DVDs and information gleaned from the Internet.
The photos are scaled to the size of the doll's head—about two inches high— before Portuges cleans off her desk, gathers her tools and begins sculpting, using her own special formula of wax. "Each doll usually takes a couple of weeks for the initial sculpt," the artist explains. Upon approval from the toy company, the piece goes back to Portuges and her company, Images in Motion, for mold making and casting. "The castings are then sent off to the doll face painter and the wig makers," Portuges explains. "The celebrity usually sees the finished sample, painted and coiffed. Of course, if they want any changes, it's back to resculpt. The whole process can take a month or more.
"Or less, as in the case of the Spice Girls figures she sculpted for Galoob Toys.
"Sometimes you don't have the luxury of time," Portuges says. "The Spice Girls were hot, and they needed a very quick turnaround. I remember sculpting around the clock, all of the Spice Girls in a week. It was when Princess Diana died, and I remember sadly sculpting as I watched the funeral." Other sculpts of note include T-Boz Watkins, Left Eye Lopes and Chili Thomas, the members of the '90s hip-hop/pop girl group TLC. "All the three faces were so intriguing," Portuges recalls. "They turned out so well that I was looking forward to seeing them on the shelves, but the band broke up and they never made it through production."
These days, Portuges has more than enough work to keep her in creative bliss. "A typical day for me is about ten to 12 hours, unless we're busy, then it's more." And her workday—which starts out with a latte at her favorite coffee shop—is always varied. A month before our interview, the artist had created animations for Mattel, sculpted lamps for Pottery Barn, prepared notes for a sculpting workshop she's teaching at a national puppet festival and sculpted changes on the Hairspray dolls.
When we spoke with the sculptor, the dolls from the musical motion picture were about a month away from hitting store shelves. "They were so refreshing to sculpt," she says. And judging from the word on the street (OK, actually from comments on the official blog on www.hairspraymovie.com), the dolls should be delighting fans everywhere about now. Wrote one fan after getting a sneak preview of the dolls, "I want all of them, especially Tracy! They're very realistic-looking and I can't wait until they come out. It's Christmas in July!"
For more on the Hairspray dolls, visit www.playalongtoys.com/hairspray; for more on Kamela Portuges and her celebrity dolls, visit www.imagesmedia.com/sculpture.