Doll collecting is a small world. The artists routinely make them­selves accessible to their collectors; collectors share real-life stories with their favorite magazine editors; and all members of the industry bond over works of art that recall personal, individual triumphs or global, recognizable truths. It doesn't matter what continent or country a doll enthusiast hails from, as he or she is part of a larger and more loving community.
The notion of belonging to a worldwide family of doll fanciers is especially palpable at Dolls by Pauline. The company, which had been spearheaded by the late Pauline Bjonness- Jacobsen, is now in the capable hands of her grown children. The two sons and daugh­ter of Paul­ine are tied together by their mother's legacy and by their own seasoned connection to doll sculpting and accessorizing
Having worked for decades with their mother, who valiantly fought against cancer until Oct. 7, 2006, the trio of Bjonness-Jacobsen offspring is committed to continuing a tradition of stunning porcelain lovelies, petite pretty vinyls, and unique and heart-tugging cloth originals. DOLLS magazine had the opportunity to chat with Mikkel Bjonness-Jacobsen, the designer/ sculptor; brother Ernst, the company's marketing director; and sister Pauline Elisabeth Bjonness-Adamson, who goes by the nickname "Liesbet."
What does Liesbet do for the family firm? A better question is: What doesn't she do? "I've worked for the family doll business for 24 years. I've worked closely with my mother in developing ideas for the dolls, and in costuming and accessories. I also co-managed our workshop for many years. Our goal now is to continue my mother's legacy, and to create beautiful dolls and accessories.
"The Bjonness-Jacobsen family grew up all over the world, and their sojourns in Europe, Asia, Canada and across the United States have given them an appreciation for multicultural styling and international inspiration. Pauline's dolls have always mirrored a cosmopolitan "citizen of the world" standing. They celebrate the world's mosaic makeup, and put cultural backgrounds into the foreground.
Today, the three creative siblings are spread out across North America (Mikkel in Oregon; Ernst in Illinois; Liesbet in Vancouver, Canada), but they are united in crafting special and beloved dolls that deserve to be labeled as a "Doll by Pauline." The matriarch of the clan may be gone, but her refreshing belief in always doing good work that can be shared with and honored by her collectors lives on. Their dedication is indeed "A Family Treasure," as the company tag line suggests.
What was it like having such an artistic mother? Were you encouraged to follow an artistic path as well?
Ernst: We weren't directed, but rather encouraged to pursue anything that interested us. From a very young age, I would accompany my mother, Pauline, as she searched for unusual gift items to sell in her five retail gift stores in Hong Kong or for unusual fabrics and laces for the new doll designs. When I was 10 or 11, I developed a keen interest in photography. I still enjoy this as a hobby.
Liesbet: My mother was most of all fun. When we were little, she would build things with us. She had a wonderful imagination and was very artistic. With my brothers, she built papier-mâché towns on large plywood boards, complete with roads and houses and farms. I sewed tiny dolls out of cloth remnants and we were all encouraged to draw and paint. She loved to paint children and painted portraits of each of us several times, as well as portraits of children in the neighborhood. She made most of her own evening gowns, as well as delightful outfits for me. So, indirectly we were encouraged.
Mikkel: From a very young age, I would see her busy in her art, whether it was painting in watercolor, oil or later with sculpting. I was not pushed into it, but the art was there and I was allowed to get involved. Because of that, I did. When I was seated at the same table with her, time seemed to fly. Sculpting became my passion. But really, I came to recognize that in my 20s.
Your mother died after valiantly battling colon cancer for three years. What did you learn from her courage and her perseverance?
Ernst: She never complained. She just continued to do what she loved. Pauline wanted to keep designing and to enjoy the company of people—whether it was family, friends or even the doctors and nurses, who came to realize what a special lady she was.
Liesbet: Obviously, it was very tough at times, but we still managed to share a good laugh several times a day. Her interest in her art never waned and she never gave up. She enjoyed each day and marveled at the beauty around her.
Mikkel: She was a fighter and always had a unique style and did right to the very end. Even when things were very dire, she would manage to share compliments and would have interesting conversations with visitors and would even joke. I have come to so admire her fighting spirit.
What are you hoping to launch this year with your line of dolls?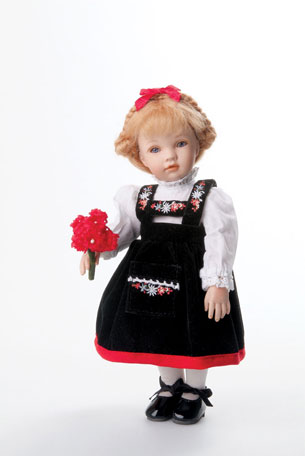 Liesbet: We began this year with a reintroduction of a few of my mother's favorite 19- to 22-inch dolls remade in the miniature Paulinette sizes, which are 8 inches. These included "Ayana," "Victoriana" and "Princess and the Frog." New children in the 8-inch size include "Heidi," a sweet Swiss girl wearing a black velvet dress with tiny exquisite embroidery and a lace-trimmed white blouse. As a teenager, my mother wanted very much to go to art school. Instead, she was sent by her parents to a finishing school in Switzerland and had a wonderful year there. One of the loveliest memories I have of my mother is hearing her yodel. She would tell us made-up stories of children and animals in the mountains of Switzerland, and she would ask if we wanted to hear her yodel. I was so very impressed!
Another doll we have created is "Christina," a child who was close to my mother's heart. Christina is the daughter of her close and dear friend, Joy, who became like a second daughter to her. My mother found a photo of Christina as a little girl and her wish was to create a little Paulinette in her likeness.Tiny babies, like "Steffi" and "Lucinda," are also new additions to our Paul­inette line. We will continue to add new characters, sizes and special editions.
Mikkel: There will also be a doll called "Pauline," which is a special remembrance of my mother, the artist. I look forward to that.
Will the cloth dolls that Pauline loved so much re-emerge in the company?
Ernst: The cloth dolls aren't so much traditional toys but rather small "family treasures" that both a child and a mother would love.
Liesbet: When my mother began Dolls by Pauline in the early 1970s, the dolls she started with were traditional cloth dolls with hand-painted and embroidered expressions and yarn hair. We re-introduced a very popular line of her "Awake-Asleep" cloth dolls, as well as other cloth dolls, late last year, and plan to expand on the line.
What would you like to say to your mother's fans who mourn her passing?
Ernst: Pauline wanted to share out family's love of dollmaking with the world and she enjoyed making heartwarming dolls for people of all ages. We worked side by side with Pauline for nearly 30 years and the three of us share this desire. We like the idea of people sharing their love. Our message board is really the most popular feature of our website; it allows our collectors to share their love of Pauline's dolls with each other. Anyone can read the posted messages and joining is free.
Liesbet: When my mother was first diagnosed with cancer, she was sent a beautiful album created by collectors of Pauline dolls. In it were cards and letters from collectors, as well as photos they took of their Pauline dolls. She was also given a calendar with photos of dolls she had created. My mother was extremely touched. She often said to me, "Can you believe they went to all this trouble for me?"
She was very unassuming and she delighted in meeting both collectors and artists alike at the doll shows she attended. She seemed to remember everyone she met and which dolls they liked.
Where do you hope to see your company go in the next decade?
Ernst: We're going back to our roots by introducing fresh new designs from $6 to $100 in cloth, vinyl and porcelain. We would like to enable more people to discover the joy of owning a Pauline doll. When someone is looking to buy a doll as a gift, whether for an adult or a child, we want them to think first of Dolls by Pauline.
Liesbet: We're keeping in touch with our collectors and emphasizing our outreach. We recently started a doll club and we plan to expand on the club with special events and unique offerings. Our first club doll was "Princess and the Frog."
Your mother had a very colorful life, with a lot of tragedy and triumph in it. Did she bring any of that to her doll artistry?
Ernst: Pauline spoke five languages, lived in half-a-dozen countries that spanned three continents and grew to love people of all ages, ethnicities and cultural backgrounds. The diversity shows.Liesbet: My mother spent part of her childhood, from ages 7 to 11, in a concentration camp in Indonesia. Shortly before World War II, her father had taken her on her birthday to a toy store and told her she could choose anything she wanted. She chose a baby doll she named "Emma." When she and her family were rounded up and taken to their first camp, they were allowed to take only what they could carry. (My grandfather had already been taken away and ended up working on the Burma railroad.) My grandmother packed the bare essentials, since she had four children aged 10 months to 11 years old, and told my mother she had to leave her beloved doll behind.
My mother, however, would not let go of her doll, and my grandmother gave in. Once they got to camp, my grandmother wrapped her jewelry in tissue, because jewelry was being taken away, and somehow hid them all inside my mother's doll. "Emma" was never far from Pauline's side, and when the war concluded, my mother gave "Emma" to her little sister Trudy, who had been lost for a year at the end of the war. I believe my mother was born with a talent for art. Perhaps her love of dollmaking derived from her beloved doll "Emma," which gave her comfort during a difficult and scary time in her young life.
Ernst: Pauline made a doll from this tale. "Little Trudy" is probably my favorite of all her creations. It is not only a beautiful doll, but what I really love is Pauline sharing her personal real-life story of how much "Emma," meant to her, along with the powerful emotions she felt when she shared the doll with her long-lost sister, Trudy.
All three of you have your personal favorites among the Pauline collection. Do you think your mother had a personal favorite?
Ernst: I don't think Pauline had one favorite doll. The real joy for her was in actually designing—sculpting, creating the clothes—and then seeing the joy on the faces of children and collectors when they received one of our dolls. I think she just really loved to share her love of dolls with others.
For more information, contact Dolls by Pauline, Pauline Gift Co., 1701 E. Empire St., Suite 360, #144, Bloomington, IL 61704; (800) 221-3188; www.paulinegiftcompany.com; customerservice @paulinegiftcompany.com