How does one ever recover from the tragic and unexpected loss of a child?
Beloved and respected doll artist Linda Kertzman had to face this unimaginable question on Aug. 5, 2006, when her youngest child Tyler died suddenly of an enlarged heart. This catastrophic event, which Linda describes as "a much deeper grief than I'd ever had before," so deeply affected the artist that at first she just could not bring herself to return to her sculpting. Yet, with the love and support of the doll community, Linda not only produced a powerful tribute to her son entitled "The Gift," exhibited last February at Magnum Opus in New York City, but she now considers this last period of her life as possibly her most creatively prolific.
The doll community's support first manifested last October, when Linda had to decline her usual appearance at what she refers to as "one of my best shows," held at The Dollery in Whitman, Mass. Linda did send one piece, a seated woman dressed in white velvet watching fairies dance in the snow. The piece, which Linda described as a "tiny bit of magic in a dark night," immediately sold. This good news was followed by an even bigger surprise.
"All the artists who had been to the dinner after the show sent me a note and were collecting to buy a beautiful purse for me from them all," Linda explains. "Kim [Malone, the owner of The Doll­ery] wouldn't take the money and put that into the purse too!" Moved by this act of kindness and generosity, Linda felt inspired to sculpt once again.
Back in her studio, Linda did not know if she would have the energy to produce enough work to exhibit at Magnum Opus. Once again, assistance came from unexpected quarters. Friend and fellow doll artist Audrey Swarz invited Linda and her husband, Pete, to stay with her in New York City during the show, to help save on hotel expenses. Adamant about having Linda's work at the show, Magnum Opus hosts and organizers Tom Francirek and Andre Oliveira also generously offered to give Linda as many ped­estals as she could use, free of charge.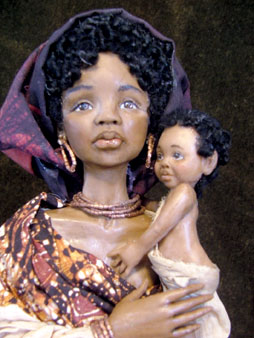 "That was such a gift," Linda notes, "just to know that they wanted me there that much!" With support coming in from all sides, Linda came to the conclusion she needed to do the show. "I began to realize how much I wanted to see my friends and be around the energy that show generates! I can never thank them enough for that generous spirit! It really inspired me to sculpt and I finished four new pieces in that short amount of time!" The most important of these pieces was "The Gift," a tribute to her son.
Linda knew exactly what she wanted to create if she did the Magnum Opus exhibit. Just a few months before the death of her son, Linda had a deeply moving dream. In it, Tyler was once again a little boy of 3, dressed in a sailor suit, and mother and son were reveling in a beautiful sunny day. Linda recounts that in the dream Tyler "was so little that I kept trying to hold him on my lap and he kept running off into the sun. I called him and he finally came back to me one more time with a gift held in his little hands and then he ran off again into the sun. I woke up with my arms open wide and empty, crying and calling his name! For the rest of that day all I could do was cry and try to write down the dream. It was so real and I felt such a loss."
Months later when Linda and Pete had returned home from the hospital knowing that Tyler was gone from this earth, Linda was seized with the need to find the transcript of her dream. Sensing it might be a message from her son, Linda had a revelation: "I suddenly realized the gift was the time we had with him on this earth plane and that we would find him again someday. The gift was the immortality that a child gives to his parents, the soul we loved for all of the years he was given to us. I just knew and it gave me comfort to go on."
At Magnum Opus, Linda continued to receive emotional support from the other artists, in particular from Karen Williams Smith. Over lunch just prior to the show, Linda found that she was able to share what had happened to her son, only to discover that Karen had also unexpectedly lost a son. "It was amazing to me how spiritual and accepting she was about this," Linda says. "She helped me to understand that I won't ever forget, but the pain will get less and I'll have all of the good memories that we shared. It was almost as if she was there that day for me and it helped me make it through the show."
Magnum Opus proved to be a financial success for Linda as well. She sold a piece to Isobel Weil from The Best of Everything in Hackettstown, N.J., that she had created right before the show: a Little Red Riding Hood figure that included a Wolf hidden in a tree.
As Linda now looks to the future, she and her husband are continuing to host retreats. For everyone enchanted by the magical worlds of Linda's fairies, Linda will be hosting for her third summer in a row a retreat called The Fairy Tea. Linda describes a festive scene sure to instill a sense of wonder in those people lucky enough to take part: "I serve tiny tea cakes and teas," Linda explains, "on a little table on my back deck that I revamp with clean white sheets and a tiny tea table and chairs. The prince or princess for the day is dressed up in my antique clothes, and I take photos of them in many poses while the family eats and watches. I've done as many adults as children! Even men seem to like this!"
At the time of this writing, retreats are now already underway, with a class called "Sculpting with Soul." After a relaxing meditation, participants are asked to recall anyone who has impacted their lives in a positive way. By using Linda's sculpting techniques, guests will be able to create "a keepsake bust using objects that represent that positive person," the artist explains. "During this class we all talk about those who've influenced our lives as we create. It's a very healing class." Having so recently experienced the healing power of creativity, Linda feels privileged to be able to share this gift with others.
From pain and loss, Linda has come to a place of acceptance and gratitude. "I feel such love for all, my fellow artists, and those who love this art and I am so grateful for what they did for me!" At the heart of this remarkable art form and the community that surrounds and sustains it is the greatest gift of all: love.