By Marguerite Surich Noschese
I came to the business of creating art dolls along a very circuitous path — I had been a dealer in antique dolls, children's toys, and antique baby clothes. I was also an avid quilter and creator of fabric dolls, while later I worked as a child portrait artist. While I loved all these different artistic pursuits, it all came together for me artistically when I began making art dolls. My passion for fabrics, design, and portrait painting were now all incorporated in one discipline: art dolls!
There is a magic in the creation of these dolls, something unexplainable that happens in the studio when the personality of a doll comes through. Enchanted from childhood by the lore of Halloween, I have used that sense of childhood wonder as a focus for my dolls.
My doll creations are combinations of all the treasures I have found throughout my travels — antique laces from Paris, ribbons and scraps of vintage quilts from my many antiquing jaunts throughout places like New Orleans, Mississippi, and New England. I try to capture a little of the spirit of Halloween in my creations by combining the whimsical, the scary, and the humorous.
I enjoy the detail work of dollmaking and try to include the tiniest details in each work. Even when I know that such detail (especially undergarments) may not be noticed, I know that my doll has been crafted to the best of my abilities.
Recently, I've been busy preparing for the Bewitching Peddlers of Halloween art show in Marshall, Michigan, at the end of September. It's a large show featuring some of the best Halloween artists in the country. Needless to say, I've been busy, and the current condition of my studio is a reflection of that!
When I am finished with the Halloween holiday season, I'll spend some time reorganizing the studio, then back to work. I always have ideas for new dolls and keep a small sketchbook with me to jot down ideas and sources of inspiration. I have several commissions that I must begin right away, then on to new witches, vampires, or fairies.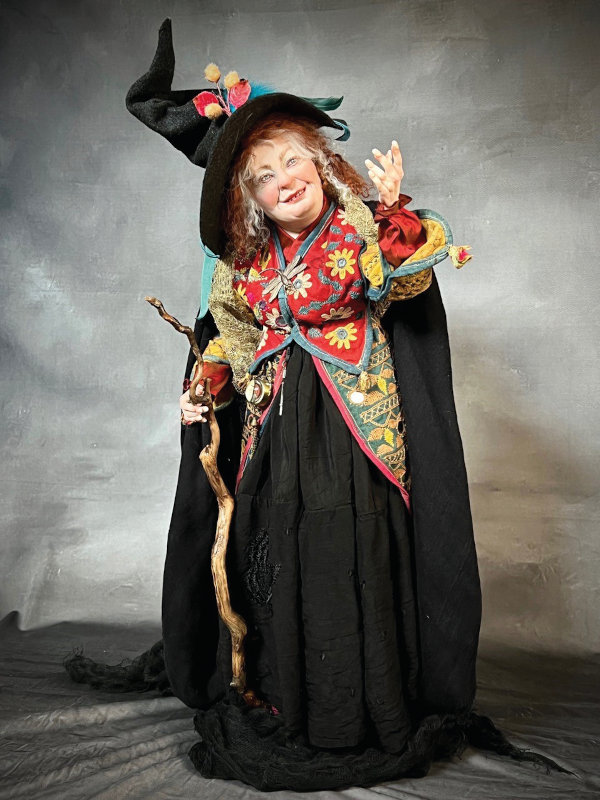 This year I am offering a line of hand-poured organic candles bearing my studio name: My Witchy Women. I also have designed amulet necklaces and Spell Jars filled with flowers, herbs, and crystals. Most of the herbs and flowers are from my own garden. I have a large lavender garden, and I also grow lemon grass, white sage, lemon thyme, rosemary, and catnip.
Although this year I did not have the time, last year I offered a line of handmade Witch Brooms. All the wood for handles was foraged in the forests near my home, mostly old-growth sycamore whose branches were felled by storms. Those branches have been curing for the last several months, and I hope to have brooms ready to fly next season.