By Jan Foulke
Photo courtesy of Foulke Archives
Q: I recently found this little doll, just 3 inches tall. The seller told me it came from an estate. Can you tell me anything about it? Is it an antique? It has no marks on it.
A: Yes, it is an antique doll. Collectors refer to this type of doll as an all-bisque. Bisque is unglazed porcelain. When porcelain has a glaze applied, it is called china. Bisque was the predominant material used for doll heads and small all-bisque dolls for 50 years, from about 1870 through the 1920s. Of course, the big drawback was that it was break­able and really not a perfect material for a toy.
Nonetheless, millions of bisque dolls and heads were made and sold. Most of them were made in Germany, but some were made in France. The French mostly had the luxury trade, as their dolls were more expensive. The Germans could produce dolls more cheaply, so their factories had most of the doll trade. There were actually two tiers to the German doll industry.
The top tier produced an excellent quality product, which was centered in the Waltershausen area. Dolls of lesser quality were usually products of the Sonneberg area. But even the low­er-tier product was good. Small dolls have always been popular with little girls, and they were produced in huge quantities.
Your doll was made in Germany and is excellent quality, but as it has no marks, the maker is not known. It is part of a series of tiny dolls that have molded shirred hose, usually pink or blue, and shoes with straps. All have mohair wigs. Some have glass eyes, some painted eyes. Some have jointed arms and legs, some have stiff legs. Some have swivel necks, some are stiff, like yours. The joints are made with wooden pegs and elastic cord.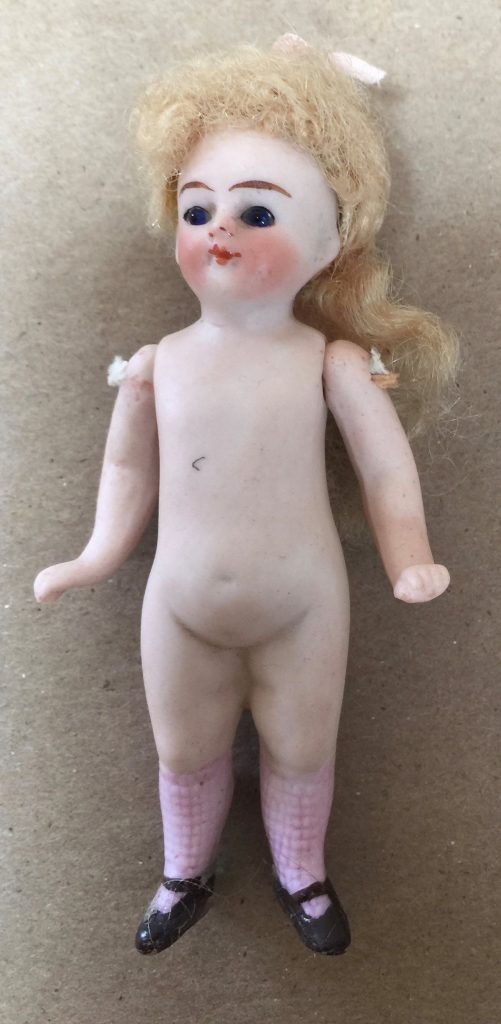 This is usually considered an earlier method of stringing, so I would date your doll to the late 1880s. One is never enough of these small dolls, which work well in vignettes, so be on the lookout for some of her sisters and brothers!
Jan Foulke (retired) is an authority on antique and vintage dolls, with over 40 years of experience in the field. She's the author of the full-color reference book "Jan Foulke's Guide to Dolls." Subscribe now to read Foulke's columns in DOLLS online archive of past issues!