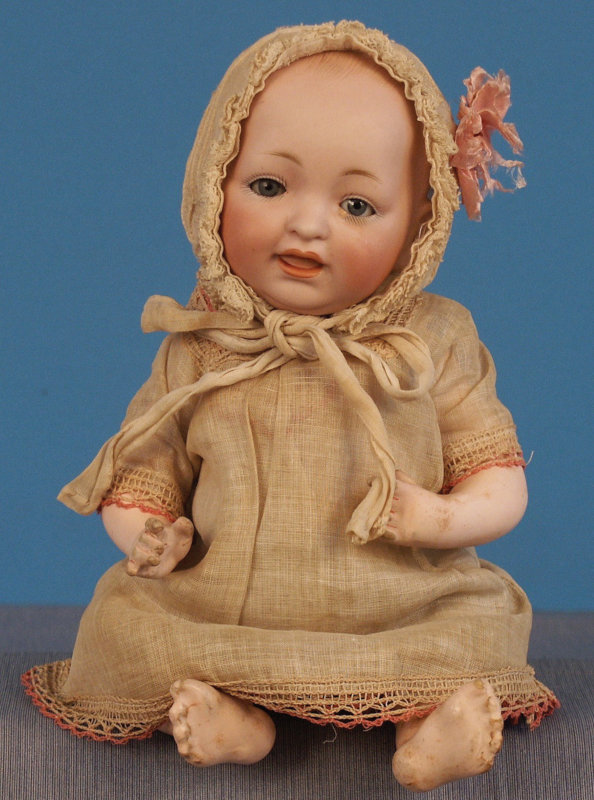 By Jan Foulke
Q: I am just getting interested in collecting antique dolls. I like the smiling German bisque baby dolls, but I am hesitant about actually buying one. I don't want to make any mistakes. Do you have any advice for me?
A: This is a fabulous time to purchase these types of antique dolls! In my 50 years in dolls, there has never been a time when they were less expensive. Character babies that used to bring $300 each can now be purchased for $100 or less. This is definitely a buyer's market, and if you love baby dolls, you now have the opportunity to acquire some lovely ones.
My first advice is always to buy what you like. Look at a lot of dolls at online sites and visit as many shops, museums, and shows as you can. Books and magazines that have good clear photographs are also a great resource to study. Learn as much as you can about the dolls that you like. Spend time looking and deciding what really appeals to you. At shows talk to dealers about their dolls. Join a doll club and discuss dolls with other collectors. Participate in social media groups that share their dolls, though be cautious about some of the misinformation afloat — you will soon realize which groups have the best contributors.
My suggestion for your first doll is to choose a maker whose dolls you admire, perhaps Kestner; Kammer & Reinhardt (K&R); Gebruder Heubach; or Hertel, Schwab & Co. All those makers rate high with collectors for producing top-quality dolls.
After you have selected a particular doll that you like at a show or sale, you will want to assess the condition. If you are buying at a show or shop, the dealer can answer questions for you about the condition of the doll. If you are buying online, at an antiques mall, or at an auction, you are responsible for determining the condition on your own.
First examine the head carefully. You want to be sure there are no hairline cracks, chips, or complexion rubs. Many collectors carry a bright light and a magnifying glass to check the heads. If the doll has glass eyes, make sure they still work and are original to the doll. Having eyes reset at a doll hospital can cost $25 or more, so you want to be sure there is no problem. If the doll has a wig, it should most likely be mohair, but if it is a large baby, it may have human hair. Make sure the wig is appropriate for a baby doll. You don't ever want a mass of shiny synthetic curls on an antique doll. Replacing the wig could cost you $10, $25, or even more.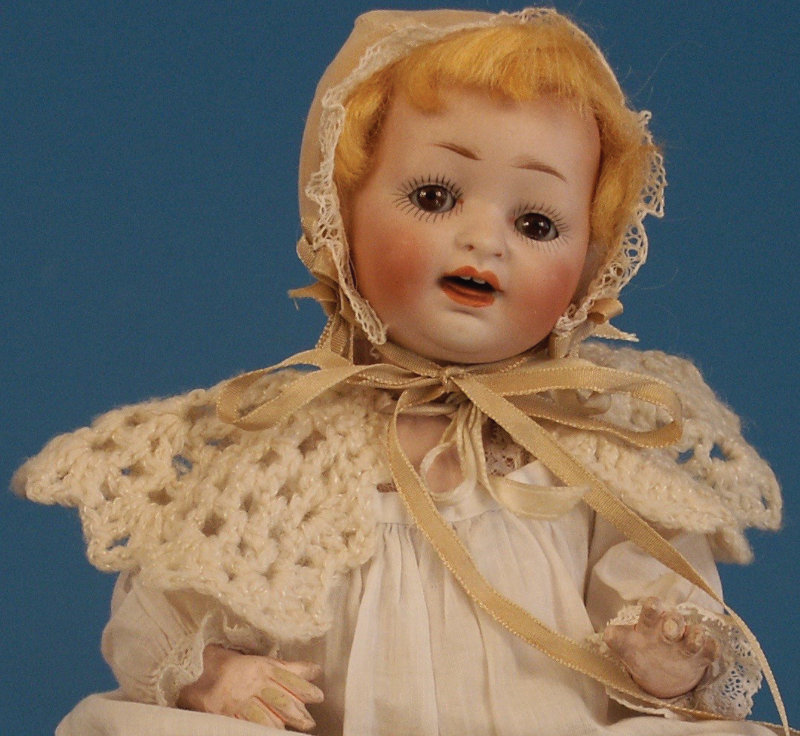 Next check the composition body to make sure it is right for the head. If it is a Kestner doll, it must be on a Kestner composition baby body. The determining factor is that the left hand of a Kestner baby is turned to the inside. It's OK for the body to have some scuffing, soil, and minor wear, but you want it to generally be in very good condition with the original paint finish and all original parts. Do not buy a doll with a repainted body, because you never know whether or not the parts are original to each other.
Hertel, Schwab & Co. and Gebruder Heubach heads were sold to various doll factories, so you will find them on a variety of different composition bodies, some of which, though original, may not be as good a quality as Kestner or K&R dolls. Just be sure the neck socket fits well and the doll is in proportion. The neck should fit snugly into the socket with no gaps, and it should fit into the socket, not sit on top of it. K&R dolls have heads made especially for them by Simon & Halbig and should be on K&R composition bodies, which are very good quality but unmarked.
Then look at the clothing. An all-original doll is the most coveted, but certainly rarely found, so you have to expect to pay more for one. Even so, you want antique clothing, perhaps a long christening-style dress and bonnet with lace trim, an antique romper suit for a boy, or a fine cotton dress with dainty lace trim for a girl. If the clothes are newly made, be sure they are from natural, preferably vintage, fibers — no shiny synthetic fabrics or heavy laces which are not appropriate for antique dolls.
It may seem complicated and daunting at first, but you will soon be a seasoned and confident buyer. Good luck, and please send us a photo of your first antique character baby doll!
Jan Foulke is an authority on antique and vintage dolls, with over 40 years of experience in the field. She's the author of the full-color reference book "Jan Foulke's Guide to Dolls" and writes the Antique Q&A column in each issue of DOLLS magazine. Send your antique doll questions to Jan Foulke.
Subscribe now to read Foulke's column in every issue and to get access to her past columns in DOLLS online archive of past issues!