By M. Alisa Benaresh
Looking at a Sylvia Weser doll is an experience. If you see her work displayed at a doll show, in a room full of dolls, you can appreciate her fine art. The artist, who lives and works in Germany, has received many prestigious awards from all over the world for her museum-quality work. Weser has never had her doll art reproduced for mass production — instead, she creates one-of-a-kinds or extremely limited editions of three, five, or 10 pieces at most.
Many times, collectors will look for beautifully sculpted dolls and settle for less than top-notch costume design. Or they'll find a doll with beautiful costuming, but the sculpt doesn't match its quality. But with a Sylvia Weser doll, you get everything.
Weser's sculpts start with Limoges porcelain, the finest type of porcelain for doll art. Working in porcelain is fast becoming a lost art. It takes so much time, requiring artists to master mold-making, go through numerous firings (which can take days), and learn to deal with difficulties in firing. Mastering the art of making porcelain dolls takes years of experience. Most artists find it easier to work with polymer clay to achieve the level of fine detail that Weser accomplishes in porcelain.
Weber doesn't buy ready-made porcelain slip. Even her ethnic dolls are created with white porcelain, hand-painted many times to achieve the correct skin hue — the porcelain must be fired after each coat of paint, so the process can take days in some cases. Each doll's wig is of the highest quality, often custom-made to Weser's specifications; she also uses only custom-made mouth-blown crystal glass eyes. Weser uses handmade suede and leather bodies for her dolls.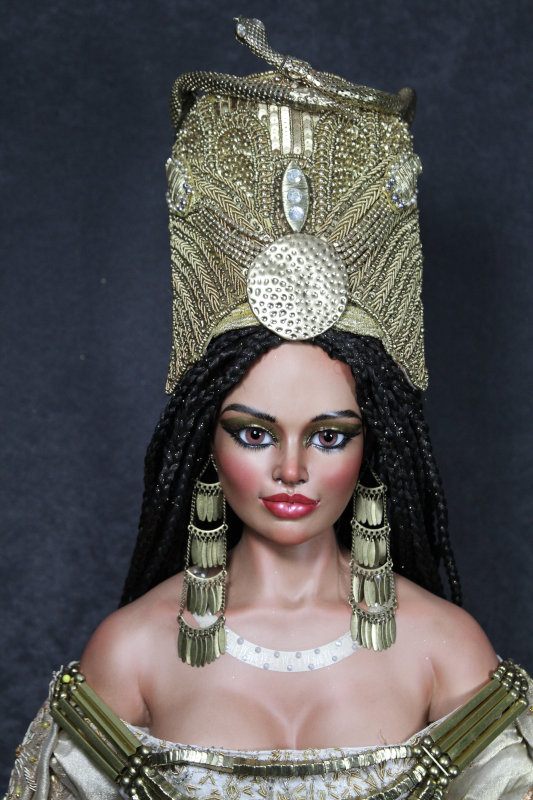 Moving from the doll itself to the subject of costume design, I will put my reputation on the line by saying that she is one of the best in the doll art world. The fabrics and trims she uses are the best money can buy. Weser clothes the entire doll herself, from undergarments to shoes to exquisite outfits, for her dolls, which tend to be large, many of them 40 inches tall.
Weser used to create mainly child dolls. I had a very important customer who wanted her to do adult dolls, but Weser said no, it was not her expertise. Well, this collector and I kept nagging her, and three years later she began creating adult dolls, which now outsell her child dolls. She recently began creating her own interpretations of historical figures, including Queen Elizabeth I, Anne Boleyn, Catherine The Great, and Marie Antoinette. She's also done fantasy and storybook characters, including a vampire bride and an incredible Frog Princess. Weser's dolls touch you on a visual, visceral, and emotional level. They touch your heart, because a Sylvia Weser doll has her heart and soul in each and every piece.