Dolls are rarely in the limelight in my upper West Side neighborhood of Manhattan. So I literally stopped short when, early in the autumn of 2004, I passed one of my favorite bookshops, Ivy's Books, and saw an old felt doll, a teddy bear and a group of Dare Wright's The Lonely Doll books filling the front window. Peering more closely at the quirky display, I quickly realized its impetus: the publication that month of a biography of Dare Wright by Jean Nathan, which had already been generating press attention in publications like The New York Times and Vogue magazine. Nathan's book, The Secret Life of the Lonely Doll (Henry Holt), sat in an antique birdcage in the center of the display.
"That window display elicited the strangest reactions from people who'd read the books," reports Ivy's Books owner Jay Pearsall. Most of the major media's coverage of the biography explored, in some detail, those "strange reactions."
Why such widespread interest in the deceased creator of a series of children's books, more than forty years old, featuring a doll and two teddy bears?  "Everybody I know loves the story," muses Danny Shapiro of The Toy Shoppe in Richmond, Virginia. "It moves from the dark side to the light side. And I find this new interest in Dare Wright's life in­triguing and mystifying."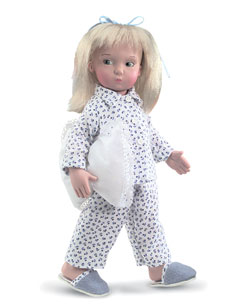 The story of the first, most well known, book, published in 1957, introduces Edith, a doll with a severe case of loneliness. One morning, two unexpected visitors arrive—Mr. Bear and Little Bear—and her problem is solved. The three live happily together until Edith and Little Bear get into serious mischief and are punished by a spanking from Mr. Bear. Edith panics that the bears will leave and she will be lonely again, but Mr. Bear assures her that as she and Little Bear have promised to behave from now on, they will stay forever. The book inspires hate/love relationships with a good number of its readers. Beloved by many, it also has been criticized for its spanking scene, for its anti-feminism and for what some see as its sexual undertones.
Dare Wright (1914-2001) was a successful model and photographer before devoting herself, in her forties, to the creation of the series of children's books about Edith and the two bears. Instead of illustrations, the books' images are Wright's moody black-and-white photographs, which lend a mysterious power of heightened realism. Wright's own life was unusual, and somewhat mysterious. She was raised as an only child by her divorced mother, the painter Edith Stevenson Wright, to whom she was deeply attached and for whom she frequently posed. The pair regularly engaged in extensive fantasy and make-believe as a means of creative expression, certainly making a heightened realism of their lives. In early adulthood, Dare discovered a handsome older brother, who had been brought up by their father and grew strongly attached to him, as well. Jean Nathan's book questions what The New York Times described as "unwholesomely close relationships with her mother and brother," and the possible resulting psychological damage, which may have caused Dare to create The Lonely Doll books as a form of personal therapy.
"The story of The Lonely Doll," concludes Nathan in her epilogue, "was in large measure Dare's own story. In the book, a tour de force of wish fulfillment, she found a way to make things right, providing her alter ego, Edith, with love and rescue….she ceaselessly sought that rescue in her own life, which was spent posing, playing dress-up and retreating into fantasy in order to remain her mother's 'good and precious daughter,' as if holding on to her mother and her mother's love depended on that."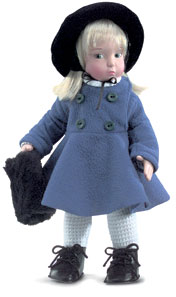 Astute doll collectors recognize that the Edith of the books is a made-over Lenci. "In 1924, Edie Wright bought Dare an Italian felt Lenci doll," explains Brook Ashley, a lifelong friend who became Dare's legal guardian when she grew ill and is now executor of her estate, in an unpublished article. The doll, according to Ashley (who now owns it), "was 22 inches tall and numbered series #109 in the Lenci catalogue. Dressed in a brilliant orange felt bonnet and organdy dress that was accented with felt flowers, the doll had mohair curls and Lenci's trademark side-glancing eyes. Dare named her Edith after her mother, whose hair was similarly styled," and eventually packed her carefully away in a trunk. She rediscovered the doll in the early 1950s, Brook continues, and "began transforming Edith from a classical Lenci into a new and distinctively different doll. Edith got a straight blond wig with bangs and a ponytail, just like Dare's own hair. Her ears were pierced for tiny gold hoop earrings, and Dare made her a pink-and-white gingham dress with a white pinafore."
While she encouraged and supported Jean Nathan's book, inviting the biographer on a personal tour of Wright's apartment, her possessions and portraits and granting access to Wright's personal photographs and writings, Ashley ultimately withdrew her cooperation from the project, believing that the biographer "would result in skewing the true story," as she wrote in a letter to The New York Times. "She [Dare] and Edie may have been entwined, but that did not stop Dare from achieving her own success," Ashley asserts in her article. "Dare grew into a beautiful woman who forged a new concept in children's literature. Dare was a joyous individual, not a quivering shadow of her mother. They enjoyed each other's company, and shared a bed when Edie visited."
While the truth of Dare Wright's life will remain forever in question, there is no doubt that the publication of Nathan's controversial biography has given life to Edith once again. The Toy Shoppe's Danny Shapiro unhesitatingly admits that "Jean Nathan's biography triggered our interest in having a new version of Edith produced." He ap­proached the Alexander Doll Company, makers of the very first rendition of Edith in 1958, to create an exclusive edition in vinyl with a felt finish (a medium that the company had recently introduced). He realized that such an Edith would be true to the original character, as well as linked to the company's origins as a maker of felt and cloth dolls. What's more, Alexander could now render Edith's signature side-glancing eyes, as crucial to an authentic resemblance as her traditional pink-and-white checked dress.
"Alexander and Edith are a perfect match on many levels," Shapiro continues. "This is another step in the lineage of the Lonely Doll, as Madame Alexander was the first to undertake an Edith doll."
"We are thrilled to be producing the Edith exclusive for The Toy Shoppe," says Alexander's director of marketing Jane Abrahams. "Edith is a character that is very close to our hearts at Alexander. This is the first felt Edith we have ever done; she has beautiful mohair hair and the designers have done an exquisite job of painting her face in a unique style."
The Toy Shoppe had commissioned and sold a highly praised all-felt interpretation of Edith, made by the husband-wife team of Haut-Melton in 1997 (see "The Mystique of Edith," Dolls, June/July 1997), and accompanied by a Little Bear made by Steiff, the makers of Dare Wright's own teddy to whom she assigned the role of Little Bear, and the makers of the forthcoming exclusive edition, as well. Shapiro describes the forthcoming doll from Alexander as "an excellent effort at getting the doll to look like the one in the book, in felt, and at a good price." The approximately 12-inch doll, limited to 500 pieces, sells for $249.95, with Steiff's six-inch accompanying open edition of Little Bear priced at $120. (The Haut-Melton set, released eight years ago, was limited to 750 and cost $895.)
There is a small list of other versions of the doll. Following the Alexander Company's first in 1958, the short-lived Rothschild Doll Company produced a 21-inch felt Edith in 1985, followed by the Haut-Melton version in 1997. The Alexander Doll Company obtained the license again in 2003, and produced an eight-inch hard-plastic version, which is still available. All of these versions went relatively unnoticed outside of the doll world; Shapiro hopes that the general interest spawned by Jean Nathan's biography will bring wider attention to this new rendition of the enigmatic character.
Whether or not it was a therapeutic exercise for its creator, "The Lonely Doll is a classic children's story," Shapiro maintains. "It has loneliness, friendship, mischief and an authority figure who punishes, but makes everything right again." The Alexander Doll Company's newest edition of Edith will certainly inspire readers of all ages to discover or rediscover this compelling story.