In the 26 years she's spent in the doll industry, Virginia Turner has just about seen it all. "When I first got into it, there were—at most—maybe 20 booths at Toy Fair," she recounts. "A few years ago, we counted 370-some-odd doll artists!" While the field of people making and selling dolls has grown more crowded, Turner Dolls always strives to stand out. That's one of many reasons why DOLLS magazine—itself celebrating a quarter century this year—is proud to honor Virginia Turner with the Lifetime Achievement Award. At the 2007 Doll & Teddy Bear Expo in Washington, D.C., in August, Jones Publishing founder Joe Jones presented her with the award and hearty congratulations for so many wonderful years of delighting doll lovers. "I feel humbled, surprised and appreciated," Virginia says.
Turner Dolls are Truly Homegrown Dolls
Unlike many of today's doll artists, Virginia Turner wasn't particularly fascinated by dolls as a girl. She was born in 1936 and her childhood coincided with World War II, when nearly everything was sacrificed for the war effort. "The only doll I remember getting, her composition was cracked," Virginia re­calls. Plus she had her hands full helping to take care of four brothers!
Virginia's parents were both artists, and she grew up with a love of art. When her daughters Julie, Susan and Teri were small, Virginia made clothes for their dolls. So she was well prepared for her accidental entry into the doll world. In 1981, Virginia was working in a bank, her husband, Boyce, managed a porch swing factory and did woodworking, and Boyce's sister Judy Turner was designing dolls. She needed extra help filling an order, so Virginia and Boyce started making porcelain in their North Vernon, Ind., basement. The trio soon formed Turner Dolls, selling Originals by Judy and a line of reproductions called Virginia's Very Own.
The company grew and grew—literally. In 1986, the Turners inherited a 40-acre farm in Heltonville, Ind., and converted it into doll central. Boyce "made a nice studio" out of the farm's smokehouse, Virginia explains, and other structures were built to house manufacturing facilities, a fabric and photography studio, and a doll shop. Within a few years, Judy opened a separate doll business. Meanwhile, Virginia had her hands full with her own creations.
She sculpted her first original porcelain doll, "Jeannie," in 1989. The edition of 500 "sold out as fast as we could make them!" Virginia says. A few years later, she released her first foray into vinyl, "Kitty Kay," another hit. That success continues, with Turner Dolls producing thousands of American-made dolls every year, to the smiles of collectors everywhere.
A Style of Her Own
Take one look at Virginia's wide-eyed infants or giggling toddlers and you too will have a hard time suppressing a grin. What's her secret? "I've always been a person who likes realism, such as that of Norman Rockwell," Virginia reveals. She strives to capture authentic ex­pressions and realistic de­tails. Fifteen years ago Virginia even spent two weeks in France studying with a master sculptor to improve her ability to create lifelike dolls.
Another hallmark of Turner Dolls is the size of its dolls. These babies and toddlers are usually close to the height they would be in real life, and a new line of little girls stands 28 inches tall. As the artist jokes, "The problem with being a fan of Virginia Turner is you need a big house!"
Turner Dolls is also famous for offering some of the last mass-produced dolls made in the United States. From the original sculpts to the vinyl and porcelain production to the costumes (all designed by Virginia), everything is done by the Turners and their employees on the farm-turned-factory. Lately, to give the dolls even more authenticity and value, Virginia has taken to hand-painting the eyebrows. So now no two dolls are exactly alike!
Fans and Friends
This devotion to homemade quality has won Turner Dolls widespread ac­claim. "Customers like the fact they're made in the U.S.A., and the detail work," says Brenda Grooms, manager of Christmas & Dolls in Pigeon Forge, Tenn. Everything is exquisite, from the trim or edging on a dress to the shape of a doll's lips, showing just how much time and effort the dollmakers put into getting everything just right. That all stems from Virginia, of course. "She's a perfectionist!" Grooms notes.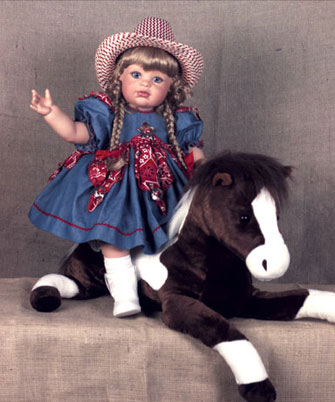 "Virginia's dolls are always of the finest of quality," says Debbie Bibb of The Doll House in Edmond, Okla. "The clothing is always so nice and detailed." In addition to her personal stash, Bibb adds that her daughter owns 37 Virginia Turner dolls!
Fellow doll artist Robert Tonner of Tonner Doll Co. is also on the bandwagon, marveling at Virginia's skill and determination. "If something needs to be done, she will figure out how to do it," he comments. Though Tonner is an industry leader for his own work, he professes genuine enthusiasm for Turner Dolls and Virginia herself: "She captures an innocence that is truly delightful. The dolls have an open, warm attitude that reflects what's best of the Midwest."
That friendly, down-home mid-western spirit is on display whenever Virginia attends a doll show or signing, according to Grooms. "It's like meeting a family member you've not seen in awhile," she explains. "She's a wonderful person." As proof, Grooms recalls how Virginia brought an order of dolls with her to a signing, eliminating the shipping charges. "I even have a doll named Brenda that Virginia named after me," Grooms says; Virginia gave her the first doll in the series.
This receptiveness to her collectors—dealers and fans alike—never wavers. "Virginia always makes sure every customer is pleased with his or her doll," explains Bibb, whose doll shop the Turners visit year in and year out. "She is always happy to visit with every collector, sign dolls, take pictures, etc., until the day is gone."Tonner recognizes the generosity and kindness. "I liked Virginia from the moment I met her," he says. "She is warm and engaging and right away I felt a connection with her. It's meeting people like Virginia and Boyce that makes me glad I'm in the doll business."
A Turning Point
As for Virginia, the feeling is mutual. "I've never considered other doll artists and companies as competition," she comments. "I've never cared about winning awards."
Though she was elated to earn the Lifetime Achievement Award, the moment was bittersweet, as her dog Honey wasn't there to see it. "She was like a mascot," Virginia says. The Australian shepherd, who was a faithful companion during RV trips to doll shows and signings and appeared in Turner Dolls catalogs, passed away earlier this year at the age of 17. The Turners created a lovely memorial for Honey and miss her dearly. Still, the farm grew a little too quiet, so now they have a new puppy, Mindy, who's "just precious."
Virginia also has a new knee after surgery to repair it this year. At 71, she's starting to take things more slowly. The rising cost of making all their dolls locally also factors into the Turners' decision to scale back production. Don't tell that to Turner Dolls fans, who can't imagine a world without more of these pretty dolls. Count Robert Tonner among them. "The industry needs her work," he muses, "a great doll, beautifully sculpted and designed." There's no need to panic, though. "I can't totally quit!" Virginia admits. In lieu of large editions, she is planning to "take my time and do what I like to do," concentrating more on small editions and one-of-a-kind dolls. And she's grateful for the support of fans and friends alike who have sustained her this far: "I couldn't have asked for a more exciting and re­warding life than to be a doll artist."