For those of us who are addicted, and there are millions of us, it's nearly impossible to believe that the Sunday-night antics of the Wisteria Lane ladies only debuted less than three years ago. The loves, laughs, triumphs and tragedies of this quintet of charismatic women initially flickered across our TV screens in October 2004. It's staggering to think we've only been enchanted with these Desperate House­wives for a bit more than two years. They've so enraptured us as a culture, become such a part of our lingo, it feels like a decade, for sure! The fact that these divinely daffy, seriously sultry and endearingly earnest women have made a dent in our collective psyches was certainly proven when America's First Lady Laura Bush referred to herself and Lynne Cheney, the VP's wife, as the ultimate desperate housewives. Her analogy garnered a huge laugh and a realization the campy ABC "dramedy" was here to stay.
"Desperate Housewives" is that rare breed of TV show that refuses to be pigeonholed. Is it a soap opera or a parody of the adult nighttime programs we grew to love with Dallas and Dynasty? Is it a full-fledged comedy, with occasional dramatic instances? Or is it a drama that knows how to make us laugh and break into a knowing smile? It's hard to say, so it's best to tag it as a "dramedy," one part drama/one part comedy.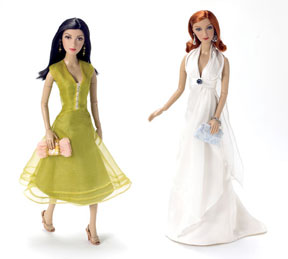 What makes the show so compulsive is the cast of talented actresses and their well-written, fabulously fleshed-out characters. Each of the women is a "stock" character, a compilation of recognizable, easily identifiable traits. There's the Career Woman, a mother who is struggling with holding a job while holding her family and life together. Rather than being a stale and overly familiar characterization, actress Felicity Huffman in­vests her Lynette Scavo persona with intelligence, vulnerability, cocksureness, doubt, pride and, of course, desperation. Sometimes she's able to do all at one time! It's not surprising Huffman has received the Emmy Award for this performance, and has been nominated for scores of other awards as well.
Huffman's not alone in her great work. Actress Teri Hatcher scored a major comeback with her landing of the Susan Mayer role. A lauded ingénue when she starred in Lois & Clark: The New Adventures of Superman, Hatcher admittedly had a quiet career after that TV show concluded its run. With her return to episodic TV, courtesy of Housewives' clever creator Marc Cherry, she's an unstoppable force to be reckoned with. She has morphed into a television superwoman!
Rounding out the cast are veteran professionals Marcia Cross as Bree Van De Kamp and Nicollette Sheridan as Edie Britt. Cross and Sheridan play polar opposites on the program: Bree is a perfectionist who lives by the rules, consulting the etiquette book at every turn. However, Bree is sadly discovering that she may know the recipe for a perfect pineapple upside-down cake, but her home life is quickly and uncontrollably turning upside down, as well. Edie is a renegade, who makes her own rules and quotes from the "Good Book," the Bible, when it suits her purposes. Very often, she turns a blind eye to her own flaws as she giddily points out the faults of her next-door neighbors and romantic rivals. She's not above casting stones, or setting suspicious house fires.
The last lady in the coffee klatch is relative newcomer Eva Longoria as the one-time fashion model Gabrielle Solis. Longoria embodies a pampered, selfish, materialistic wife who is slowly discovering the world is much bigger than her clothes closet, and—shock of all shocks—there's more to value in this world than a brand-new sports car and a huge diamond ring. She conveys the character's conflicted dimensions brilliantly.
The Desperate Housewife phenomenon goes beyond TV viewing. It has spawned computer games, calendars, boxed DVD sets and board games. It's a hit with housewives, single women, married men, bachelors and pretty much everyone with a pulse!
Alexander Doll Company (ADC) has launched a terrific line of fashion dolls that capture the mood and nuances of the show's leading ladies. Now, as we settle down on Sunday night to cheer on our favorite character or to hiss at their villainous trickery, to laugh at Susan's latest disastrous pratfall or to sympathize with Lynette's unexpected comeuppance, we can have three-dimensional renderings in hand. Tailored to resemble the actresses and outfits that have actually appeared on the show, the dolls are eye-catching and heart stopping. Being a little bit bad has never looked so good!
The Desperate Housewives dolls, from ADC, are the perfect complement to this ABC hit show. The rapturous women are all 16 inches tall, limited to 350 pieces and priced at $129.95. Now, if we can only convince the Alexander design team to come up with some hunky male dolls! There's Carlos, Mike, Tom, Ian, Orson…well, the list just goes on. You go, girls!