By Jan Foulke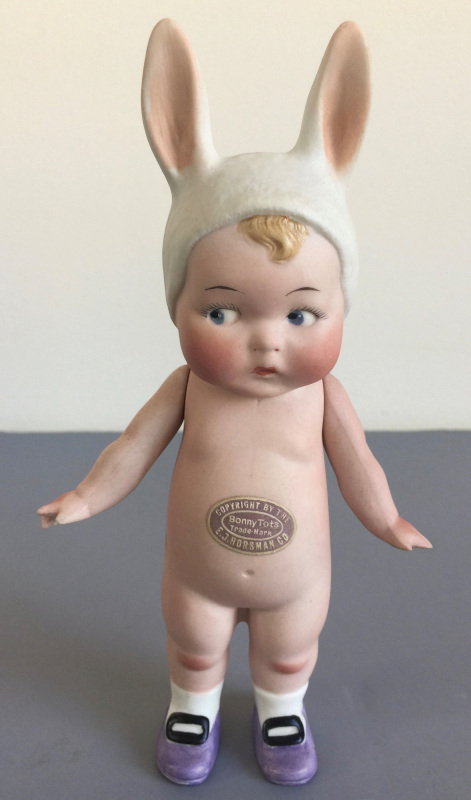 Q: I found this little all-bisque doll with a sticker that says "E.I. Horsman Co." and "Germany." I thought Horsman was an American company that made composition dolls. Are there two doll companies with the Horsman name?
A: No, there is only one E.I. Horsman company, which was named after its founder and located in New York City. Although best known as an American company producing composition dolls, like the famous Campbell Kids and Baby Dimples from the early 20th century, the Horsman company goes all the way back to 1865.
It wasn't until the mid-1870s that Horsman became involved with dolls. Until that time it imported for wholesale distribution mostly sporting goods and games from Germany. But then, on his buying trips to Germany, Horsman started visiting the doll factories and purchasing large numbers of a wide variety of bisque-head dolls of all types, as well as china-head dolls, wax dolls, papier-mâché, patent washable dolls, and fancy French-types, as well.
The wholesale prices ranged from penny dolls up to fancy goods at $20 each. The business kept expanding and moving to larger and more prestigious quarters. While Horsman was primarily an importer and distributer, it also became an assembler of dolls using parts imported from Germany, but was not then a manufacturer.
In 1909, Horsman developed their idea for composition character dolls, but did not manufacture them. They were made for Horsman by the Aetna Doll & Toy Co. until the two firms merged in 1919. It was at this same time that Horsman dropped their other lines and became wholly a manufacturer of dolls. The Horsman company prospered with a long list of popular dolls, including its line of cloth Babyland Rag dolls and composition Can't Break Em dolls. Over the years, they kept changing with the times, always producing a quality product at a popular price.
The doll that you have found is quite rare. I have only ever seen six or seven of these in all of my nearly 50 years in dolls. It was made for Horsman in Germany, as the company could not manufacture bisque items. It is labeled "Bonny Tot," but there is no doubt that it is actually a Bunny Tot, which was a creation of the illustrator Edward McCandlish, who did children's pages for newspapers in the 1920s and 1930s. He also wrote a series of books about the adventures of the Bunny Tots.
I can't explain why the doll label is Bonny Tot, other than that there may have been a dispute over copyright and compensation for the artist, as the invention of the character clearly belonged to McCandlish. Perhaps Horsman had to cease production, and perhaps that is why so few of these dolls are found today. McCandlish's biography mentions that he painted facial features on dolls at the Horsman Doll Co. and designed various dolls for the factory, but no specific details or doll names are given.
Bonny Tot wears a molded cap with pink-lined bunny ears. He has a chubby face with side-glancing eyes and rosy cheeks. He wears molded purple shoes with black buckles and white socks.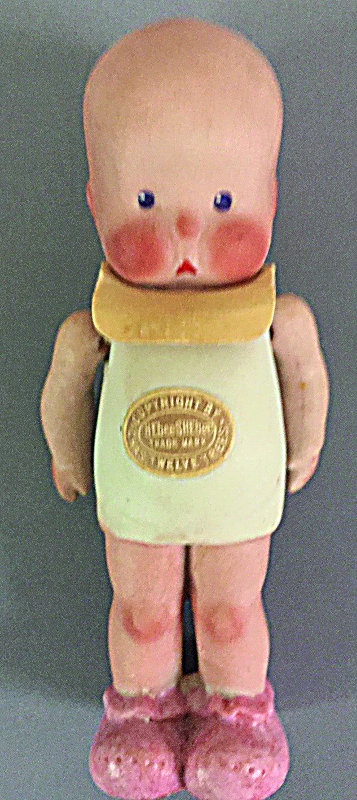 Another small all-bisque doll that Horsman produced and had made in Germany was the HEbee SHEbee. This is much more common than the Bunny Tot. The design was created by Charles Twelvetrees, a prominent illustrator of the 1920s. He primarily drew cute and adorable children, often with humorous captions. His work was featured in magazines, postcards, valentines, and calendars.
The HEbee SHEbee was one of his Twelvetrees Kids designs. The doll had a bald head, very chubby rosy cheeks, a button nose, and a tiny mouth. It wore a molded white shift and molded shoes. The boys had blue shoes and the girls had pink shoes. Horsman also made this doll in composition, wearing special outfits and having appropriate names.
Jan Foulke is an authority on antique and vintage dolls, with over 40 years of experience in the field. She's the author of the full-color reference book "Jan Foulke's Guide to Dolls" and writes the Antique Q&A column in each issue of DOLLS magazine. Send your antique doll questions to Jan Foulke.
Subscribe now to read Foulke's column in every issue and to get access to her past columns in DOLLS online archive of past issues!