By Pam North
Reproductions of antique bisque dolls are an enduring part of the doll-collecting scene. But few modern dollmakers try to re-create the carved-wood Queen Anne dolls of the 17th and 18th centuries. One artist who does is Maria Mordvinkova, and her creations beautifully reflect the historic look of the original Queen Ann dolls without carrying a hugely expensive price tag.
Queen Anne, the last Stuart monarch, was born in 1665 and reigned over Great Britain and Ireland from 1702 to her death in 1714. English woodcarvers and craftsmen began making Queen Anne-type dolls in the 17th century. Affordable only to affluent families then, most Queen Anne dolls were owned by women, who dressed them in the fashions of the time. Original dolls from that period in good to excellent condition are extremely rare. There are only about 30 17th-century Queen Anne dolls known to have survived, and they're valued at thousands of dollars each.
The wooden dolls are characterized by their jointed bodies and carved faces with brightly rouged cheeks and almond-shaped eyes (either of inset dark glass or painted). The facial features were shallowly carved, their stylized eyelashes and brows accented by tiny dot details, and slightly larger black dots on their faces to emulate beauty spots (the fake moles that women applied to their skin — the height of fashion at the time). The nose was applied to the face as a little wedge of wood in a beakish shape.
The entire doll was covered with gesso to seal the wood and then painted. The tongue-and-groove bodies had wooden peg joints at the knees and the hips, and the carved lower legs were thin, with roughly shaped feet without toes. The fork-fingered lower arms were attached with cloth or leather.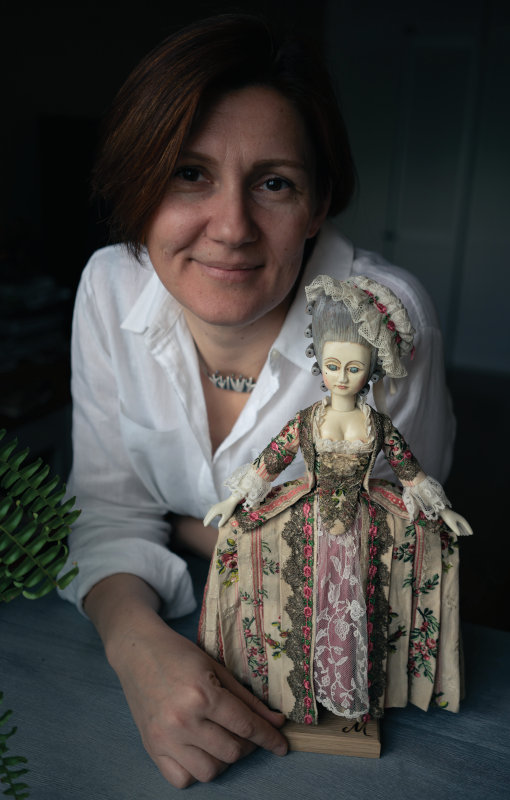 In her childhood, Mordvinkova played with dolls like any normal girl, but her interest in more commonplace dolls waned as she grew older. "I'm still not particularly interested in other people's dolls, with a few exceptions," she said. She grew up to become an engineer, and has lived for the past 12 years in Zelenograd (a part of Moscow), Russia, with her husband, two sons, and two daughters. She also worked in a pharmacy for a while, doing database maintenance.
Her free time was devoted to the creation of toys: initially ones made of felt, then teddy bears, and finally wooden dolls. She had received an order for a replica of an antique Queen Anne doll, which she declined because she didn't know how to make one. But learning about the doll type captured her interest, and she decided to develop the skills to make dolls in that style. Now she works in a very specialized niche, creating articulated wooden dolls mainly in the early Queen Anne style. She has been creating her wooden dolls for about five years.
Mordvinkova's training in her craft came in both the classroom and on her own. She painstakingly studied Queen Ann-type dolls to learn the details of their appearance and their construction, then solved the technical issues involved in re-creating them while determining what materials and techniques worked best.
"The main sources of inspiration for me are paintings from that period; doll auction photos of original dolls; museum examples of rare dolls, costumes; and original antique materials," she explained. "They determine a lot of what I do. I constantly study the information related to these dolls."
She cuts her dolls from linden wood, a conveniently obtained and pliable wood. Apart from some necessary but tedious stages in the dollmaking process, Mordvinkova said, "Everything else is rather exciting, though not that difficult," she commented. She gets the most satisfaction from the creative aspects of carving the wood and the final painting, and she views costume creation as "pure fun."
She uses acrylic paints, antique blown-glass eyes, and sometimes mohair for her dolls' wigs. Their costumes incorporate antique textiles, lace, decorative items, and other accessories. She said it takes about 10 full working days to make a doll. She sells her creations on Etsy, finding it a more convenient than the doll exhibitions in Russia and Europe she previously participated in.
Evolving in her craft is important to her. She tries emulating different types of antique dolls, and she experiments with more complicated costumes, adding suitable accessories and details. "I create wooden dolls using old methods and antique materials, but I also blend in modern technologies and new materials where useful and appropriate," she said. "Many collectors have told me that, in their opinion, dolls of my creation deserve to be a legacy that can be passed on to descendants. Just imagine — in the present moment I connect the past, in the form of my dolls and antique materials, with future generations. It is a great honor for me!"
Mordvinkova especially delights in fulfilling custom orders. "This is always an exciting adventure for two people, at the end of which there will be a prize. For me, it's the satisfaction from work; for the collector, it's a dream doll!"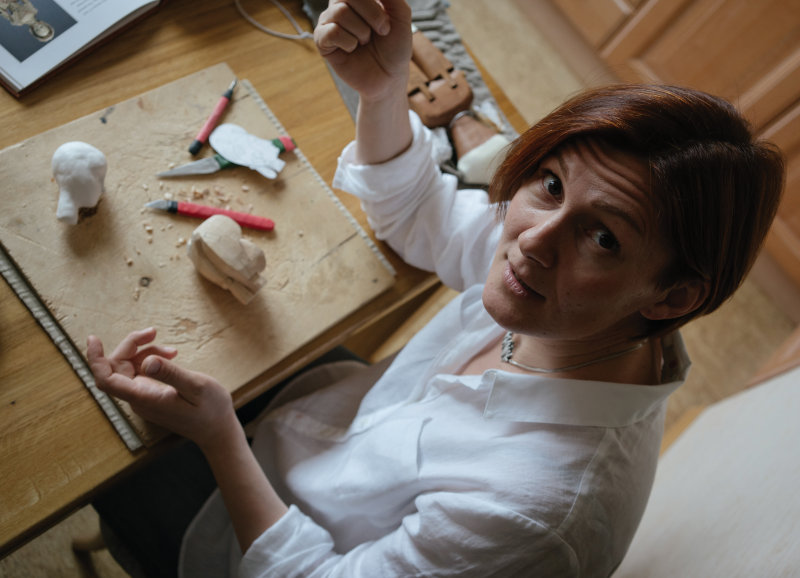 Since the artist and her family live in a city apartment, she doesn't have a dedicated workshop. "I work everywhere — in all the rooms and in the kitchen, on tables, chairs, and my lap!" Her family is supportive of her work. Her daughters like to play with her dolls, and they make critical comments in the process of creating costumes.
She views the future of dollmaking optimistically. "I see a growing interest in my field. It is also very interesting to me that many buyers return for my work again and again, and this is very pleasing! I think the world is continuing to appreciate artists and their creations, because these are authentic and unique items. I must say that I do not consider myself an artist, but rather that I am engaged in a craft in which I want to achieve a very high level of skill."
Mordvinkova is contemplating new directions to pursue in her craft. "There are a couple of doll types that I would like to try; these are Santos dolls and boudoir dolls. Of course, I plan to do them in my own way!"
Find out more at Maria Mordvinkova's Etsy shop