This week, I received offers to immortalize and commemorate the life of Elizabeth Taylor. The screen legend was most likely the last of the Hollywood royalty who seemed to have been groomed from infancy to be a film queen, who thrived on drama both on and off the set, and who became a blockbuster, international titan despite negative reviews and critics' sniping. People magazine, Entertainment Weekly, and Barnes & Noble flooded my e-mail in-box with offers to buy books, posters, and tribute one-shot publications that feted "La Liz." I also got a couple of e-mails from Cameron, my never-too-tired or broke-to-bid eBay pal. (If you remember, Cameron blew his yearly doll budget on one purchase of "I Dream of Jeannie" dolls.) Cameron was a great admirer of Taylor, and he wrote to me abashedly and apologetically: "Stephanie, would you consider me a ghoul," his letter began, "if my first thought was—Do you think my Elizabeth dolls have gone up in value?"
For many of us who collect celebrity memorabilia and film totems, that macabre thought does pop up every now and then. I know that during the days of Pee-wee Herman's publicized arrest for being a little too touchy/feely (with himself!), I had the same post-felony curiosity: Gee, will my Pee-wee doll and playhouse set double, triple, or possibly quadruple in value? And, like Cameron, I immediately felt a sense of embarrassed cupidity.
Was I collecting to make money, to get a healthy return on my investment, or was I acquiring for adoration and amusement? And can the two sides of the "coin" go hand in hand?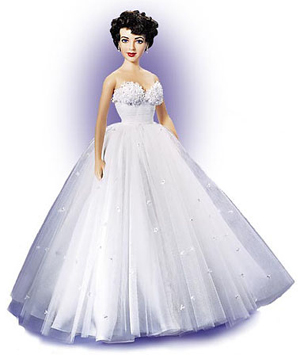 Cameron and I chatted about this, and used his Liz dolls as our conversational launch pad. A devotee of Liz for her off-screen charity work with amfAR and her celluloid roles (he really loves her in "A Place in the Sun"), we estimated that Cameron has spent close to $2,000 on different dolls that captured Taylor in all phases of her career. "No matter the age, no matter the role, no matter her size—she was beautiful inside and out," he maintains.
And that's what is so fascinating about the life of Elizabeth Taylor—actress, wife (eight times in that capacity), mother, tabloid fodder, activist, perfume pusher—she never held back. Taylor is as well known for her lusty appetites for love, drinks, food, and friendship as she is for her performances in "National Velvet," "Father of the Bride," and "Cat on a Hot Tin Roof."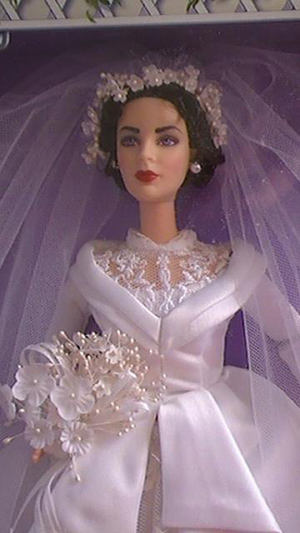 Because she was known to be so genuine and earthy when the cameras weren't rolling (she liked to hang out with the film crew and learned all of their names), she has a fascinating spot in the pantheon of old Hollywood gods and goddesses. She was like a fallen angel: a woman who could have had it all but always seemed to be missing the last piece of the puzzle to make her happy and whole. That vulnerability in a movie star who should have been invincible, and untouchable, is what touched her fans and endeared her to millions around the world. Though she was married eight times (twice to the same man), one got the sense that she was never as happy or as well-cared-for in real life as she was in her film incarnations. It's sad that "Father of the Bride" might have been her most joyous walk down the aisle.
"I don't feel right about thinking of selling my Elizabeth dolls," Cameron went on, "because it would be like betraying her. And she was betrayed by men her WHOLE life. I just couldn't do that."
I agreed with my fretting friend. If the thought of putting his dolls up for auction was going to give him ulcers, what would be the point? He should not let himself be eaten alive with guilt over trying to get some pocket-money gelt.
As we corresponded about the legacy of Elizabeth Taylor and if her star will continue to shine (remember, Marilyn Monroe, James Dean, and Elvis Presley are all earning more money posthumously), we heard on the radio that Taylor's estate is being reported as between $600 million and a billion dollars.
"Hmmm, she did quite well for herself," Cameron opined. And then he added: "I imagine if we looked like she did, we'd all do well too."
But that's not true, Cameron. In fact, one of the essential reasons for Taylor's clout in Tinseltown was that no one else really looked like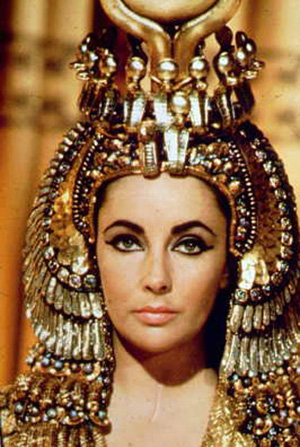 her. There were studio wannabes (Joan Collins was paraded around as "the poor man's Liz"), but nobody matched Elizabeth for those violet eyes, creamy white skin, heart-shaped face, raven locks, and itty-bitty waist. As Cleopatra, she looked every inch the regal empress, and she made 20th Century Fox executives bow down and reach deep into their pockets to pay her to accept that part. She became the highest paid actress in the history of the world, circa 1963. She cashed a $1,000,000 paycheck for that role, and became an icon for her looks, her bold attitude, her blossoming love affair with Richard Burton, and her unapologetic hedonism. Taylor became so entwined with the antics of the real Cleo, the literary interpretations of the Queen of the Nile, and her own misbehaving during filming that her appearance in the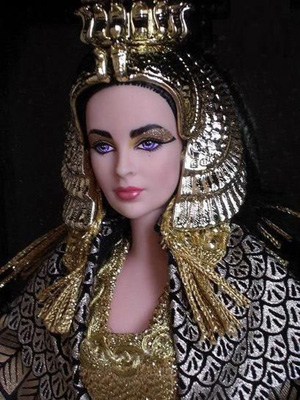 movie continues to be the stuff of legends and lore. If she had done nothing else in her profession, that role alone would have enshrined her with fans AND demonized her with detractors. (Look at the number of Cleopatra dolls made by companies and by repaint artists. It is staggering. And look at this example of the Real Liz and her doll version as Cleopatra. Hint: the doll has the black background. This is a woman who was like a walking/talking porcelain doll. Perhaps that is why she was so fragile in life. China dolls aren't meant to be handled so roughly and so fully. They are destined to break.)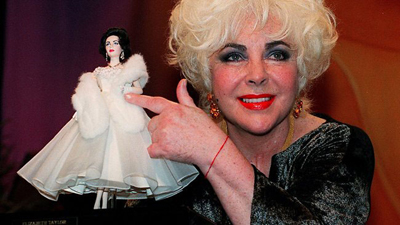 On March 23, 2011, a flesh-and-blood woman passed away. To her legions of admirers, film scholars, and memorabilia collectors, her memory and her beauty will live on. Though she aged (as we all do) and her health had declined noticeably over the last two years of her life, she continued to crusade for what she believed in. And that's what Cameron liked most. And to honor her memory, he has sold two of his Elizabeth dolls and donated the proceeds to amfAR. "I think she would have liked that," he said. And I agree. There's an extra White Diamond sparkling in the sky tonight, Cameron, and it's for you.
Elizabeth Taylor and a one-of-a-kind Elizabeth Taylor doll, with 27 individual diamonds set in platinum. Picture: AP/Kevork Djansezian. Source: AP