By Ankie Daanen
With a dollmaking career that's lasted more than 35 years, Aankie Daanen has become not only an accomplished artist but a sought-after teacher. For years, she has held regular classes and workshops at various shows and other settings around the world. When the COVID-19 pandemic disrupted everyone's plans for 2020, Daanen faced a choice: simply discontinue teaching for the duration or learn new ways to share her dollmaking knowledge. She graciously shared her story with DOLLS magazine:

For me, it felt like I was in the middle of the pandemic outbreak. I was just finishing a course in Florida on March 6, 2020, and preparing to fly to Chapel Hill, North Carolina, the day after. There, 15 students would gather at the country club for our annual six-day meeting to enjoy making a beautiful new doll. But on March 7, it was announced that the airspace over Spain was closing, and I was one of the lucky ones who could still be flown back to Madrid by Delta Air Lines.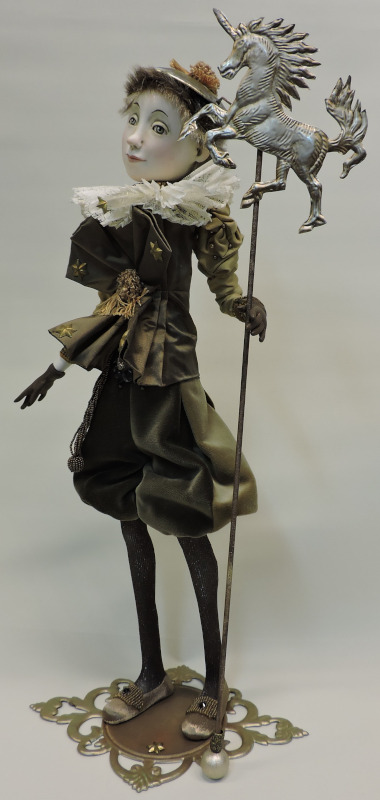 Never before had I seen an empty airport in Atlanta and never before had I flown to Madrid on an empty plane. And never before had I driven five hours to my hometown on empty highways! Our first concern was, of course, how do we make sure not to get infected! But over time, the realization arose that my job, as I was used to doing it, was no longer possible.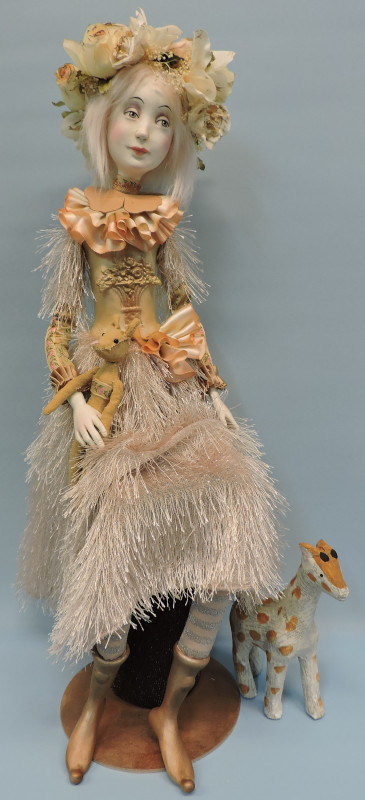 I had three holiday courses planned in Spain. There were five courses scheduled in America — everything had to be postponed. I also hardly know how to thank my students who were all enrolled in these courses, because everyone showed patience and is still on the list. And as soon as it is possible for all of us to meet again, we will join again to have a great time together and live out our love for making art dolls. I can't wait for that moment, because I miss my students very much!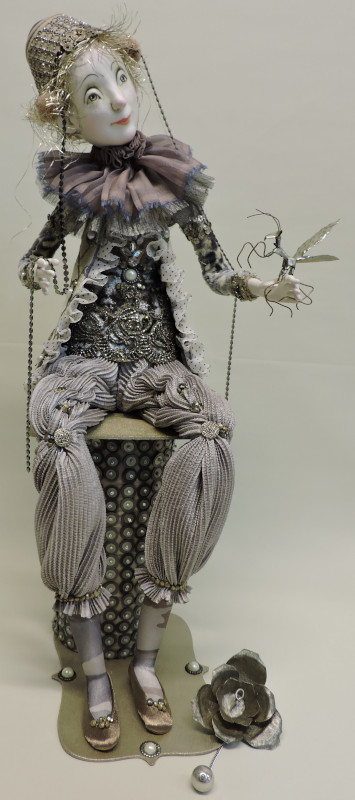 But in order to stay in touch, I had to learn how to use the computer, because I wouldn't get very far with just the knowledge of how to send an email. So that became a struggle — to learn how to record good videos so that my students can see the movement of my hands while modeling, reduce the content so it fits a computer program, add subtitles, and ensure that new courses would be developed that would appeal to my audience and to keep them motivated.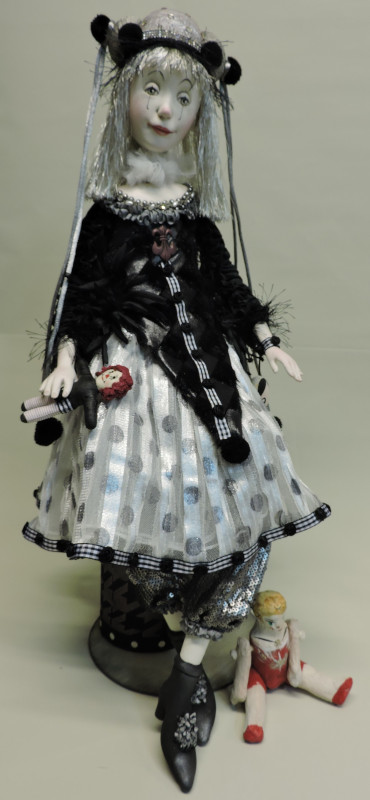 A fantastic achievement was created by the National Institute of American Doll Artists (NIADA) in the form of an online convention. Starting from scratch and little knowledge, a virtual conference was set up by a fantastic team. Many NIADA members made a wonderful contribution in the form of studio tours, lectures, demonstration videos, an online gallery show, a "mask" auction, and much more. It was a resounding success. After this pandemic, we will not forget what the word Zoom means!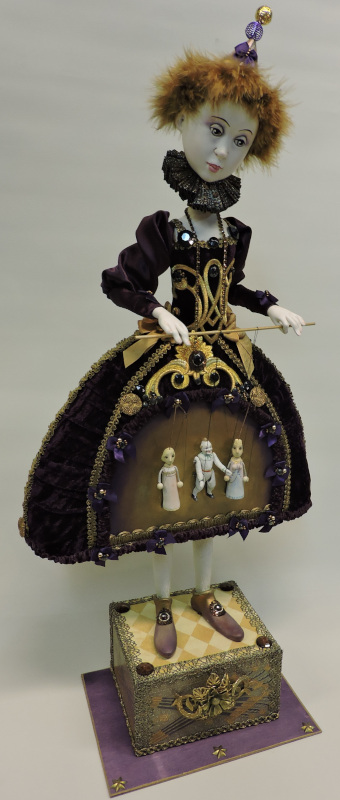 And now we are launching the brand-new NIADA Academy January 15, offering many fantastic online courses for students worldwide. We worked very hard for this! There will even be the possibility of one-on-one mentoring, in which a student can ask questions and receive answers and encouragement from the chosen artist.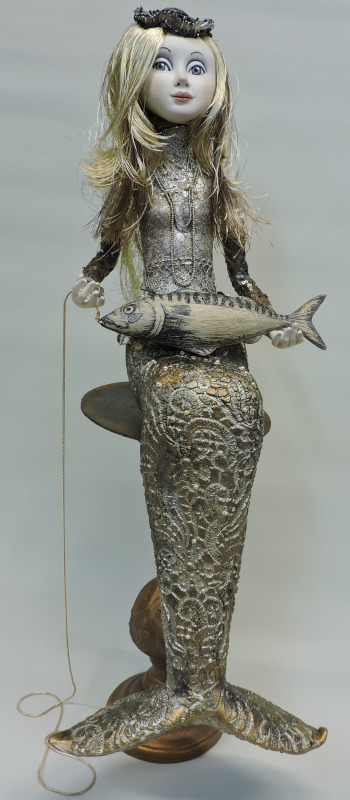 I also gladly contributed to the online doll show hosted by the Quinlans, and the Professional Doll Makers Art Guild (PDMAG) with their online conference! I also enjoyed contributing to the Art Connexion Summit set up by Adele Sciortino and Leslie O'Leary. I will also continue to do my best to keep making great courses for AforArtistic.com.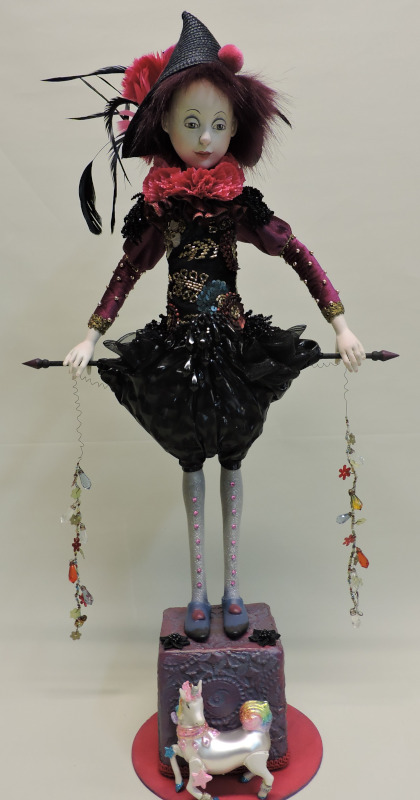 I can consider myself lucky that I never run out of new ideas to make a new art doll. In my studio, I have many beautiful materials that I like to transform into beautiful costumes. What is very unfortunate is the fact that I can no longer show my work live to my students or participate in an exhibition. That is difficult for an artist. Yet I would like to conclude with the wish that we all stay healthy, and that we wait patiently for the time of renewed real-life encounters to come again.
Find out more about Ankie Daanen's dolls and classes at her website
Online classes by Ankie Daanen
NIADA Academy: How to make a complete clown. A complete class with many aspects about costuming a doll, how to make faces, and how to make your own dolly necklace. (Bonus lesson: How to convert your clown into an Xmas man)
A for Artistic: Blue, Blue Girl. How to make a complete doll. This is a four-week class that covers basic sculpting of the head in paper clay; basic sculpting of the body, hands, and feet; painting; assembling the doll; costuming and embellishments; and more.