I love getting good news! Though "snail mail" is slowly and surely crawling to eventual extinction — I can count on two hands and one foot the number of Christmas cards I get via postman nowadays — the daily give-and-take, back-and-forth, of e-mail is picking up more and more momentum. (Not to mention texting, Facebook messaging, and IMing!)
That's why I am so happy that I opened my cyber in-box and found a cheerful and jubilant message from doll artist Ankie Daanen. "It's time for some doll news!" her note declared. And she then proceeded to share her upcoming announcements about private doll-making classes, studio classes, and tours across America and Canada to share her knowledge, enthusiasm, and wisdom.
It makes sense to me that Ankie Daanen is having such a fabulous career as an artist and a mentor. Being a teacher and imparting her life lessons is second nature to her. Before rising to the level of a beloved figural-art maven, Daanen was a teacher. She worked as both a traditional education teacher, and then as a music teacher. The music gig allowed her to keep in touch with her creative spirit and her desire to express herself in a free-spirited, unfettered way.
"I had wanted to become a ballerina, an opera singer, or a designer when I was young. My parents, though, were worried if I went to art school. They thought I would not be able to support myself," she told me. "I put aside my dreams of art school and went to an educational academy and became a teacher. My dreams never went away, though."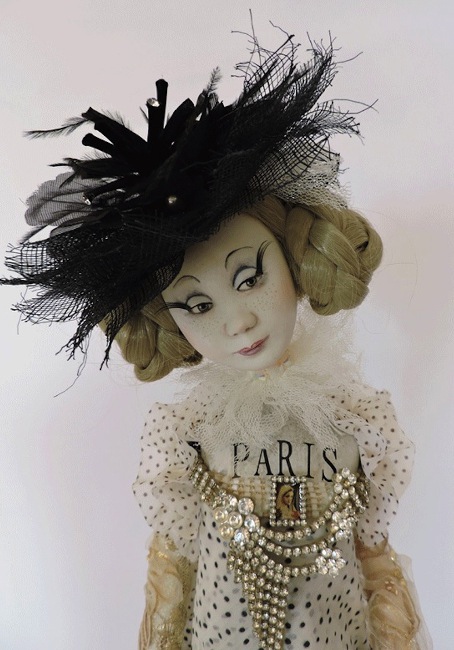 Five years spent in the classroom as a teacher, and then years spent at a conservatory to learn the principles of music, Daanen was doing all she could do to combine an artistic bent with the straight and narrow path of earning a living.
Everything changed when she went to an exhibition of doll art. As she walked past the costumed creations, studying their wardrobes and poses, she had a professional epiphany: "I knew that is what I was supposed to be doing!"
Daanen's breakthrough happened in the late 1980s, and since then she has been on the road to doll nirvana. It's been 30-plus years and she has never regretted her decision to jump into her new role as a doll artist and dream builder.
"I am passionate about dollmaking. I always knew that it would become more and more accepted as a work of art. I knew that critics would come one day to recognize it as such," she admitted. "Good dolls begin with good craftsmanship. The skills and the knowledge have to be present to make a doll, and then the vision and the emotion of the artist are drawn upon to make that doll a special one. A doll reflects the artist's talents and emotions."
Many of Daanen's dolls have a unique, whimsical streak to them. They often appear to be theatrical entertainers: clowns, dancers, acrobats, or mimes that have been captured momentarily in a glorious performing tableau. Her dolls seem to be in the midst of putting on a show, and then their talents and efforts have been frozen in time, trapped by her keen eyes and skillful hands.
Her personal connection to the performing arts does indeed color this Harlequin interpretation. The same way that she had desired to gravitate to the stage and the applause of an audience, her doll characters seemingly come alive when they are caught in their acts. "For me, it is all about giving my dolls a soul," Daanen has always stressed. "I want my dolls to give you the feeling that they have a life and a soul. They should give you an intimate connection — the same way as if they are born with a human spirit."
Many of Daanen's creations are elaborately coiffed and clad. She has gained a well-deserved reputation for working cleverly with beads and gems, lush fabrics and delicate trims. Some of her dolls are garbed in ensembles that mimic a stage set or the backdrop of a stage setting. Her theatrical inclinations are made clear and are made real as she builds dolls that slip into a marvelous array of costumes and cloaks, dramatic attire and fanciful togs.
Over the years, Daanen has unveiled a huge cast of unique and original characters. These art dolls are the fictional members of her grand epic; they are the cast of her operatic, dramatic, sprawling imaginary play. "My audience has always responded well to my fantasy dolls," she told me. "These are dolls that look like people from another world. They have individual emotions and original appearances. They reflect what is in my mind and in my heart. I am fortunate that they have always been able to touch the minds and hearts of my collectors."
Part of the year, Daanen resides in Spain, and she conducts doll classes in her home perched by the sea. She and her students watched the devastation that the tropical hurricanes unleashed this past month, and she sends her best wishes to anyone affected by the storms. Daanen's soul and heart were touched by the images she's seen of the houses crushed and the people's dreams capsized: "Our weather is changing, but what we have seen in the world has shocked us. We are saddened for those who had to suffer from all the rain and the hurricanes. If you were one of those people, we wish you all the strength you will need to build up again your life and homes!"
Just as Daanen has always hoped that her dolls could find and promote the shared humanity in all of us, she now hopes that all of us will come together to rebuild the communities that have been struck. In her newest e-mail, where she mentions her travel schedule for late 2017 and 2018, and also discusses her doll classes co-taught with Marlaine Verhelst, she ends with a wish for "a quiet and peaceful autumn."
For these two Dutch artists, they both hope that the end of the year will be a safe and serene one. All of us across the world silently and serenely agree.