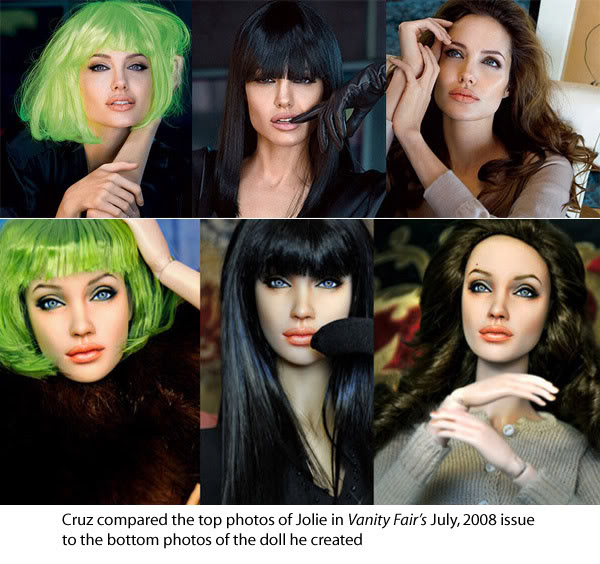 What the heck is "Auld Lang Syne," anyway? And will it become a doll? Oh, 2010, you came at me like a bat out of hell, and you're flying away like a pigeon with a clipped wing!
If you're like me, 2010 was a year of intense ups and downs—it seemed that I was on the verge of a financial, spiritual and emotional breakdown several times throughout the past 12 months, but always a cooler head and an intense belief that things will have to get better saw me through.
Amid all of the roller-coaster highs-and-lows of economic "recovery," there have been glimmers of hope that perhaps 2011 will be a better and brighter year. What has given me a lot of faith is the continued health of the doll industry.
True, there have been healthier times, and more robust years, but 2010 was bursting with proof that reports of the doll's demise have been greatly exaggerated. (And that's another reason to celebrate 2010—it marked the year Mark Twain's autobiography was finally allowed to be published. Part 1 is in bookstores now, and waiting for me on my Nook.)
Here, then, are some random thoughts I've had about our past doll year. Consider it my way of raising a "cup of kindness yet" and all that jazz: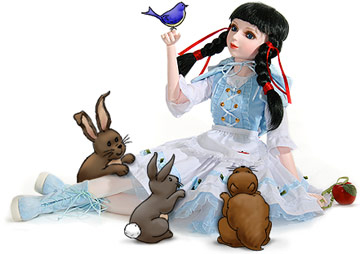 BJDs: Who knew an acronym could be so darn inspirational? Usually, three-letter constructions make me think of the military (MIA, POW) or of government entities (FBI, ATF, FBI). Here, now, are three letters that have opened up a door to creativity and cooperation. Doll artists are challenged to construct these dolls that are meant to be disassembled, snapped together, played with, and re-accessorized. Single-handedly, the BJDs have made it fun once more to own a doll. After years of collectors not being allowed to touch or unwrap, the BJD phenomenon has taught us all that we own the collection; it's not the other way around. Here's a big thumbs-up for the BJD. It has taught me to wave a fond farewell to MIB (and NRFB, for that matter, too).
Customizing: Dolls are no longer preserved as "just so." The past year showed a spike in independent artists who ply their amazing talents as doll customizers: taking an existing doll and changing its age, ethnicity, appearance, career, and general countenance. Doll customizing goes hand-in-hand with the BJD movement. They both show that dolls can continue to inspire little girls who are at the cusp of maturity, and all of us dames sitting on the other side who are wanting and ready to express ourselves once more. Doll customizing is a great way to bridge the gender and generation gap. Over the Christmas holidays, dig out a doll or two that have fallen out of favor or are in disrepair, and let you and your children's inner Picassos go wild.
Barbie: Say what you want about the curvaceous one, but she never gets old. Always being updated and re-invented, Ms. Roberts dominated headlines, like she always has. She made a splash in Disney's "TOY STORY 3," along with her swain, Ken, that she had a pretty powerful understanding of geopolitical philosophy. ("Authority should derive from the consent of the governed, not from the threat of force!" Got a big laugh in the movie theater, but also sent chills up my libertarian spine. Wish that rallying cry was online!) In addition to her Ayn Rand-like role in "Toy Story," she also grabbed front-page coverage for her too-provocative "Little Black Dress" ensemble, her video camera surveillance fears, and as the agent provocateur of a possible rap gang war between Lil' Kim and Nicki Minaj. If 2011 is even half as productive for Barbie, she'll be the number one topic of conversation on twitter and facebook.
A gay doll? What else is new? Released with much fanfare, Robert Tonner's latest fashion doll, Andy Mills—a successful, cosmopolitan party planner—entered the world with a proud declaration: "I'm gay." After outing himself, the reaction seemed to be "Yes, and what else is new?" The doll world is filled with talented men and women, who just happen to be gay, so the introduction of a self-defining gay doll was readily and silently accepted. There seemed to be no outrage, or intolerance, or proposed boycotts. Andy entered the doll realm quietly and confidently, just as it should be.
A vampire doll? What else is new? Initially, dolls that were more deadly than darling were unusual and raised collectors' eyebrows. It was daring and risqué to have a doll that was elegantly evil, slightly sinister, and happily horrible. Now, it's par for the course. What new offering doesn't seem to be descended from a voodoo doll? There are so many supernatural backstories floating around, next year's big development just might be exorcist dolls. I wonder if they'll come complete with holy water, or will that be extra?
Bye-bye Babies. Hello, Gorgeous: Remove the American Girl phenomenon from the mix—those iconic dolls have a subculture all their own—and most little girls are not clamoring for baby dolls anymore. The doll as the go-to gift is falling to the wayside, being replaced by video games, sports paraphernalia and electronic gadgets. Doll companies have tracked this development, and are concentrating on making larger and more mature creations. Realistic teens and young men and women in their prime will be the commonplace muses for manufacturers going forth. Despite dolls getting older and larger, still NO sign of a Betty White doll.
Print Media Upheaval: Doll magazines, as well as other collectible and niche publications, are folding. However, doll news flashes are still being delivered by DOLLS magazine in a quicker and more efficient way than ever before. Sure, paper magazines might be getting thinner, but the cyber universe is more active and alive than ever before. (Remember, this blog isn't being published the "old-fashioned" way. It's cutting edge, baby!)
Charity Begins at Home: Nothing made me prouder than to be involved in DOLLS magazine's charity venture. Published digitally, this electronic marvel focused on doll artists and companies who "dare to care." A large percentage of the magazine's ad sales and revenue was going to charity as well. It was a triumphant celebration of men, women and businesses that use the sales of their dolls to fund personally relevant causes. Education, cancer research, AIDS outreach, and various other good works were covered by these outstanding individuals and institutions. A paper copy of the charity issue can be bought from Jones Publishing for $15 (call (800) 331-0038, ext. 132), with proceeds going to charity as well.
In a year that could have slid downhill, and continued to plummet, DOLLS and dolls raised the bar for all of us. I can't wait to see what 2011 holds in store (and in the stores). Sorry, I couldn't resist one last pun for 2010!
Photo Captions
 
Can anyone say "doppelganger"? Hard to believe that the bottom row of photos are not of the "real" Angelina Jolie. No, the top lineup are the pictures of the sexy, globe-trotting movie star. The ones below are 16-inch vinyl versions of her, made by doll customizer Noel Cruz. The spectacular repaint artist gained notoriety when one of his Jolie re-creations fetched $3,500 on eBay. See more startling results on www.ncruz.com.
Snow White, Into the Woods, designed by Paulette Goodreau, and located at The Toy Shoppe, was one of many dolls that proved this BJD trend shows no sign of slowing down. Standing 17 inches tall, and featuring 17 points of articulation, the fairytale heroine is a dream come true for doll fanciers. Adorable and crying out to be re-dressed and handled, these dolls are reinvigorating collecting (or should I say, playing).