As a New Yorker (yes, I know I reside in N.J., but my heart is forever with my hometown), I think the most beautiful time of the year is Christmas. During the week after Thanksgiving, leading right up to the Epiphany, Manhattan is decked out like a debutante with a million fancy-dress balls to attend. The number of festooned windows, lampposts, buildings, street signs, and even fire hydrants is staggering. Of course, the big tree that towers above Rockefeller Center is legendary, and a whole NBC-TV special is centered around it. But oversize evergreens are just the start of the holiday pageantry in New York City.
One of the most eagerly anticipated hallmarks of the season is the decorating of the big department-store windows on and around Fifth Avenue, down to Herald Square. The art directors who work for the stores, as well as their freelance support staff, rise to the occasion every year, coming up with visions that are visionary and joyful.
This year, lots of shop windows are going the steampunk way: combining fanciful Victoriana with quirky feats of science and technology. It's imaginary Dickens meets industrial design—quite lovely and cutting-edge, a great hybrid.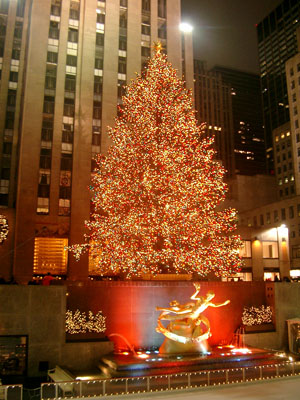 At Lord & Taylor, the doyenne of department stores, the window-dressers went a traditional route, which actually proved to be untraditional this calendar year. Apparently, all year long, the store had been asking its customers to share their favorite holiday memories. Not being an L&T shopper (my budget is more Target and Old Navy), I learned about his outreach just a couple of weeks ago when their store window was unveiled.
With plenty of pomp and circumstance, the store held a ceremony when their Christmas finery was ready for public inspection. Stars, dignitaries, and New Yorkers willing to brave the cold joined forces to see what would be in store for them. The result: a dollhouse theme, with dolls embodying the memories and recollections of their customers.
How sweet! How touching! How absolutely radical to go the old-fashioned, no bells-and-whistles route.
The Lord & Taylor store display is earning rave reviews from those in the know. People are really responding to the merging of personal anecdotes with dolls acting out the vignettes. It's funny—isn't it—that a bunch of jaded big-city denizens are applauding something we've all known for years. Dolls and individual memories have always gone hand in hand. It's why they're made, and why they're bought. Interesting that a fancy store with a pedigree for luxury has to drive home such a simple point.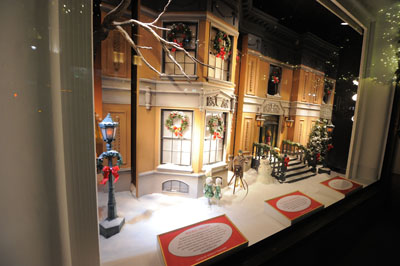 If I had been aware of the Lord & Taylor survey about Christmas recollections, I know which one I would have shared. It happened many years ago—back in the early 1990s. My niece, Boo, was just a little girl, and I loved to spoil her! Being a single gal back then, with no kids of my own, I used Boo as my present proxy: buying her all the toys and dolls I wished I had for myself.
"The Little Mermaid" was a big hit at that time, and every little girl wanted to be "Ariel" and marry "Prince Eric." Boo was no exception, and I bought her the double-whammy gift that year: the Ariel and Eric dolls.
When Boo opened up the first gift from me—Ariel—she shrieked with excitement. When she opened up the second one—Eric—she nearly lost her mind. The pitch her voice reached can normally only be achieved by dolphins; I think a pack of wild dogs rushed to our front-door step.
Boo was ecstatic, beyond overjoyed. I was so touched seeing how two little dolls could bring such unbridled happiness to one little girl, I felt my eyes swell with tears, and my heart swell with satisfaction.
Sure, we all know money can't buy happiness—yadda yadda. But on Christmas, the perfect gift—the item a child has been pining for all year long—brings joy to both the giver and the recipient. That's what I call a win-win situation.
Here's hoping your Christmas morning is filled with lots of glee and gratitude, and, if you're lucky, shrieks of pure Boo-like happiness.
Happy week before Christmas, everyone!
Photo Captions
Victorian garbs and modern-day gadgets are a popular theme in lots of New York shop windows this year.
It's beginning to look a lot like Christmas—the whole world over—when the Rockefeller Center Christmas tree gets lit, kicking off the holiday season.
The stately Lord and Taylor window display this year features a panorama of dollhouses, which each contains vignettes based upon their customers' favorite Christmas memories. Dolls and dollhouses are causing quite a stir among Manhattan observers.