(Theresa Merritt and some of her dolls.)
Photos courtesy of Lady With a Past
In addition to being a first-rate doll artist and historical researcher, Theresa Merritt is a born conversationalist. Probably because she loves history so much, she is gifted with the ability to share stories of her life, her ambitions, her dreams, and her accomplishments. Theresa doesn't just answer a question; she weaves a tapestry of intrigue and excitement.
I was lucky enough to interview Theresa, the intellect behind Lady with a Past, for an upcoming issue of DOLLS magazine, but I have a lot of info that has spilled over to this week's DOLL CHRONICLES blog. Here are some thoughts, impressions, and images from Ms. Merritt that didn't make it into the hard-copy magazine. It's my pleasure to debut them here!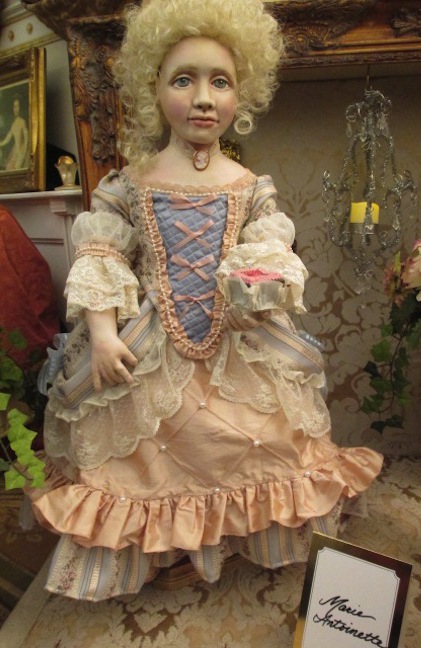 (Young Marie Antoinette)
Because Theresa's passion is history, she couldn't help but have that avocation spill into her doll creations. Among her artistic offerings are extremely famous faces — like the young and flirtatious Marie Antoinette — as well as less known personages, like Grace Bedell, a young-child pen pal to Abraham Lincoln, and Helen Johnstone, known as "The Bride of Annadale."
She is enamored with discovering, and then turning three-dimensional, the wide array of heroines she's met through her reading and studying. Among her proudest accomplishments is the fact that she is making visible the experience of African-American women. This is a group of individuals that have often been "hidden figures," like the new Theodore Melfi movie suggests.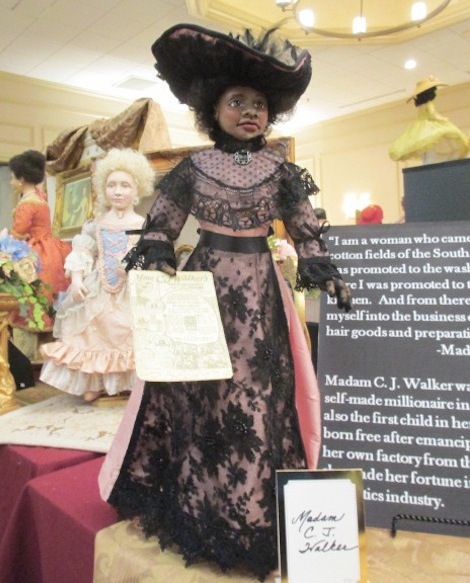 (Madam C. J. Walker)
"One of my African-American collectors is a teacher in Boston, and she suggested several famous black women that I might be interested in sculpting. This totally intrigued me, for I had not heard of some of them, and it upset me that I had not!" Theresa declared. "The first of these was Madam C. J. Walker. She was born free of former slave parents. She developed a line of hair care products for African-American women, and it eventually led to her becoming the first black female millionaire in the United States!" Madam Walker was born in 1867 and passed away in 1919. She was an entrepreneur, a social and political activist, a philanthropist, and an inspiration to her contemporaries, who were forced to reconsider prejudicial opinions they held about her race and her gender.
Another suggestion that sparked Theresa's creative drive was the real-life author Phillis Wheatley. "She was the first female African-American poetess to be published in the United States, in the 1700s," Theresa revealed.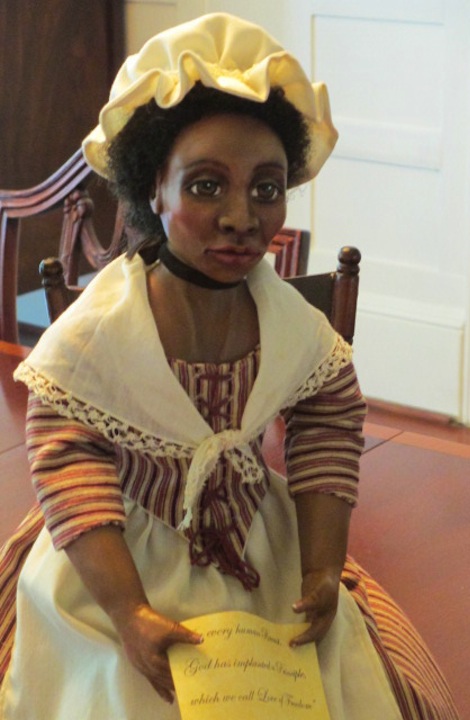 (Phillis Wheatley)
Wheatley is a fascinating woman. During an era where even the wealthiest white women were often barely literate — girls were not commonly educated in letters or in science — she revealed a talent that caught the attention of her "masters." The Wheatley family recognized her intellect and verbal agility and had Phillis educated in reading, writing, and the arts. Her book of poetry, published in 1773 when she was 20 years old, brought her acclaim and worldwide notoriety. Among her admirers were General George Washington, Thomas Paine, and King George III, soon-to-be toppled monarch of Great Britain and its colonies.
Though she led a surprisingly rich, emotional life, Wheatley's fame did not translate into personal wealth. She was freed when her master died, in 1778, and she went on to marry and to have three children, who all died in infancy. Her husband was eventually incarcerated in debtors' prison, and she was forced to work as a scullery maid to make ends meet. She died at age 31 in 1784; her body was not accustomed to the demanding physical work that the boarding house owners expected of her as a lowly domestic worker.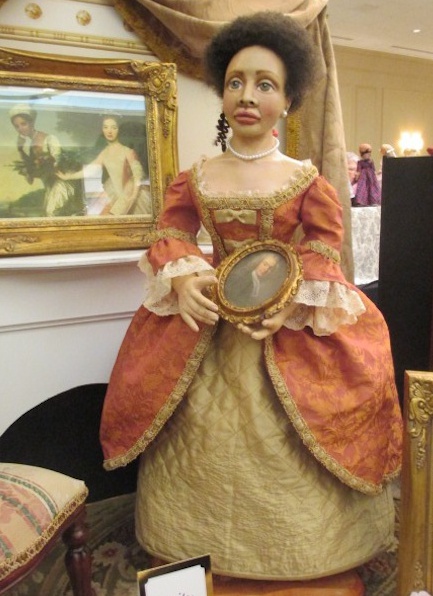 (Dido Elizabeth Belle)
Looming among Theresa's favorite stories is the epic and romantic saga of Belle, a true-to-life tale that was made into a movie of the same name. Everything about this young woman's biography, along with the film, transfixed the artist. "The movie 'Belle' is about a young mulatto girl who was born in 1761 from the union of a British naval officer and a black woman, with whom he had a brief relationship. This all happened during a port-of-call stay. Going back to the same island years later, the officer discovered he had a daughter, and her mother was dead. He named her Dido Elizabeth Belle and took her back to England to be raised by his uncle, who was one of the most influential men in the British government — equivalent to our modern day Justice of the Supreme Court," Theresa outlined.
"Belle was raised as an equal, along with a white niece, which was unheard of. It is thought that her great-uncle's affection for her influenced his decision in halting the slave trade in Britain! Her costume was made of a beautiful salmon-colored damask, which I had held on to for years waiting for just the right doll! Her silk petticoat was hand-quilted, and took me about two weeks just to do that. I consider her one of my finest works to date," she confided.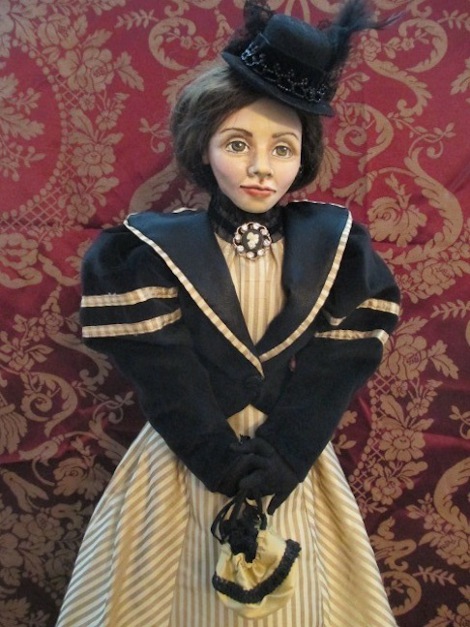 (Lizzie Borden)
Besides these admirable characters, Merritt has enjoyed pursuing (occasionally) women with little merit — or, at least, little sympathy directed toward them. One of these women with a shady past that intrigued her is the notorious murderer Lizzie Borden: "There was a wonderful miniseries done about her several years ago, starring actress Christina Ricci, and that really inspired me to sculpt her. The costumes in the series were fabulous, and I copied one of them for Lizzie. At the doll show, where she was sold, many ladies teasingly asked, 'Where is her axe?' I would then open the little reticule she was carrying to reveal a small silver axe I was lucky enough to find!"
Having mined the past for so many appealing, interesting, and formidable women, Theresa admitted that she does ponder creating some contemporary or more recent-past idols of her own. "I have never sculpted a modern-day doll, as my creative energy lies in the past. However, if I did choose some to make, they might include Michelle Obama, Maya Angelou, Jackie Kennedy, or maybe some actresses such as Meryl Streep or Vivien Leigh," she stated.