Back in the 1960s and '70s, when rally cries were a staple of the protest movements, someone lustily yelled out, "Power to the people." And that citizen scream stuck. "Power to the people": it is concise, easy to remember, and encompasses a lot of situations. All in all, it's a great catchphrase.
This weekend, I found myself enmeshed in a world where "Puppet Up" was bellowed over and over, and a tiny, furry, loving red beast reduced grown men and women to tears. Yep, I had a "puppet power" marathon. It wasn't intentional, but its results were inspirational.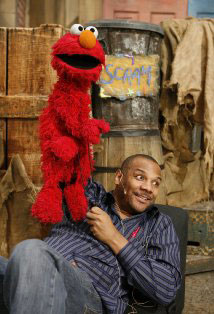 By accident, I stumbled across the PBS TV series "Independent Lens." This week's airing was the fascinating documentary "Being Elmo." If you're like me, you often forget that there is a hand, and a heart, attached to the creatures that dwell on Sesame Street. These figures are so lively and personable that they all seem to be autonomous and, well, real. "Being Elmo" focuses on the man who gives the little monster—a term that predates Lady Gaga—his voice, his vision, and his versatility. The puppeteer's name is Kevin Clash, and he is an engaging figure because he seems to be doing exactly what he was fated to do. With another nod to Gaga, Clash is a puppeteer because he was born that way.
Growing up in a working-class section of Baltimore County, Maryland, Clash forgot the scarred landscape of his hometown and allowed himself to be swept away by the allure of hand puppets and emoting mascots. When "Sesame Street" began to air on Public Broadcasting in 1969, the 9-year-old was intrigued. He immediately started to figure out how the characters were stuffed, strung, and seamed. This was a process he wanted to try his own hand at. After trial and error, over many, many years, the young man became a performer who entertained at birthday parties, children's hospitals, and finally on a local affiliate's children's TV program.
The reason why this documentary, narrated by Whoopi Goldberg, is so effective is because the journey is upbeat and uplifting. Though Clash has personal setbacks along the way—his marriage falls apart; he realizes he has spent more time in front of strangers' children than his own 16-year-old daughter—he never feels sorry for himself nor does he shirk his responsibilities.
Winning awards for his artistry, gaining status as a pop culture icon—name one person who didn't go crazy for a "Tickle Me, Elmo"—and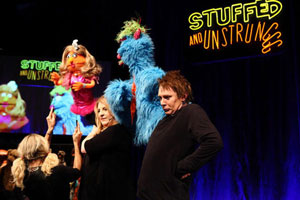 earning credentials as a performer and a producer, Kevin Clash shows viewers that his greatest role is as enlightened human being. Helping others who are also bitten by the puppet bug, he mentors, coaches, and inspires. That's a great legacy for a funny, fuzzy furball with a toddler's speech pattern and a childlike sense of wonder.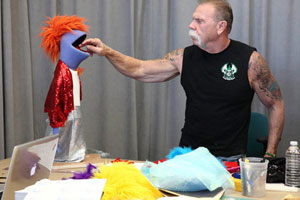 While Mr. Clash spreads good cheer and positive thoughts with his character, the cast of "The Celebrity Apprentice" clash with one another, hurl bleeped-out comments, and distribute more negatives than a photo-development lab. This week's task for the remaining "famous" folks who want to be Mr. Trump's star surrogate centered on—you got it—puppets! And not just any puppets. The last 8 contestants were asked to design two original creations, imbue them with personalities, and improvise with them during the Henson Company's adults-only show, "Stuffed and Unstrung."
What was so interesting about this challenge is that it asked these ingénues—none of them, except for Clay Aiken, had ever handled a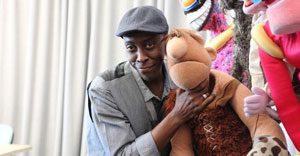 puppet—to make that necessary transition from being front and center to being crouched down and out of sight.
The souls who attempted to put their souls into a mishmash of felt, feathers, and Ping-Pong balls were Clay Aiken, the perennial "Boy Next Door" from "American Idol," and Lisa Lampanelli, the self-described "Queen of Mean," versus Arsenio "Dog Pound" Hall and Teresa "Table Flipper" Giudice.
For neophytes, their labors were much better than I would have anticipated, and Clay Aiken showed off a naughty wit and a propensity toward British accents. He actually had his grown-up crowd laughing and applauding.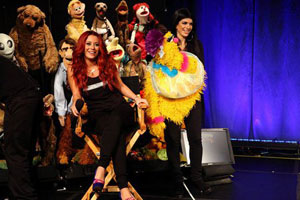 As I watched this reality show, which begs the notion of "reality," I couldn't help but be impressed by the power of puppets. The last 8 participants are a ragtag band of attention-seekers, glory hounds, needy and desperate housewives, loud and affected C-listers, deposed beauty queens, and Vegas magicians who would rather be anywhere else at this moment. Still, they all managed to come together—with only one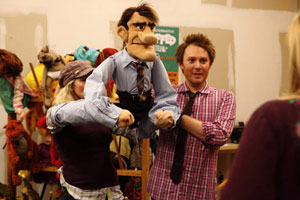 emotional, teary, obscenity-spewing breakdown—and put on a darn funny show.
Perhaps these celebrities, and wannabe celebs, fell under the spell of puppets and puppetry, just like Kevin Clash did more than 40 years ago. When a bundle of fabric and a parcel of pipe cleaners, a handful of glitter and a workshop's worth of wool, are handed to you and you're told to create and become, you have to rise to the challenge. In order to be the most convincing puppet possible, you have to tap into your most vulnerable and lovable side. You have to be willing to be totally and anonymously human—even if you are a celebrity apprentice.