I'm not sure if Suzanne Collins was picturing me when she pounded out the "Hunger Games" trilogy. Certainly, I was not who she envisioned as one of her youthful, teen warriors, but did she ever imagine that her three books would be adopted as a battle-cry for folks of every age, and every background, who worry about the fate of the United States and what lies in store for us over the next generation? Published by Scholastic—which immediately suggests school book clubs and pre-teen passions—the fictional account of a post-Apocalyptic America is gritty and gruesome and captures the real essence of personal responsibility and grrrrl power!
Never mind the Spice Girls, who really were just a slightly less tawdry forerunner of the Pussycat Dolls, the gals and guys who inhabit the Hunger Games landscape are gladiators—expected to enter a surreal reality-TV setup where they battle to the death. Teenagers are an angst-riddled group—and their emotions can shift on a dime—but the Hunger Games shows how a kid can go from baking a cupcake one day to perfecting full-body camouflage the next. Their world is such that concerns over acne instantly fade away to worries over battle scars and missing limbs.
Rugged, hyper rational, and ready for warfare (and these are the girls, mind you), the characters of these books and the film define rough-and-tumble. And now Mattel is going to release movie tie-in dolls.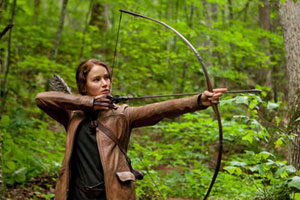 In years past, dolls were accessorized with hairbrushes, slip-on kitten heels, and maybe a hair clip or hair bow. This year's version of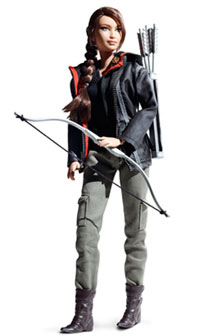 Katniss Everdeen comes with a bow, all right—a bow and a quiver of arrows. She is a stripped-down, severe combatant who is more Artemis the Huntress than artistic or honey-sweet. She is formidable and fierce, and Mattel has made her portrait doll pretty spot-on.
Who will buy the Katniss doll? Since she rises to be a symbol of populist sentiments in the script, she seems very solitary and out of sorts in her current form. Will she be accompanied by a male companion (the characters of Peeta and Gale spring to mind) or by a younger, female counterpart who tugged at her heartstrings and solidified her role as a champion for the underdog? (I'm envisioning the ill-fated tiny Rue.)
The fascinating thing about converting characters from this blockbuster book into dolls is that these young heroes and heroines are growing up in a world devoid of play. Though they do have occasions of merriment, the specter of looming, possible death cloaks everything they do.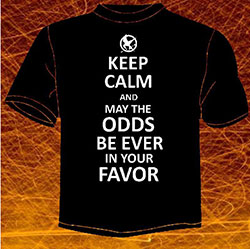 If you haven't read the series, do so. It is a meshing of Shirley Jackson's classic short story "The Lottery" and Stephen King's "The Running Man." The youth of a future, decayed America (called Panem) are chosen at random to battle for their district's reputation and for their own life. The life-and-death struggles are beamed into homes as nightly entertainment—a sweeping version of "Survivor" but with real consequences.
Though an abbreviated explanation of the novels makes it seem silly and ridiculous, the book stands on its own weight. It is so thoroughly detailed and constructed that a reader accepts the premise and cares about the outcome of the doomed District candidates.
Will Mattel introduce the other players in this ultimate fighting battleground? Will the designers re-create the outfits that the participants wear for the pre-games pageantry? Will Katniss eventually morph from being an emblem of freedom and defiance to a fashion-plate who is packaged with her armoire rather than her armor?
It depends upon how well this premiere doll does, won't it? She is slated to debut in August, keyed into the DVD's release. If Katniss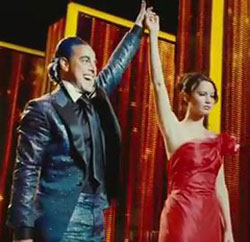 racks up large advance sales, and generates lots of buzz, then we might see her in different ensembles: "Girl on Fire," "Mockingjay Rises," "Return to District 12," or "Sacrifice with the Berries."
With the Hunger Games, Mattel has a franchise that is the antithesis of playing dress-up and building a dream house. In this upside-down world, the youth of America clad themselves for battle and attempt to tear down a nightmare civilization.
Instead of the pink box marketing campaign, Katniss would be perfectly matched with a desolate gray. Here's hoping that the brave yet flawed, powerful but scared character retains her humanity in her new Barbie-esque form. Her strength comes from her youth and her determination—it'll be worth watching to see if her moral compass remains intact, or if it will be supplanted by a host of added-on toy extras.