(Two Santos dolls)
Photos Courtesy of Linndolls
The year 2017 is beginning, and the aspect of a brand-new, clean-slate existence is certainly appealing. Everyone has baggage that they've overstuffed with regrets, missed opportunities, poorly chosen words, and roads not taken. For some people, this emotional baggage is a simple carry-on-luggage–sized worry; for others, it is a lifetime of not being sure that the right choices had been made; perhaps their path took a wrong turn and the road just kept wending away from them.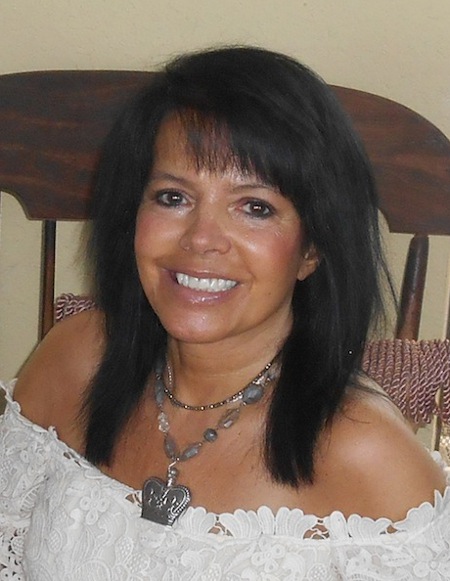 (Linda Valentino Michel)
For doll artist Linda Valentino Michel, these feelings of being burdened and in need of comfort and understanding are touchstones of her artwork. It might seem odd that a doll maker who is primarily known for her toddler and children dolls would be drawn to these intense feelings of doubt and searches for spiritual awakening. But Linda is not one's typical doll artist. From her early days as a doll hobbyist, who gradually realized this was a way to earn an income and help support her five children, Linda has also traveled on the road of unexpected outcomes.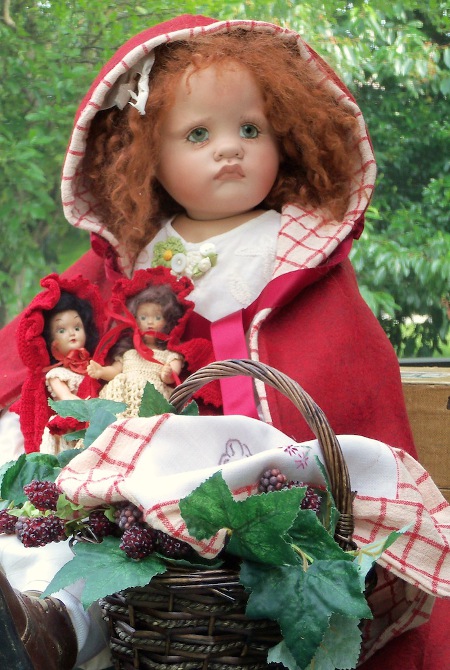 (Red Riding Hood can be however a reader imagines her.)
When you get a chance to chat with her, you quickly realize that Linda is in tune with the underpinnings of desire and dreaming, aspirations and inspiration. "Life has many aspects of a fairy tale, but I know that not everyone gets the happy endings they want or deserve. I believe I make my dolls for them," she shared with me. "In many dream analysis books, dolls represent childhood, and I get so many letters from my collectors that say their childhoods were far from perfect. It seems my dolls strike that chord."
Dolls — and especially dolls bought by an adult audience, and made for an adult collector base — are much more than the sum of their parts. There is the dual composition of them: why the artist has made them, and what the collector is seeing in them and deriving from them. These often don't match, but for Linda and her fans, they are very much on the same wavelength. Linda describes herself as "spiritual and empathetic," and her dolls do reflect her compassion for the characters themselves and the women who purchase them.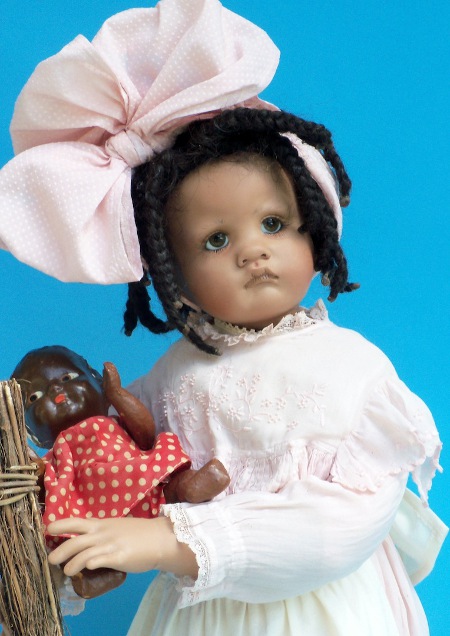 (Cinderella is Linda's favorite doll to create.)
"Cinderella is my most favorite doll to create, and I ONLY make the 'Poor Cinderella.' To me, she has so much more character, and I love to find torn and worn old shoes from an attic barn estate sale. In my opinion, the shabbier . . . the better! I'm thinking as I make the Cinderella doll, 'Bring on those glass slippers, but not just yet!'" Linda revealed.
Even as a child and a young woman, Linda was drawn to the nostalgic, more vulnerable side of life. Back in the 1960s, she inherited her grandfather's radio: "I became fascinated with antiques. The radio dated from the 1920s, and I have been hooked on antiques ever since. It's like paying respects to the memories of others."
Beyond having been bequeathed the Depression Era radio, Linda became fascinated with finding other artifacts of the past. Visual and creative, she gravitated to antique postcards, and then antique photos of actual people and children of the past. It is very similar to the way the author Ransom Riggs discovered a cache of antique photographs and then built his "Miss Peregrine's Home for Peculiar Children" on those bygone images.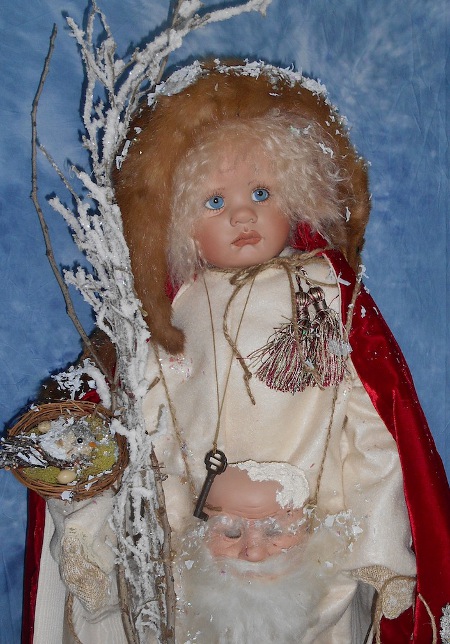 (Santa Mask was inspired by Linda's vintage postcard and photograph collection.)
Rather than typing out biographies of these long-ago, long-forgotten tykes, Linda began to sculpt tributes to them. "I loved the looks of these chubby-faced children from the 1910s and the 1920s. Back then, it was almost impossible to determine the ages of their precious cherubic faces," Linda recalled. "Also, I loved how they all looked so unhappy to be there. Apparently, photographers didn't tell their subjects to smile back then."
Those expressive, somewhat stoic, somewhat melancholy, faces are what have colored Valentino Michel's artistry ever since: "I knew right away that these were the faces I wanted to re-create. Though I have honed my skills a lot in these past decades, the look I want to capture hasn't changed. My dolls are pouty, but contemplative, I hope."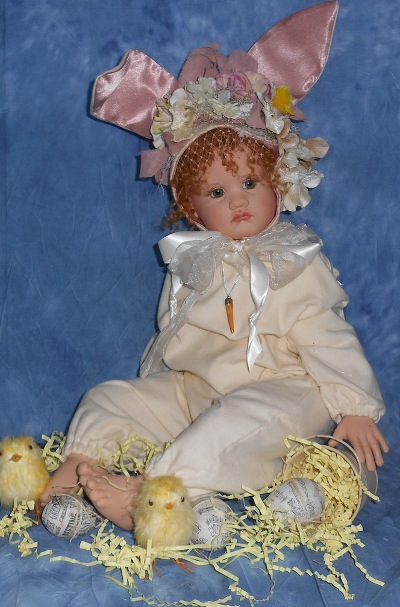 (Spring Bunny)
Thinking about how her dolls sometimes appear to the public, Linda stated that she follows her heart and her beliefs. "Collectors collect for as many different reasons as doll artists make them. If people tell me that my dolls are too sad, I listen, but I just have to do what seems true for me," she said.
In her personal life, Valentino Michel has survived setbacks and has climbed pinnacles of creative challenges and social expectations. She found her true love as an adult woman, with children, in 1994. The setting was a wintry landscape in New York City at the romantic Tavern on the Green restaurant. Now, nearly 23 years later, she is still "very much in love" with the gentleman that she met that evening.
"Ed is still my fairy tale come true! We have amazing family reunions. He has four sons and three grandchildren. I have five children and eleven grandchildren. All of these precious faces keep me inspired and excited to start new sculpts," Linda has shared.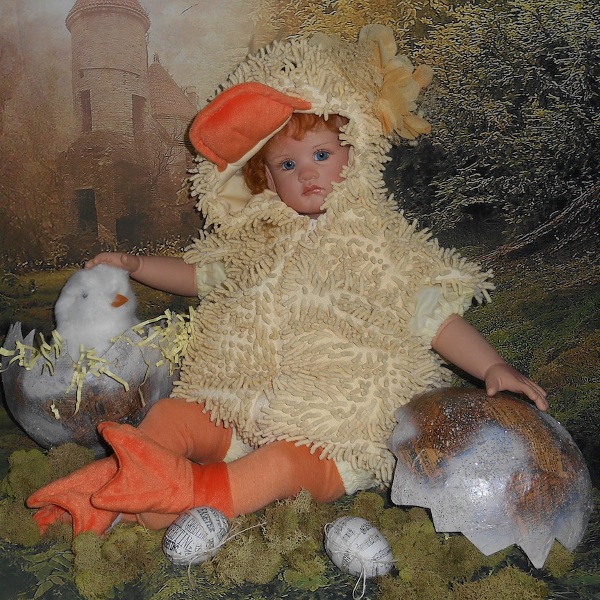 (My Little Chick-a-Dee, Easter)
Linda and Ed love to travel around the world, packing their valises — no emotional baggage here — and discovering the treasures of different countries, cultures, and communities. "We live for these adventures every year. We start planning in early spring," she commented.
During their journeys, they have rented apartments in Paris or in Italy for two or three weeks. While there, they shop flea markets, visit antique shops tucked away in alleys, and browse stalls and jumble stores: "It is totally awesome! We fill our suitcases with antique rosaries, medals, laces, doll clothes, buttons, fabrics, and beads."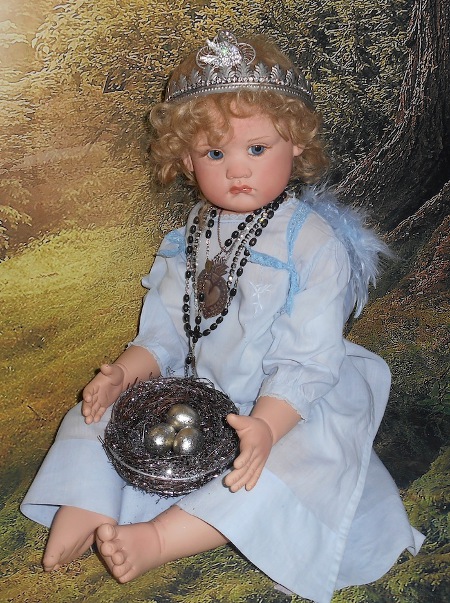 (Full-length Santos doll wearing and holding an assortment of antique treasures)
While visiting and exploring Florence, back in 2006 or so, they "stumbled across" a shop located outside of Collodi, which is the birthplace of Carlo Lorenzini. Lorenzini authored "Pinocchio" under the pen name of Carlo Collodi. "In this little shop, we saw hundreds of sweet-faced Pinocchio dolls. This was so inspirational to me," Linda recalled. "As soon as I got home, I sculpted my own, with a separate mold for his nose that I hand-applied to every face." The first Pinocchio dolls were porcelain, and they sold quite well. However, nose breakage was a problem! Pinocchio's defining facial characteristic — his nasal appendage — kept snapping off. This prompted Linda to reproduce him in vinyl.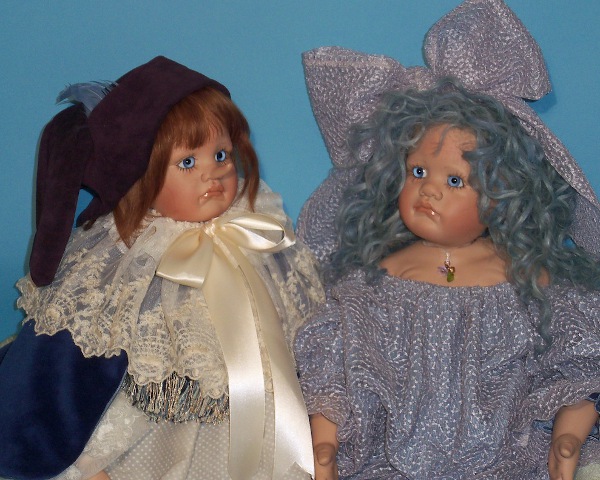 (Pinocchio and Blue Fairy)
What's especially fascinating about the Pinocchio doll that Linda ended up making is that he is "handsome and suave," she described. Rather than a wooden ragamuffin puppet or a shy, embarrassed schoolboy, Linda's interpretation is a dashing figure with a romantic interest: the Blue Fairy.
"I created her as a little friend to Pinocchio. He is morphing into what he always wanted to be. He has become a handsome boy with a beautiful suit of clothes," Linda shared.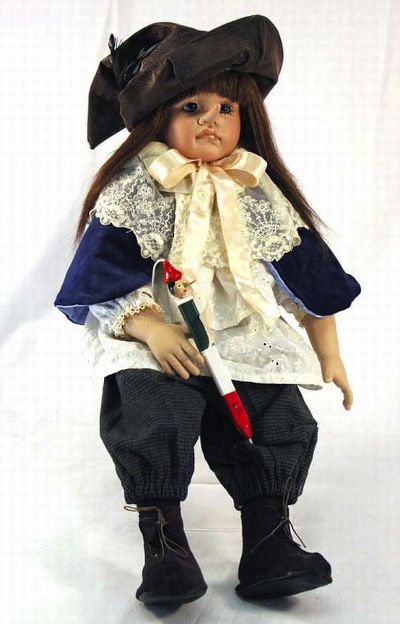 (Pinocchio, I Believe in Fairy Tales)
How fitting, then, that her trip to Italy, with the "fairy-tale prince of my dreams," her husband Ed, should spur this interpretation of the transformation story. "Fairy tales have changed so much through the decades, a lot less scary, but the 'happily ever after' is still a satisfying end for most of us," Linda Valentino Michel declared. "I am grateful for a husband who never loses patience with my creative chaotic mess. I am lucky that I have him in my life. I never lose sight of my good fortune. I wish this happy ending to everyone."