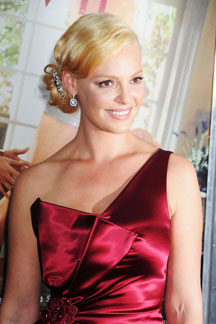 Thanksgiving is certainly ushers in my happiest, cheeriest, most sustained moods. A few times throughout the year, my spirits will spike (my children's birthdays, their good report cards, family trips, a "Walking Dead" episode with lots of zombie attacks and subterfuge), but usually I am on a pretty even keel: a little tired, a tiny bit tense, a tad anxious, and a bit goofy. Come the third week of November, though, I am suddenly on a month-long sugar high. I love the kick-off of the holiday season, and Thanksgiving makes me grateful for what I have, who I know, and where I live. And, as usual, the world of dolls teaches a valuable lesson about thinking of others and reaching out from your own heart.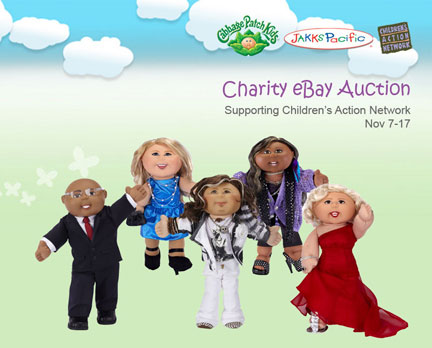 On November 16, about a week ago, I learned of the JAKKS Pacific, Cabbage Patch Kids, and Children's Action Network celebrity eBay auction. Apparently, Jakks and Children's Action Network joined forces to raise funds and awareness about America's foster-care system and the dire need for adoptive parents to come forth and welcome these children into their homes.
Using the 2011 versions of Cabbage Patch Kids (CPKs), the designers at JAKKS turned these iconic toys into recognizable and well-regarded celebs. The five chosen luminaries were Al Roker, Katherine Heigl, Steven Tyler, Kristin Chenoweth, and Raven-Symoné.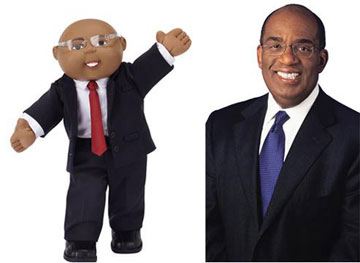 What's so great about this blending of dolls and dollars is that the majority of the stars involved have personal connections to the world of adoption. Weatherman and national treasure Al Roker is the father of an adopted daughter and was raised in a family with adoptive siblings. Katherine Heigl — the heroine of every "chick flick" seemingly ever made — has an adopted daughter and an older adopted sister. Broadway sensation and "Glee" guest star Kristin Chenoweth is adopted. Raven-Symoné, the grown-up "Cosby" actress, is a tireless advocate for children's rights, as is Steven Tyler.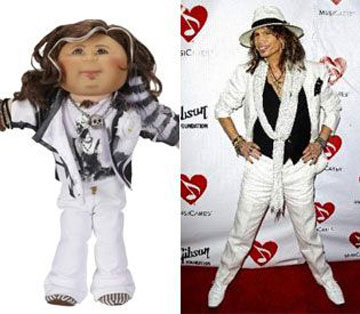 Yes! Steven Tyler — the growling, howling frontman for Aerosmith — is very active in raising money for charities that benefit kids. His conversion into a CPK is one of his latest jaunts into fund-raising, with an expected bit of fun tossed in on the side.
The Children's Action Network had its work cut out for them with this auction, however. November 2011 has proven to be a financially disastrous month for most Americans, and digging into one's pocketbook is a challenge and definitely more of a burden than usual.
This auction has closed its doors to any more bidding, but other worthwhile events are on the horizon. For me, adoption is a special concern, because I have also built my family via this outreach. My son and my daughter are both adopted — and as is often said in the adoption community, they are children who were born in my heart.
Having children who are adopted is my reality. I know no other way to parent. Still, I have to answer people who will ask me about the kids' "real" mothers or their "real" parents. I don't take offense. I have learned to control the twinge and the tics that that language used to provoke in me. I realize no offense is meant; adoption is still an often misunderstood arrangement, and the adoptive parent often takes hits a la Joan Crawford and Snow White's evil stepmom.
Using dolls to raise revenue and awareness for adoption organizations is a fabulous union because so many collectors view their unreal, vinyl, bean-bag babies as members of their family. Their hearts go out to these semblances of life — whether the dolls are first-rate re-creations or quirky and adorable tots. Collectors prove that love and nurturing can be provided for the smallest addition to a home — even a plastic one.
How much more love can be given and shared with a real child? An adoptive mother may not be a "real" one — when DNA and genetics are the only criteria — but the love and the concern and the care is real.
I know that. I feel that. I live that.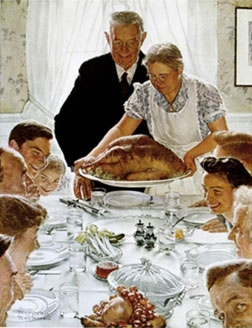 This Thanksgiving, as I always do, I offer thanks for my family, for my friends, for my colleagues, for my coworkers, and for the chance to share thoughts and opinions with all of you in the Blog-sphere.
I also always make a donation to a charity that means a lot to me. The organizations might change from year to year, but I always proffer the amount of the last doll I purchased. I use that numerical calculation as my standard.
Perhaps you can do that, too, this year. I consider it one of my most treasured doll purchases of the whole calendar year: my non-doll doll purchase hopefully buys a better tomorrow for a child in need. (And if your husbands or sons want to take part, go with the price of the last Pay-Per-View wrestling match or sports ticket.)
Making a child happier and healthier — what could be more satisfying for the doll collector and the parent in all of us?
Happy Thanksgiving!