Patricia Rose is a "girlie-girl" kind of woman. When she joined the Women's Army Corp in the late 1960s, she showed up for basic training wearing a sexy dress, white gloves, high heels and a wide-brimmed hat, with matching white luggage in tow. She swears the 1980 movie Pvt. Benjamin, starring Goldie Hawn, must have been written about her.
Always in step with the arts even while serving her country, she trained in photography. During the evenings, she used her talents by teaching photography and pottery-making in a special services military craft shop. Serving in the army, later came in handy for Rose when she went to art school on the GI Bill.
A native of Columbus, Ohio, Rose is a long way from her early roots living in the heartland, where she attended 12 years of Catholic schools, modeled for an agency in high school and later, via scholarship, went to the Columbus College of Art and Design. "I went to art school during the day and modeled for the fashion illustration classes in the evenings," she recalls.
Along the way, Rose married, had one daughter, moved to Tennessee and started a home-building construction company with her husband at the time. "I designed houses and floor plans, arranged for loans, purchased materials and physically helped with all stages of construction, from pouring concrete to roofing." The hard work, Rose says, gave her the valuable know-how it takes to develop a keen business head. In due course, she taught mechanical and residential drafting at a voc-tech school and designed for the Ethan Allen Co.
Rose has lived in places all over the map, including Texas, where she worked as an illustrator and ad designer for a magazine; Maryland, where she worked as an illustrator, layout artist and typesetter for a publishing company; and Tennessee, where she went back to college at the Memphis Academy of Arts. It was while in the Central American country of Belize, she was inspired by a couple from Kentucky who owned an art shop. They encouraged her in the field of making art dolls. "One day I picked up a piece of clay they gave me, and I have been hooked on sculpting one-of-a-kind (OOAK) dolls ever since." Rose was surprised to discover all of her talents and knowledge could be enveloped into this new art form of sculpting dolls. "When I finally found something to combine all of my interests and loves, I made it my profession. It was my destiny."
Rose took a huge, humble leap of faith in 1992, traveling to New York City's annual Toy Fair and presenting her first sculpted porcelain doll, 18-inch "Delta Dawn." Subsequently, Rose won a coveted DOLLS Awards of Excellence prize. "After that, I went to Toy Fair 10 years in a row, marketing dolls," she notes. Rose continued to improve and won several more first place awards for her exquisite dolls. The most recent award she received was for "Morgan," a 21-inch bride doll, winning her a DOLLS Awards of Excellence nod in the fashion doll category. She has not entered competitions since then.
Additionally, Rose has designed dolls for the likes of Paradise Galleries, the Miss America Organization and the "Home Shopping Network." She also appeared on that show, as well as on a Viacom infomercial.
Today after 20 years of sculpting some of the most beautiful and unique dolls in the world and with numerous achievements under her belt, the gifted artist continues the steady pace of a professional. Never tiring, Rose is especially interested in creating new art dolls in polymer clay for her avid collectors. "They do not teach art dollmaking in college so I am self-taught," she says, "and one of the best decisions I made was to learn the art of mold-making. It comes in handy on a daily basis with my business now."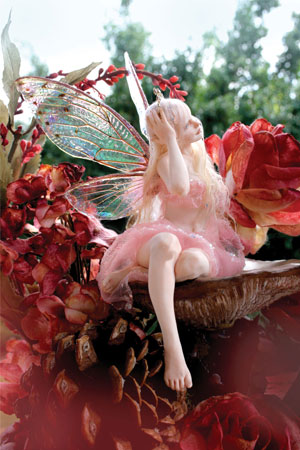 What would bedridden most people, Rose accomplishes with boundless energy. Always excited about her newest projects—for example, several 10-inch to 12-inch "Lady Fairies" molds due out next year—she strives for unique ways to capture her patrons' interest in fantasy. "The molds are being developed for porcelain doll crafters," she says. The beginning of 2009 will usher in the beautiful collection of miniature porcelain 1/12-scale lady doll molds made for miniature dollhouses or other small settings. The dolls that can be made from these molds will have many different head/torsos, leg designs and arm poses to choose from because the parts are all interchangeable. Another project on Rose's horizon is an open edition of what she lovingly calls her Fantasy Work, a line of small resin fairies and mermaid figurines.
To keep her passion for sculpting going, Rose has dedicated a minimum of three days per week to do nothing but create in her studio. Her "fairy enchanting" home studio in Bradenton, Fla., sets the mood to get the creative flow going. "For me sculpting is an absolute escape from real life," the high-spirited artist confides. "I have found my life's ambition and total fulfillment in doing what I do and living on the sunny Gulf shores of the most beautiful spot on earth. I am a very happy girl," she says of her dream-come-true setting, all made possible through her very own successful doll business. "I love living on the water. I feel so blessed to have the chance to live the way I do."
Rose now works for three direct marketing companies, producing figurines and ornaments in resin and polymer. Additionally, she sells on eBay: her new love. "It is becoming a prominent way to show and sell your work," she says.
Rose loves teaching dollmaking and markets a line of her own DVDs, press molds, patterns, tools and supplies, all to help new artists. "When I started in the doll business, there really was no one to learn from and only a few books available that were on modern dollmaking. I could find nothing on polymer dolls. I went into porcelain dolls but did it my way, which is very different from the old school methods of porcelain dollmaking. I am currently in the middle of writing a book for beginners and intermediate students titled How to Sculpt Beautiful, Fantasy, Females in Polymer Clay, and the next book will be on beautiful lady dolls in porcelain, which is what I'm famous for. I really want to help others and make a difference in their lives because I also needed a mentor or fairy godmother at one point in my own life." Because of this, Rose has organized a Fantasy Guild on her Web site with the purpose of enabling beginning sculptors to contact her directly for free help or critiques so they can learn how to sculpt their own beautiful, fantasy females out of polymer clay or porcelain.
Music is also magic to Rose, and she creates an uplifting work environment listening to world music, new age, classical, Celtic and soundscapes—all happy, soft music. She does not watch the news or listen to radio. "Therefore, I'm out to lunch with the fairies most of the day. If there is a hurricane coming, and that is often in Florida, my loyal assistant, Julie, who has been my right arm and friend for 15 years, has to tell me, or I could be swept away. Julie and I call ourselves Lucy and Ethel. Of course, I'm Lucy and always getting into some new project, like pouring a sidewalk or making Julie work in the garden with me all day instead doing the business. She claims working here is never boring or the same thing daily."
I was lucky and developed my ability and style within the first year because of my artistic background," she admits, "but it usually takes about three years to become good at sculpting. If a person is craft-minded, they can do it. It doesn't take a lot of money. The key elements to success are time, a supporting and understanding family, the ability to research and lots of practice. It's never too late to invest in you; I started sculpting at age 40."
Rose is the mother of one daughter, Anne-Marie. She has five grandchildren, four tiny Pomeranian dogs and 15 large aquariums full of dainty show guppies.
In 10 years, Rose sees herself living a simpler life. "I won't be living in this big house or doing seminars or selling supplies. I definitely will be writing books on dolls and figurines, and I will never give up sculpting OOAK dolls and figurines."
Rose will be traveling to teach a few sculpting seminars during the next two years and then plans to retire from teaching.