Visitors to Bartlesville, Okla., ex­pect get a glimpse of the Old West in the heart of the Midwest: After all, this was the land of the cowboys, Indians and outlaws—where men were men and sometimes oil barons, too, cattle was wrangled and possibility was as big as the Great Outdoors.
What visitors may not expect to find is a first-class doll collection at a place devoted to wildlife, Colt firearms and shrunken heads.
Woolaroc Ranch, Museum and Wild­life Preserve, tucked into the Osage Hills in the northeastern corner of the Sooner State, was established in 1925 as the ranch retreat of oilman Frank Phillips, founder of Phillips Petroleum. The grounds consist of 3,600 acres of woods, lakes and rocks, beautifully landscaped and enveloped in that heavy hush that comes only from a country estate that can afford its upkeep. It is also where the buffalo—among other species of native and exotic wildlife—roam.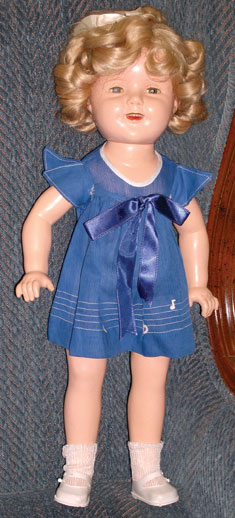 The museum is devoted to the culture and lifestyle of the mid-19th-to mid-20th-century era, the heyday of the cowboy. Its ex­hibits cover prehistoric civilizations, the culture of the southwestern United States, western art and artifacts and Native American materials; the ex­hibits include displays of saddles, a stagecoach and a remarkable glass-encased tableau called "Peace on Earth," which features approximately 80 miniature figures, some of which are mech­anized, made by A.L. Nixon and de­picting a Crow Indian Ceremonial Dance.
Standing outside the doors of the museum, a statue of outlaw Belle Starr acts as a buckskin-skirted sentinel. In­side on the main floor, a collection of graceful bronze sculptures, studies of pioneer women made by various artists in 1927, foreshadow the doll delights. They come after the paintings by the "Old Masters" of western art, including Frederick Remington, the beaded buckskins and feather bonnets from the Plains tribes and displays of ranch memorabilia; they are located downstairs, arranged lovingly in dramatically lit display cases.
"The dolls are basically from two collections," says Linda Stone, curator at the museum. "The Skookums and the souvenir dolls, and a few others came from Elizabeth Denton of Illinois. The older China dolls and composition dolls came from Blanche Allen Meridith of Bartlesville."
Both collections, totaling about 300 dolls together, arrived at Woolaroc in 1953. For years, they languished, forgotten, in storage. And then, just like the calvary of 100 years earlier, members of Bartlesville's Tallgrass Doll Club arrived to save the day—and the dolls.
"The museum director's wife had be­come a member of our club and she was instrumental in getting us access to the dolls," recalls dollmaker Suzanne Eder, who founded Tallgrass Doll Club with three friends in 1995. "She saw that there were a few of us who really knew what we were doing and would not wreck the collection."
Eder says the members were given a workroom in the museum's basement where they inventoried the collection, photographed each doll and made a detailed catalog sheet for the individual pieces that included identifying and placing a value on them.
"We then processed each doll, removing clothing, cleaning them, repairing and restoring them to as close to original condition as possible. This meant making appropriate clothing in some cases, moving clothing from one doll to another and replacing bodies with the correct body, plus restyling hair, replacing wigs and making or ordering shoes and socks."
During the yearlong process, Eder and co-workers Janice Eyth and Sharon Campbell, along with other Tallgrass members, toiled steadily, researched heavily and learned quite a bit about antique dolls. "Many of the porcelain dolls had been dressed in elaborate ball gowns in the 1950s, even though they should have been dressed as children from the early 1900s," says Eder. "These we re-dressed in era-appropriate clothes. We left the China-head dolls as they were, as they were often dressed to represent particular characters, such as Dolley Madison, newspaper columnist Dorothea Dix, Mary Todd Lincoln and General Lee's wife."
Once the research and labeling phase of the restoration work was completed, club members were given the task of selecting dolls for exhibition. Woolaroc staff then sprang into action, building mountings and display boxes and creating schematics for identifying the dolls for the public.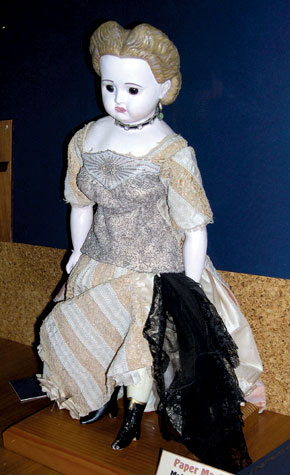 Eventually, about 85 dolls were chosen for a permanent exhibit. Among the highlights: a Dolly Rekord (what curator Stone calls "the sister of Chucky" because of the intensity of her eyes), a phonograph doll that was manufactured by Madame Hendren and Georgine Novelties, circa 1922 to 1928; Skookum Indian dolls made by Mary McAboy, the design originator, dating back to 1914 and manufactured by the H.H. Tammen Co. of Denver and the Arrow Novelty Co. of New York; and many native dolls, including a circa 1880 cradleboard and doll made of buckskin, willow and glass beads as a child's plaything. Rag dolls and French fashion dolls, character dolls and baby dolls also are on display. Madame Alexander dolls present a jaunty lineup in one case, while a court jester with cowboy boots adds a touch of pure whimsy in another
To complement the collection, members also selected related accessories; these include a salesman's sample cast iron stove, school desk and doll buggy. Larger dolls are displayed on the floor amongst the accessories and protected by a plexiglass barrier. The China-head dolls were put into freestanding Plexiglas cases on a wood base. Other dolls were mounted on small individual shelves, then on a wall board. At some point, the dolls were moved to the main museum and placed in large display cases. "The last thing I did was to go through the files on the computer and add pictures of every doll in the collection, making sure everything was numbered correctly," says Eder. "There is a terrific collection of souvenir dolls from all over the world that I would love to see exhibited."
Perhaps one day. In the meantime, visitors will enjoy the China and bisque dolls of Armand Marseille, Simon & Halbig and Heinrich Handwerck and other highly regarded dollmakers in hushed context with the colorful and detailed souvenir and native dolls and other treasures in the doll gallery. It is a museum full of possibility.