Imagine a place that's far removed from the congestion, pollution, and sprawl that so often mar our landscapes, a place where sun-dappled country roads meander through a charming little town. Imagine a time long ago when life wasn't some harried, noisy hubbub—when there were enough hours in the day after tasks were done for merrymaking and little adventures. Imagine that you could instantly visit this place and time whenever you wanted, and stay as long as you wished, lingering in its cheery quaintness.
That's the premise of Ginger Brook Hollow, which revolves around life in a small town in the late 1800s. And dolls are just the beginning. With storybooks and a comprehensive website with many opportunities for doll lovers to share in the fun, Ginger Brook Hollow is really its own little world. "To understand the line of dolls," explains creator Cheri Lynn Maude from Alpine, Utah, "you have to understand the story."
Escape to a Prettier Past. The story revolves around seven orphan girls living in the Victorian era. Their home is an orphanage in the cozy town of Amber Fields. Just a little ways away is a peaceful spot in the woods known as Ginger Brook Hollow—and yes, plenty of ginger grows along the brook, perfect for turning into gingersnap cookies.
In an idyllic yellow house in Ginger Brook Hollow lives Grandma Sunday. (The orphans gave her this cute nickname because they visit her every Sunday.) "She is the character that is the heart of Ginger Brook Hollow," says Maude.
The girls, ranging in age from 10 to 12, became orphaned when their families perished from an epidemic that plagued the area. Each has a unique personality and interests, from the level-headed math whiz Emmaline to "girly-girl" gardener Louisa. Twins Johannah (a tomboy) and Suzannah (a budding seamstress) round out the group. With the other characters that live in the town, the girls find themselves caught up in many adventures, and even a bit of mischief. "I tried to come up with characters that would be typical of the time," says Maude. "Probably a little piece of me is in each one of those girls."
A Dream Come True. Interested in visiting Ginger Brook Hollow? The best portal is the official website, www.gingerbrookhollow.com. Be­tween the books, dolls, accessories, and extras (such as recipes and activities), the make-believe world sings with life. That's just how Maude planned it. "I couldn't make it fun enough for me to do if it didn't have a purpose or theme or story."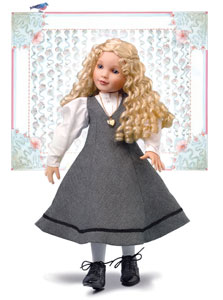 As Maude tells it, all the elements of Ginger Brook Hollow came together organically. The setting "probably came from my childhood," says Maude. When she was 10, her family moved to the country, and she relished the freedom to roam and play in nature. And she loved reading about the Victorian period, from Little Women to Anne of Green Gables.
Interestingly, Maude didn't plan to craft a story about orphan girls and the elderly woman who nurtures them—the characters evolved from the dolls' clothing. Since the dolls are vinyl, Maude designed outfits that wouldn't bleed colors onto them. That's the genesis of the white socks and undergarments, which Maude realized "would have been very practical for these little girls, who would have had a shortage of clothes as orphans."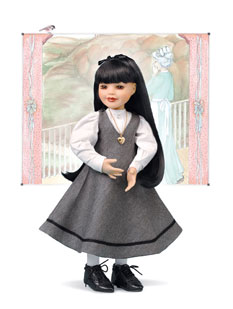 A doll collector and doll company consultant and developer as well as a former teacher and writer, Maude spent a year researching her concept, and it would be another two years to get the dolls and other elements of their story ready. She went through numerous sculpts before realizing the perfect design. Professional sculptor Erasmo Fuentes individualized the faces. "The dolls are done according to their personalities," Maude notes.
Ginger Brook Hollow Dolls
Here's a look at the Ginger Brook Hollow family.
Dolls include 17-inch vinyl character dolls based on all seven orphans ($170 each) and a 22-inch Grandma Sunday ($300). Each doll has nine ball joints, making them extremely poseable.
8-inch travel dolls, perfect for smaller spaces. Billed as "Dream Dolls," they portray the dreams that the or­phans have for their lives when they grow up ($70 each).
The orphans wear the same three-piece uniform—with white underdress and gray jumper. Grandma sports details including a lace chemise under her corset.
Additional outfits and accessories, such as shoes, nightclothes, a vanity set, bedding, and a bed (which includes a trunk where the dolls' accessories can be kept) can be purchased.
Each doll comes with a "teeny little story" book that's just about her. Maude says that books sold with dolls often go unread, so she plan­ned these stories as small snapshots of the character that are designed to be read quickly.
Paper dolls also come with the character books. According to Maude, the paper dolls are an especially good fit for people who aren't quite ready for a high-end collectible doll but still want to experience the story.
Rounding out the line is the picture book Where Love's Circle Begins: A Ginger Brook Hollow Story. Illustrated with watercolor paintings, the book is first in a series about Grandma Sunday and the orphans.  "Anything I can do to inspire a relationship with learning and make the dolls more interesting, I'm for that," Maude says.
All About Connections-The real core of Ginger Brook Hollow and its many manifestations is Maude's sincere desire to encourage sharing and participation from doll lovers. When her children were young, for example, she realized that dolls helped them connect with others. "My kids learned critical social and interactive skills through dolls," she says. "I like to promote dolls as a tool for interaction between people because my stories are about a group of people," Maude explains. Offering a large cast of distinct characters, each with her own quirks and personality traits, lets everyone pick a favorite. Those with a different doll in the series can come together to share and interact much more genuinely than if every person has the same doll. "That's my whole reason for doing this," says Maude. "I hoped it would be shareable."
That sharing can occur among different generations, too. Even though Ginger Brook Hollow dolls are collectible play dolls, Maude adds, they're not just for kids. "I'm trying to get past the mindset that dolls and stories are only for children," she says.  Ginger Brook Hollow may be a place located only in the hearts and minds of those who visit there, but for Maude, it's become a very real adventureland—one with very tangible rewards. "When I get a letter or an e-mail from people who have shared the dolls and stories and have developed a bond between themselves and another person, that's my payday."