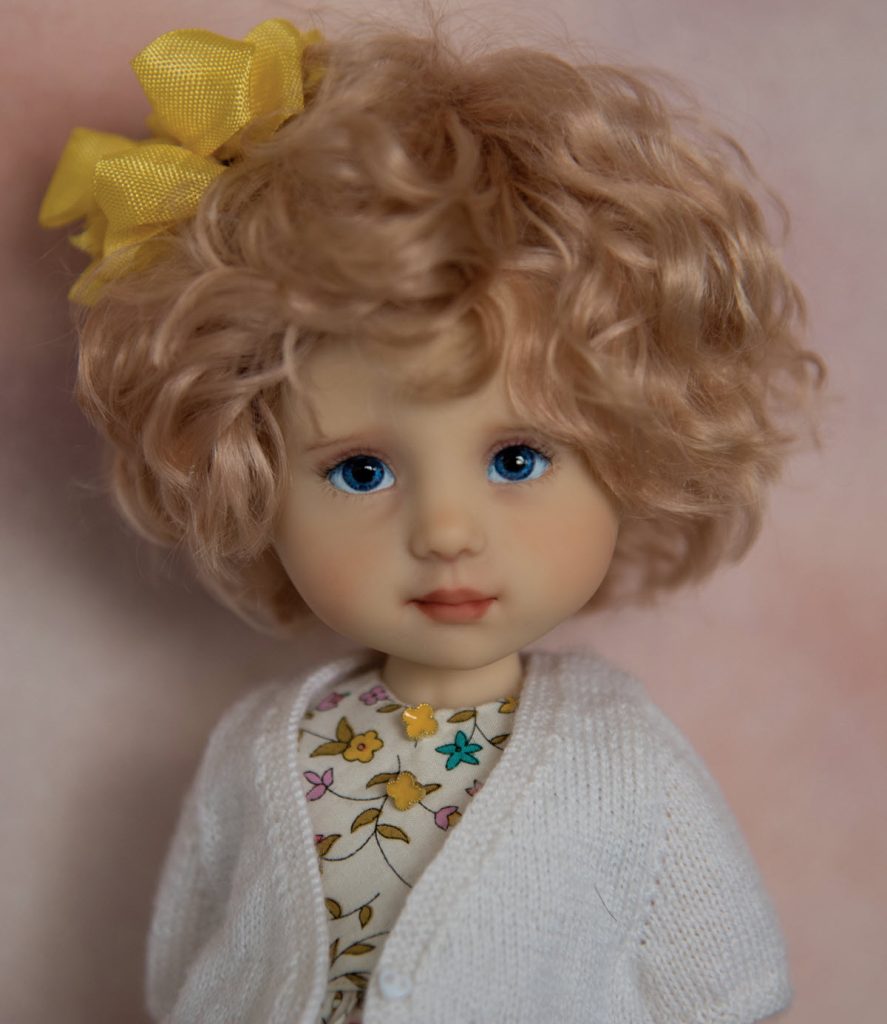 Joyce Mathews is a woman who has never avoided a challenge. A former registered nurse, she is accustomed to dealing with stressful situations and figuring out a way to make everything better. Keeping a cool head and a steady pair of hands is perfect for medicine and for doll artistry, too. 
"As a nurse, my occupation was focused on healing the body. As a doll artist, I would like to believe my dolls offer some healing and solace to the soul. Looking into the eyes of a special doll can manifest memories of childhood. It may also remind someone of their own child. Having a tangible object to view and hold when we want to travel to a different time and place can be invaluable," Mathews said. "During the pandemic, I received feedback from customers who felt warmth and happiness when receiving their dolls. They shared the sentiment that during a frightening and uncertain time, the dolls were a welcome blessing."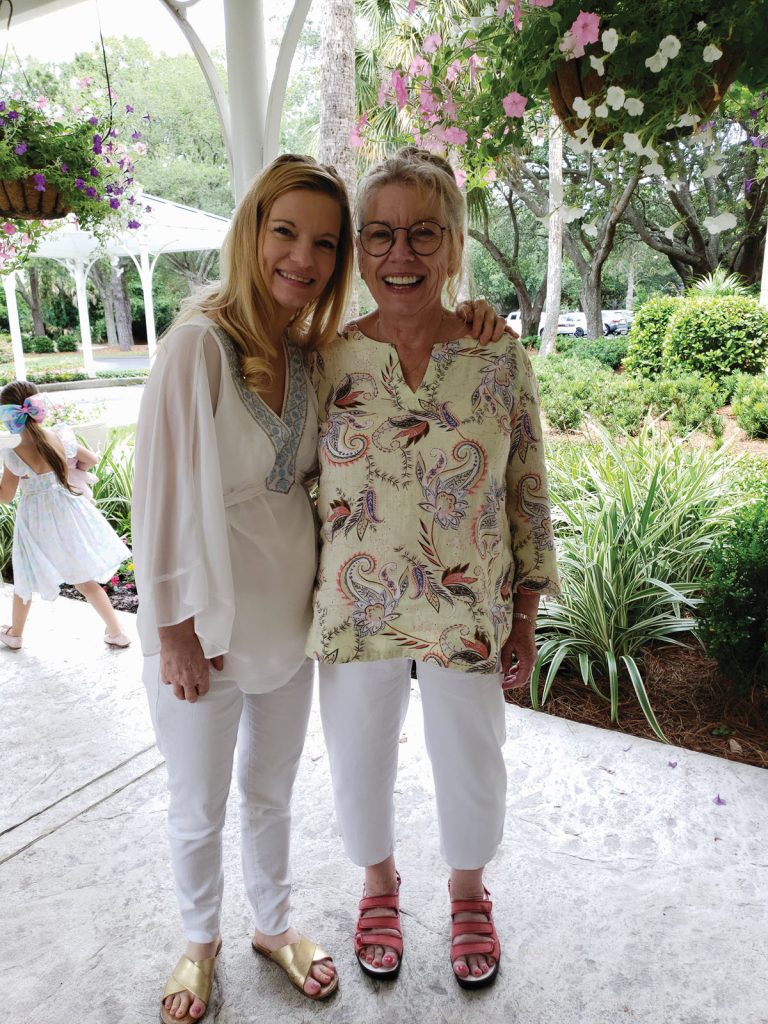 Dolls have always held a special significance to Mathews. Early on, she gravitated to the allure of doll playing and dollmaking: "Growing up, I lived on a farm with two younger brothers. Farm life could be isolating, with no neighbors close by. Outside of school and church, my dolls and I spent a good amount of time chasing the little parachuted seeds from milkweed pods down the hillside and making hollyhock dolls from flowers. Hollyhock dolls are where my love of dolls began."
Even though Mathews had that inherent talent, she pursued a practical career. During her working years, her pragmatism overcame her passion, but her doll love always bubbled beneath. "I cannot ever remember a time when I wasn't making some kind of doll. I worked in nursing over 30 years, with dollmaking as my respite."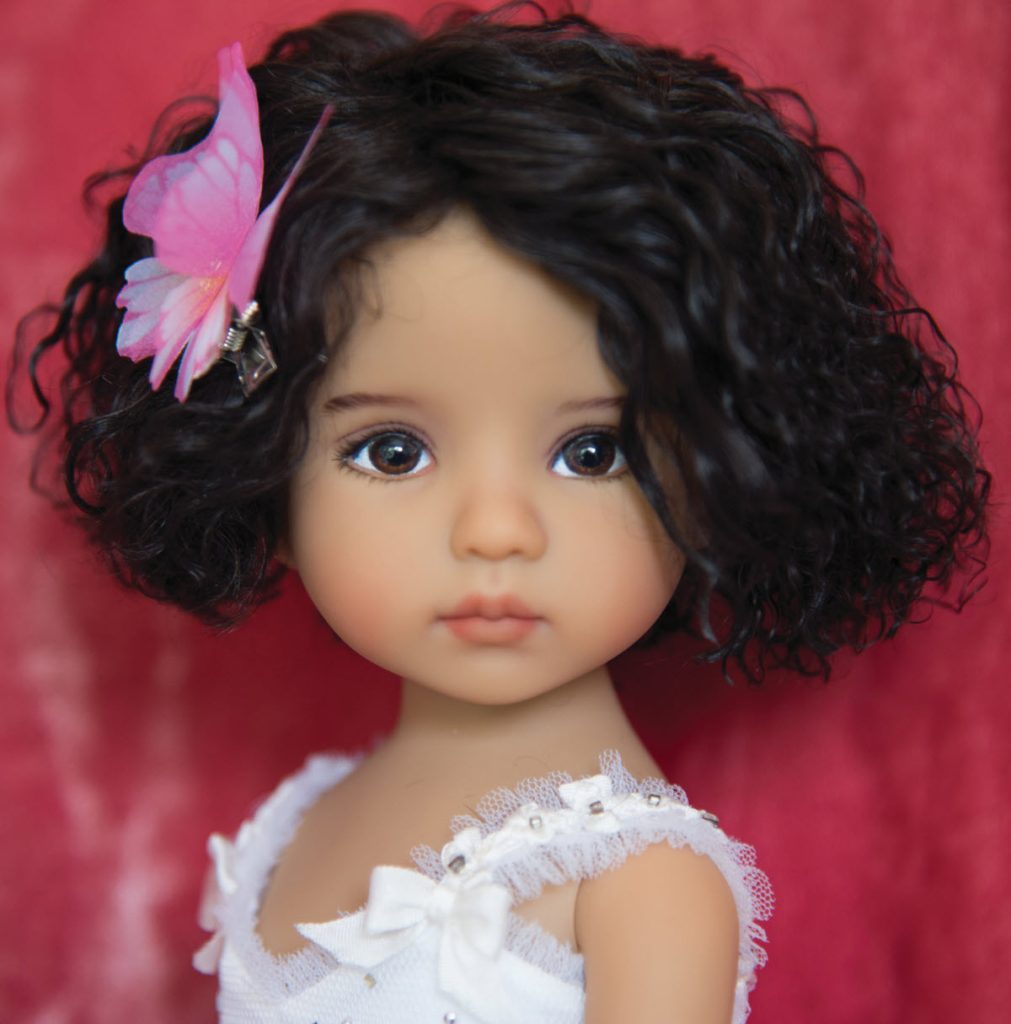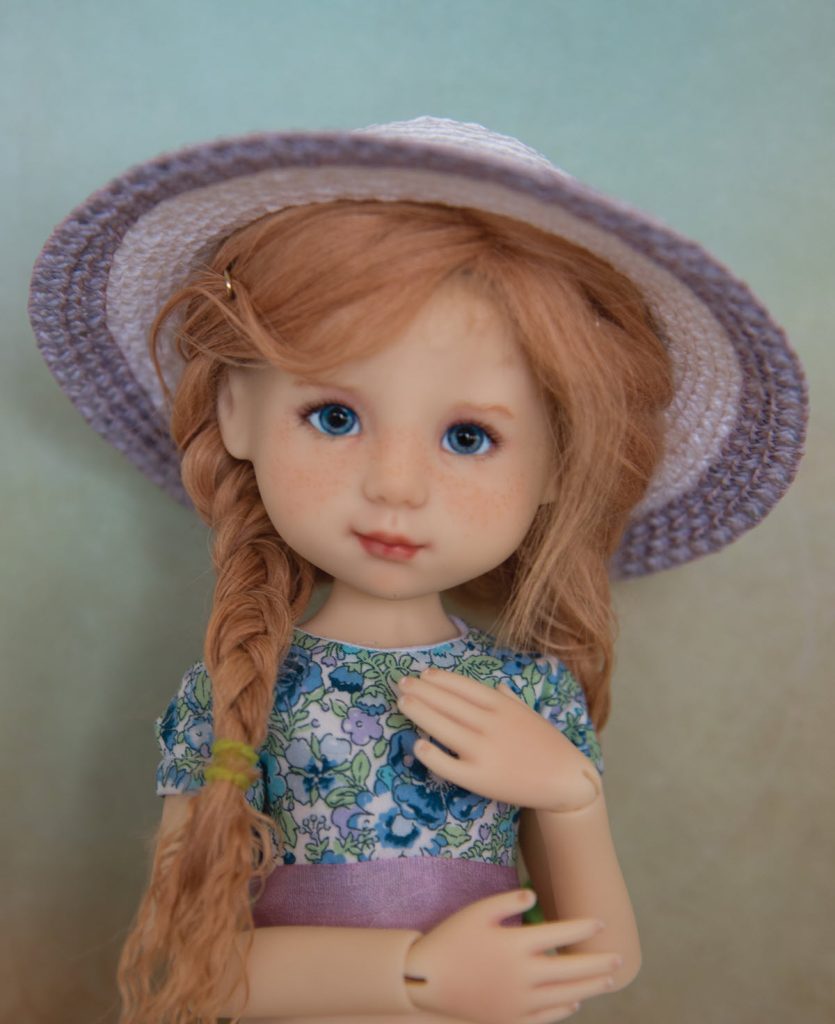 Drawing upon her academic abilities — RN training taught her how to follow a textbook and demonstration — Mathews purchased books and videotapes, and enrolled in tutorials. "My initial sculpting skills were what I would call 'guided' self-teaching. I studied books by Hildegard Günzel, Philippe Faraut, and Martha Hand."
In 2003, Mathews attended the Discover Doll & Teddy Bear Expo in Washington, D.C., where she crossed paths with doll powerhouse Dianna Effner. "Upon meeting Dianna, I knew I had found a source for learning that would allow me to achieve my dollmaking goals. As soon as I returned home, I found a way to obtain training on painting Effner dolls, first from workshops with Connie Zink and then with Dianna at her studio in Jamestown, Missouri. I completed Dianna's ABC painting courses and became certified to paint and teach her DEEP [Dianna Effner eye painting] techniques. My time in Jamestown is something I will forever treasure. I continued to dabble in sculpting, worked at perfecting my skills in porcelain and vinyl painting, and made lifelong friendships by becoming part of the Doll Dreamers Guild."
When she launched her Kuwahi Dolls company, offering a variety of Effner dolls painted by Mathews, she paid tribute to her family history: "My family, on both sides, migrated to this country and the Appalachian Mountains from England. They remain hardworking, independent, and family-oriented. My parents moved north to Indiana/Ohio, where I was born and raised, but my ancestral history has facilitated a rich, lifelong love for those mountains and their people. 'Kuwahi' is the Cherokee name for a mountain in the Smokies. So for me, the name brings together two of my very favorite things: my dolls and my mountains."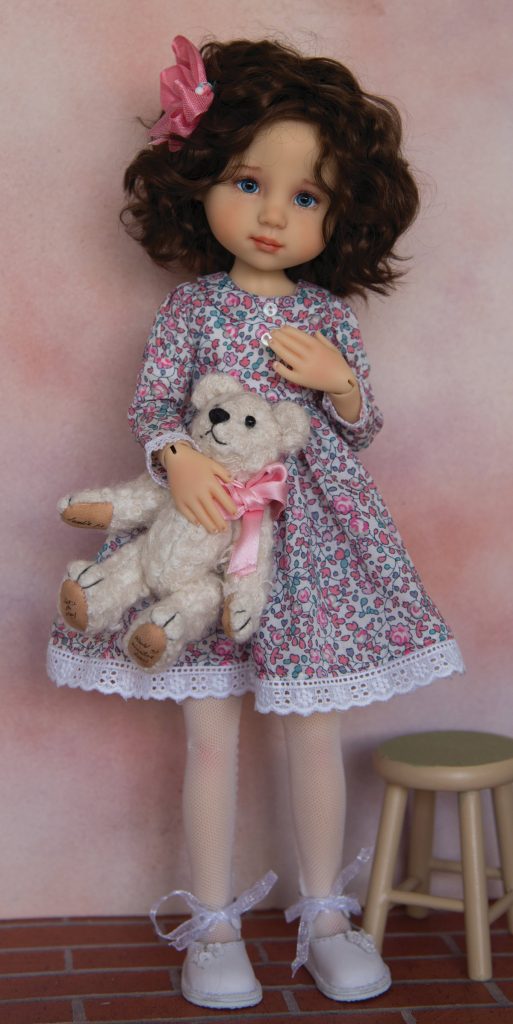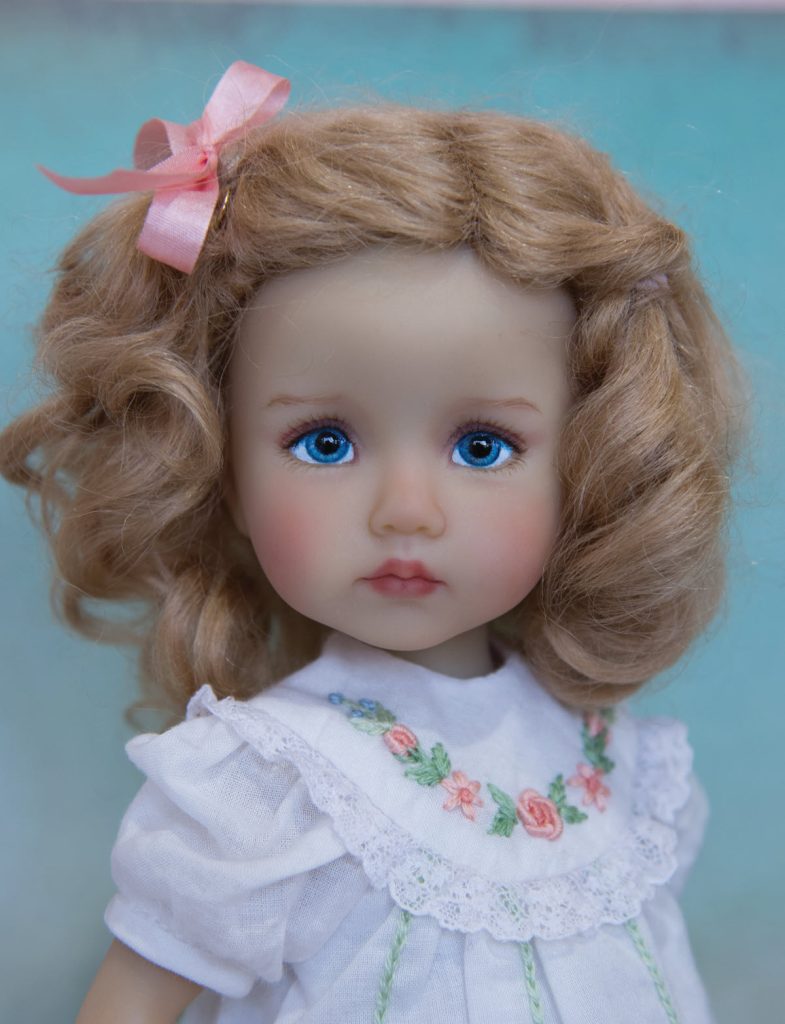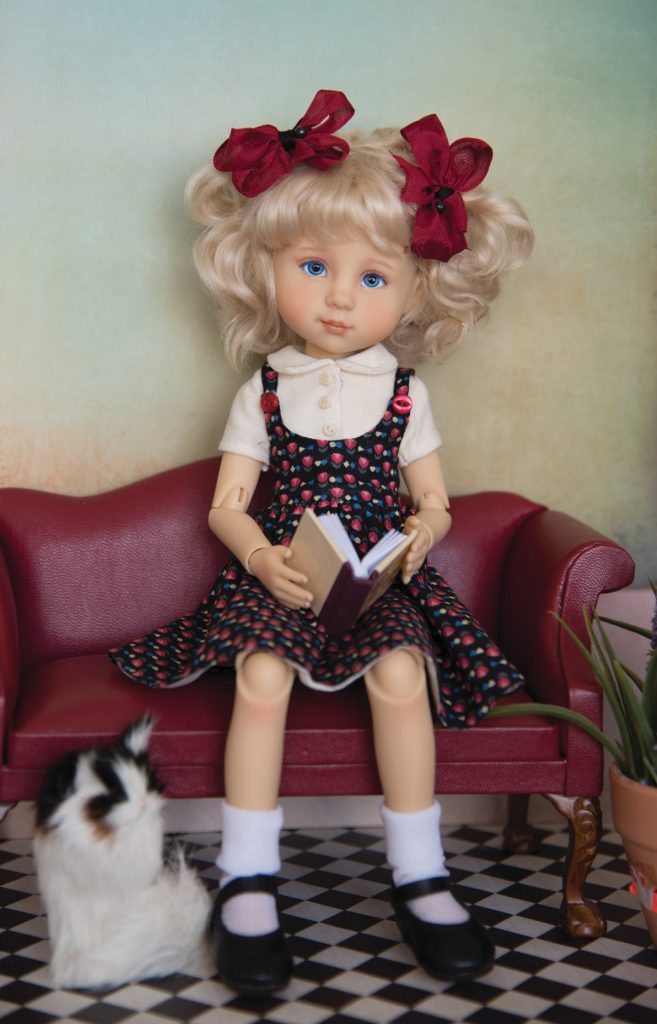 Recently, Mathews, who resides in Bluffton, South Carolina, has moved beyond her re-interpretations of Effner dolls. She has unveiled an innocent-looking line of ball-jointed dolls (BJDs), which she personally sculpted and envisioned. This endeavor is insightfully called Joy Forever. "The name is from my favorite poetic quote by John Keats: 'A thing of beauty is a joy forever.' In my mind, a well-made, beautiful doll is a cherished keepsake for generations to come. Lovely things enrich our lives and bring thoughts of family days and sweet childhood memories," Mathews said. "When it comes to the style of my dolls, I lean toward a more traditional and timeless look. I love dresses and costumes that remind me of my own childhood and school days."
The artist also ensures her dolls will continue, as a family legacy, by teaching her painting techniques to her youngest daughter Amy. "She is my publicist and web designer, as well as a future face-up artist for Joy Forever. I see a universal truth in the eyes of little children, and I believe the old adage that eyes are the window to the soul. Regardless of race, nationality, or gender, their little faces evoke feelings of love and admiration. I like to have a picture of a real child on my painting desk, but even so, I do my best work when I allow the little doll to become what she wants to be. I strive to accomplish this by using the painting skills and inspiration I gained from Dianna Effner," Mathews said.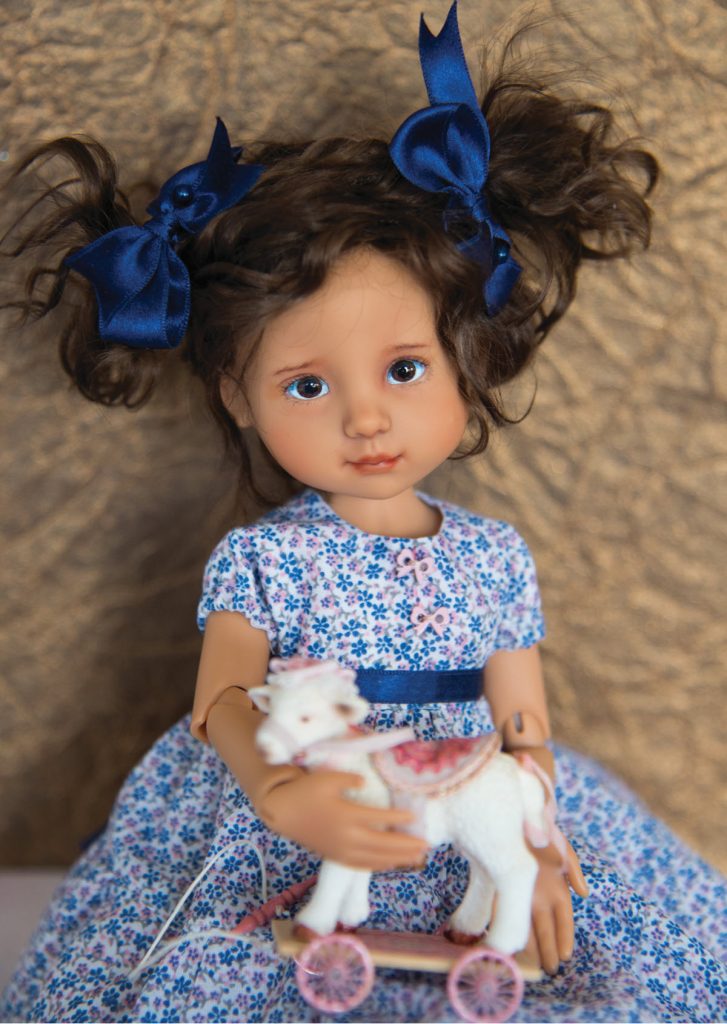 "Hand painting the Joy Forever eyes makes this doll different from most BJDs on the market and helps her to become a one-of-a-kind treasure. Joy Forever dolls are a collector's work of art; they are costumed with high-quality fabrics, ribbons, and laces. I use leather shoes and top-quality wigs. I love to sew for this little doll. She is petite and looks good in the styles I like, but those same reasons present a challenge, with tiny sleeves and collars," Mathews said. "I am also privileged to include as an associate seamstress Maritza Moran. Maritza and her sister Nelly Valentino are the skilled team behind those exemplary MDCC doll dresses. Olga Kuznetsova has created several styles of lovely top-quality wigs for me. I use leather shoes, and my favorites are from Stanislav Navarro of Housedollboots. The quality is excellent."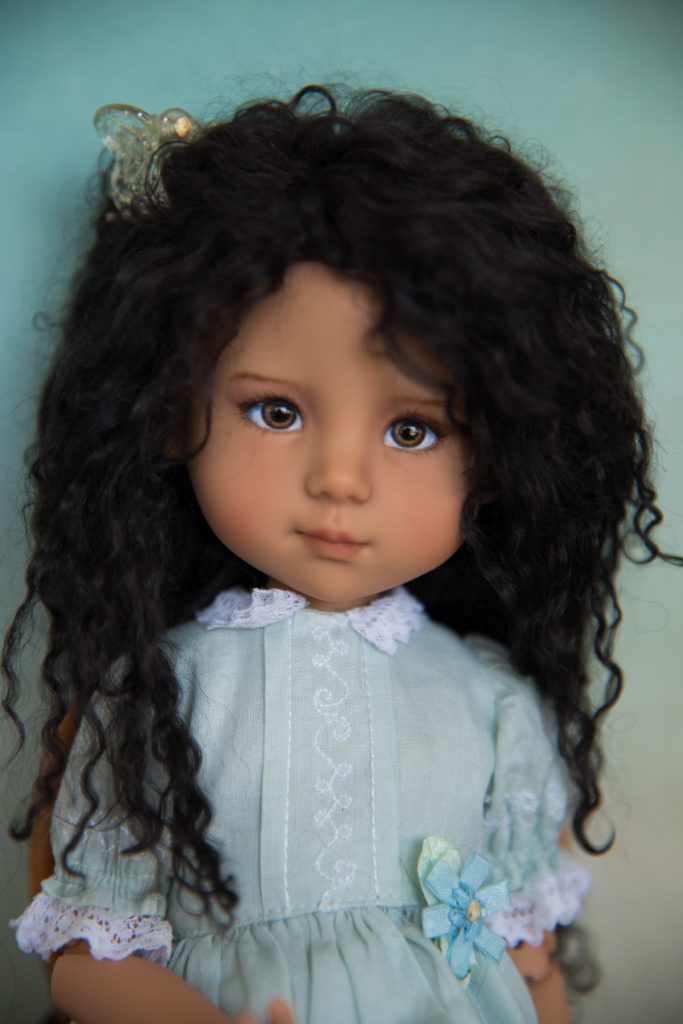 The now-retired RN is overjoyed to share her Joy Forever BJDs with her admirers: "By the end of 2023, we will present the Second and Third series of this doll. We are using the same body, but with updated hands, and the age portrayed and clothing style will remain the same. My goal is to capture that little girl/toddler look that has always drawn me to dollmaking. I did this sculpt as a 4- to 6-year-old child. I loved doing porcelain, but we seldom ever came out ahead. Still, I loved the painting process and the resulting look and feel. The doll is an 11-inch, 14-point BJD with a petite, slim body. The smooth resin has the look and feel of porcelain. Also, there is a bit of magic that happens in hand-painting a doll's eyes. With just the right stroke or tweak, she looks back at you and says, 'Hello!' Joy Forever dolls will look back at you."