By Jan Foulke
Photos courtesy of Foulke Archives
Q: I just recently started looking at antique dolls. I have bought one with a bisque head marked "C made in Germany 7 161" and have been told that this is a Kestner doll. I want to know how a collector would know that this is a real Kestner doll. There is no Kestner name or logo on it.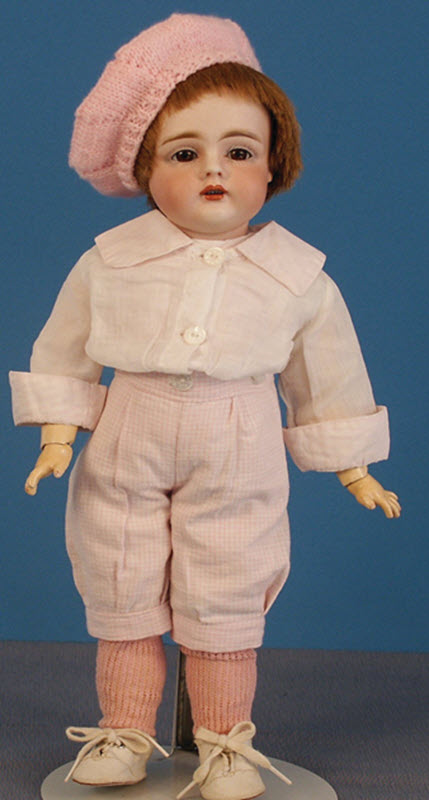 A: The J.D. Kestner doll factory was in Waltershausen, Germany. Waltershausen was a very important doll-manufacturing site. J.D. Kestner was the pioneer, and soon other companies opened in the area, although Kestner continued to be the leader. Kestner also had a porcelain factory in Ohrdruf, Germany, where they made heads, arms, and all-bisque dolls.
Kestner was one of the few doll companies to make their own heads, thus enabling them to have complete control over the manufacture of the whole doll. Waltershausen dolls, and especially those by Kestner, were recognized in the trade for their fine quality. Kestner used a unique alphabet and number system on their heads to indicate size. No other factory used this scheme, so when you see it, you know the doll is a Kestner.
This system was not used on his early bisque dolls but was used from about 1891 on for the child dolls with mold numbers in the 100 series. The system goes A5, B6, C7, D8, and so on, all the way up to Q20, which was the largest size Kestner made. Smaller dolls were marked with a lowercase letter: a4, b3, c2, d1.
Your doll may also be identified as a Kestner by the mold number. Kestner child dolls were marked with a three-digit 100 series mold number for various faces. These run from 129 to 174, as well as 195 and 196, but not every number was used. There are gaps.
Another special feature on a Kestner doll is the plaster pate covering the head opening. No other specific factory is known to have used this method, although sometimes a doll is found with a plaster pate that we feel is not a Kestner, so it is possible another factory might have used them sometimes. Another point to remember is that Kestner dolls do not have pierced ears.
One last important thing to consider if you are buying a Kestner doll is that it should have the correct body. For the child dolls with ball-jointed bodies, the mark is stamped in red on the lower right buttocks. It is either Excelsior or Germany in a rectangular box with a size number. The body size numbers do not directly correspond to the head size numbers. The backs of the upper legs on the jointed bodies are usually flat. Knowing these facts about Kestner dolls should make you more confident as you continue collecting antique dolls. 
Jan Foulke (retired) is an authority on antique and vintage dolls, with over 40 years of experience in the field. She's the author of the full-color reference book "Jan Foulke's Guide to Dolls." Subscribe now to read Foulke's columns in DOLLS online archive of past issues!