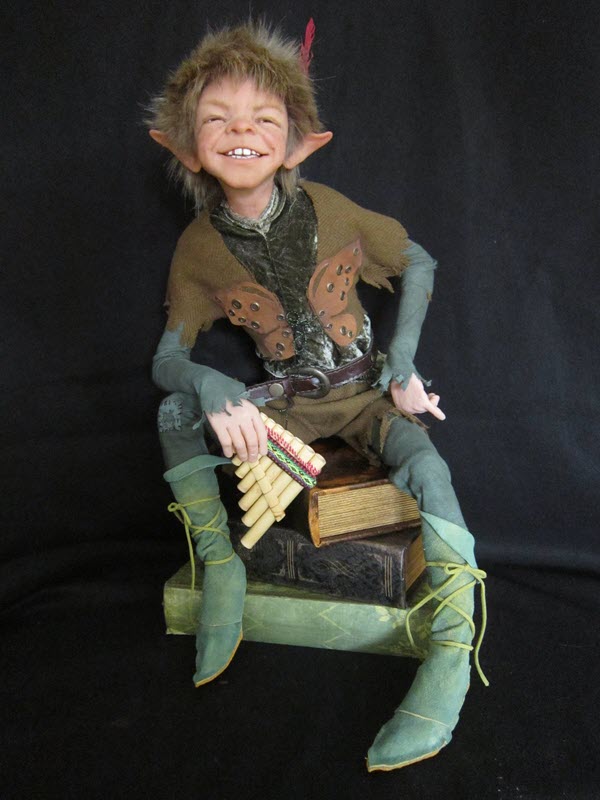 By Pam North
Artist LuLu Tatum's mind is vibrantly kaleidoscopic, bursting with an endless swirl of ideas just waiting to evolve into delightful reality. Her body of work encompasses original one-of-a-kind (OOAK) dolls, bears, and other animals; paintings in watercolor, oil, and mixed media; limited-edition prints; clothing and jewelry designs; and extreme primitives, all springing from the fertile wonderland in her head to inhabit the real world.  
Artistry runs in both sides of Tatum's large family, and they've encouraged her to pursue her own artistic leanings as far back as she can remember. Despite having no formal training in any of the media at which she has become so adept, she took it to a professional level in 1989. "I always have had a love for art," she explained, "and I have always embraced the diversity in humans and animals because that is what makes our world so magnificent. Now I sculpt and paint all ethnic backgrounds, and I just love doing it. I am personally a mix of Native-American, Irish, and English, and I always have been fascinated with all of the different cultures in our world, each with its own special beauty.
"When I start a new work of art, I know exactly how I want it to look," she continued. "I want its finished appearance to convey the impression that it was captured in a candid photo. I also want all my characters to look as if they're happy with being who they are. I've made them with so many different expressions conveying moods and emotions — happy, serious, silly, uncertain, inquisitive, and thoughtful. I don't ever make them look fearful, lost, or sad; I want them to seem contented in that frozen moment in which they have been caught. That way, wherever they go to live, they will bring pleasure." Her ethnic dolls have encompassed Afro-American, Hispanic, European, Asian, Native American, and Indian, and she accents them all with vintage textiles and appropriate accessories that reflect their culture. She is totally committed to detail, paying special attention to their eyes, managing somehow to capture the soul of each doll. "There is something of myself in each of my creations. I put very long lifelines in the hands of my dolls, and for almost four years now, I also have been putting a spiral into the palm of their right hands, because I have one in my palm."
Tatum's other doll subjects include beguiling children; pensive old folk; quirky fairytale characters; and waggish gnomes and sprites. Despite the variety of themes in Tatum's dolls, and the uniqueness each conveys, somehow it's easy to spot her signature essence in each. Her artistry shines through them all. She nicely navigates a delicate balancing act between fantasy and reality, handling caricature and realism with equal finesse. Each character reflects soulful humanity intersecting with fairy dust.
She uses mostly Cernit or Living Doll clays for her dolls, that she can make into whatever skin tone she needs, and Sculpey for sculpting their shoes and accessories. "I think it's the wide range of skin tones that I love to work with the most. I also make most of my wigs of human hair, curly lamb, Tibetan lamb, fur, or even musk ox, but I have used older wigs, synthetic and human, to cut and make new ones. The bodies are sculpted wire armatures padded with needle-sculpted batting and covered in fabric and occasional muslin strips and glue. All combine into little people that come alive with personality plus."
For her bears and animals, she uses a combination of polymer clay for the skull framework, over which she expertly applies and manipulates a thin layer of leather, suede, or mohair in the facial area, defining curves and wrinkles to give each creature a distinct whimsical personality, adding sculptured noses, and sometimes teeth and tongues as well. Their bodies, limbs, and heads are made with quality mohair with sculpted leather pads on the paws. "I use mostly glass eyes on both dolls and bears, but for my bears and animals I've also painted some eyes," Tatum added.
Sources of inspiration are endless, Tatum said. "Music, nature, philosophy, folklore, fairy tales, and even dreams and clouds. I get so excited when I start a sculpt. I've made more than one Cinderella, always as she was dressed before the ball. All four were in shabby dress, but all their costumes were different. I think my most exciting time is when I see my pieces start coming to life.
"I'm constantly inspired, and when an idea hits, I immediately start forming a plan to create it. It's always a challenge, and each time I'm fascinated that I'm still learning after so many years of being an artist, and I still absolutely love doing it! Sometimes I challenge myself by trying something I've never attempted before. I'm always grateful after I complete something new, because then I'm in love with it!"
Her work space is wherever she is that she needs to work, Tatum said. "I always have my sculpting tools with me, along with my Lap-Lab," she said. She designed her "Lulu's Lap-Lab" in 1993 for sculpting art doll heads. She then expanded on the idea by getting her brother to make them for her students, to be included in the price of her sculpting classes. Lulu's Lap-Lab is a cleverly designed compact work station. The 16 x 16-inch enclosed wooden boxlike structure has three compartments in the back for clay, tools, and accessories, and a movable armature in the center with different sizes of dowels to hold the head in place as its sculpted. She taught doll sculpting for about 10 years in New Mexico and Arizona, and said she plans to start classes again in Arizona, though she hasn't set a date yet. Once again, the price for taking her class will include a Lulu's Lap-Lab.
She sells her work online and at shows, and it has been featured in magazines, books, and at exhibits. Her pieces are in collections in many countries, and she has sold many to celebrities and politicians. She's also won many awards for her work, including an Industry's Choice and the Public's Choice awards in last year's Dolls Awards of Excellence for her OOAK Rapunzel doll. Tatum constantly delivers new surprises that collectors snap up with relish and, she said, "I intend to create many future dolls and bears, for as long as I'm able!"