Oh, those ever-so-pretty, brooding vampires that we love so much and call our very own. The Twilight series as everyone knows by now is a modern-day love story between a teenage girl and the "good" vampire, who feels he must protect her from the "bad" vampires and yet still resist his own natural instincts.
Earlier this year, Edward Cullen and Bella Swan (as portrayed in Twilight by Robert Pattinson and Kristen Stewart) were the first Twilight characters  realized in doll form by Tonner Doll Co.
As of November 2009, you can add the three new baddie vamps from Twilight to your collection. Get ready to get acquainted with "James," "Laurent" and "Victoria"—say hello but don't get too close. James (Cam Gigandet), Victoria (Rachelle Lefevre) and Laurent (Edi Gathegi) are fully articulated for maximum posing. (Note: Rachelle Lefevre is to be replaced by Bryce Dallas Howard).
"I really loved Rachelle Lefevre as Victoria in Twilight,"  Robert Tonner recently told E! News. "She's really beautiful and was fun to sculpt—I'm sad to see her go. However, I'm also a huge fan of Bryce Dallas Howard (I have already done a doll of her based on her role as Gwen Stacy in Spider-Man 3) and I'm looking forward to capturing her version of Victoria in Eclipse."
All three bad vamp dolls wear the familiar clothing from the film minus the shoes of course! In the Twilight series, the three nomadic vampires didn't wear shoes. Their American casual/chic look did not give away the fact that these characters were vampires.
Red-haired Victoria, like the "Bella" doll, is 16 inches tall. Her feet are flat, but she has the familiar Tonner "Tyler" body, hand-painted details and rooted saran hair. The Victoria doll's real-life counterpart, Rachelle Lefevre, is enthusiastic about her "mini me."
"Being a huge fan of the books, it's incredible to me that I would get to be the person upon whom the Victoria doll is based. It's like getting to bring her to life in some added way. I feel forever linked to this character and now I have a doll to show for it!" Lefevre says.
When asked if she has plans to display the doll in her home, Lefevre replies, "I'm not the type to display photos of myself so I think that might extend to the doll, but hopefully the company will send me one and I will definitely keep it for my kids!"
Dreadlocked Laurent and blond James are both based on the "Matt O'Neill" body, which makes them each 17 inches tall. James and Laurent also have hand-painted details and rooted saran hair. Each doll retails for  $179.99 and are limited to 1,000 pieces.
In this DOLLS exclusive interview,  Tonner discusses the creations of his latest Twilight introductions and what's coming out next. Tonner expects to produce all of the characters from the Cullen family (particularly, Alice) and of course, everybody's fave wolf boy, Jacob Black, is a top priority.

DOLLS: First Edward and Bella and now the "bad vampires" … Laurent, James and Victoria. Why them before the Cullens or Jacob?
Robert Tonner (RT): Well, of course we had to make Edward and Bella first!  As far as "bad vampires," I thought they were great characters, plus a couple of the actors have a fan base, which is certainly an added plus. Also, sometimes the "bad guys" can be more interesting than the "good guys." In addition to all this, Cam Gigandet, who plays James , "dies" (that is, if a vampire can do that!) in the first movie. I know Cam's grandmother-in-law, and she wouldn't like it if I left him out.
DOLLS: What nuances exists (if any) between sculpting a human and vampire—i.e., what would a post-vampire transformation Bella look like? —and good vs. bad vampire?
RT: There's really not much of a difference in the sculpt process between the good and the bad. The first test is to get a likeness of the actor, one that he/she will approve. Then we can "add the evil' with paint decoration. As far as Bella, post transformation, (and I hope this question doesn't spoil the story for anyone!) I might re-sculpt her. I think the actress is stunning and the description of her in the book says that she becomes even more beautiful, so I would try to give her a more sophisticated expression.
DOLLS: What's been your favorite to re-create—the "good guys" or the "bad guys"—and why?
RT: Each and every character has his/her own challenges and that's what makes designing the doll fun. I'd say that there's been very little difference between the "good guys" and the "bad."

DOLLS: What's been the most challenging aspect of developing the characters? Most interesting/exciting?
RT: Whenever we do a license property with a company that we haven't worked with before, there is a challenge getting to know the people we're working with. Usually, when we work with companies we know (Disney, Warner Brothers) we have a smooth working relationship. Twilight is a Summit production and we'd never worked with them before, so that makes it a bit harder in the beginning. However, I think it's going pretty well now that Edward and Bella are out.

DOLLS: How will the release of New Moon likely affect the reception of the dolls by collectors? By the larger public?
RT: We had a fantastic response with the first set of dolls that were based on Twilight, and I can only hope that the excitement will continue with the next movie.  I know I can't wait to see it!

DOLLS: Have the actors reacted to their likenesses? Any reaction from Stephenie Meyer on her characters' likenesses?
RT: The actors have approval rights of their likenesses, and so far, the ones we've done have been approved, so I sure hope that means that they like them. My understanding is that Stephenie Meyer approves which companies will hold the likenesses for her characters and since we were granted the license, I hope that means she was happy with the choice. I certainly wouldn't turn down the chance to meet any of the actors, but she's the person I'd really like to meet!

DOLLS: What character can Twilight fans and collectors look for next?
RT: Well, it just has to be Jacob. He plays such a big role in New Moon and is such a pivotal character—there was just no other choice. I do want to get to the rest of the Cullens also. That's a lot of sculpting to do!
Mattel Twilight Barbies Pink Label Collection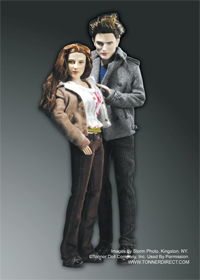 Edward and Bella are forever immortalized in plastic thanks to Mattel. Twilight, the film, struck the hearts of millions when it hit the movie theaters last November 2008 and we haven't stopped thinking about it since. New York Times best-selling author Stephenie Meyer's tale of teenage romance between a stunning vampire and a very mortal Bella Swan has left its mark.
Hey, even "Barbie" can't help being a fan of Twilight and love vampire crush, Edward Cullen!
Mattel's "Twilight Barbies" pay a fitting tribute to one of America's most beloved on-screen couples as seen in their familiar casual attire. The Edward doll has a strong jaw line and a slight pale glow, while the very human Bella has long brunette hair and an innocent face. Standing together, the dolls strike the pivotal "Forever 17" scene as portrayed in the film.
The Twilight Barbies are without a doubt a must-have for the loyal fans of the film and of course Barbie doll collectors alike.
So, move over Barbie and "Ken," Edward Cullen and Bella Swan Barbies will be available Nov. 1 and will retail for $24.95 each. At this time, no accessories are available.
A Few Fun New Moon Facts
• New Moon is the sequel to Twilight. It is based on the novel of the same name by author Stephenie Meyer.
• Twilight fanaticism will rage full force with the theatrical release of New Moon on Nov. 20, 2009.
• The 16 year-old actor, Taylor Lautner, had to gain 30 pounds for his role in New Moon as Jacob Black.
• In New Moon, Robert Pattinson's vampire character, Edward Cullen, abruptly leaves Bella Swan, plunging her into a deep depression. Jacob is the good friend who helps her through her devastating ordeal.
• Taylor Lautner hated wearing the long black hair wig in Twilight because it was uncomfortable, itchy and simply never fit right.  The new wig he says is better and "looks more natural."
• After Edward leaves, Bella and Jacob develop a close friendship and she soon discovers she is drawn into the world of werewolves, which are the ancestral enemies of the vampires.
• New Moon is a big step up from Twilight. There are werewolves and more deadly vampires in Italy.
• It's heavily rumored that characters Jacob and Bella share a serious kiss in New Moon. We'll have to wait to see!
• New Moon was directed by Chris Weitz, best known for his work on The Golden Compass and American Pie.
• Many fans were deeply disappointed when well-loved and revered Twilight director Catherine Hardwicke wouldn't be directing New Moon.
• Most of New Moon was filmed in Vancouver, Canada, except for the few scenes that were done in Montepulciano, Italy.
• The David Thompson Secondary School in Vancouver became the location for various high school scenes in the movie.
• New Moon has lots of secrets waiting to be revealed, especially that Jacob can phase into a huge wolf!
• In New Moon, Edward tries to kill himself because he thinks Bella is dead. He goes to Italy hoping to attract the attention of the Volturi vampires, who hail from Volturi, Italy.
• Fifteen-year-old Dakota Fanning was cast to play Jane, the most evil of Volturi vampires.