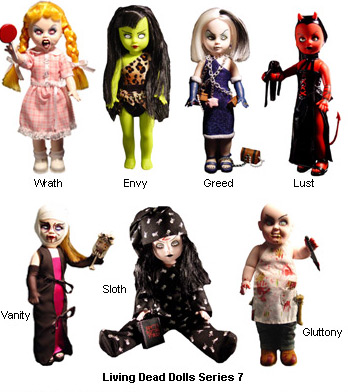 Living Dead Dolls are not your mother's collectible dolls.  However, they just might be your kind that is if you are into the dolly dark side of collecting. These horror movie inspired dolls are designed in America and have been manufactured by Mezco Toyz since 2000.
Living Dead Dolls were created by Ed Long and Damien Glonek back in 1998 and made their debut at a popular horror movie memorabilia convention called Chiller Theatre in New York City. Both creators were raised on horror movies—mostly those Saturday afternoon, creature double-feature kind. These plastic dolls are 11 inches and sold in coffin-shaped boxes. Most of the series dolls come packaged with a death certificate. The doll's date of death is usually that of a significant historical event, birth or death, and a short poem about each doll are also printed on either the coffin package or the death certificate.
"When I was a little kid, all my friends called me Eddie Munster," Long recalls on the official Living Dead Dolls site. "I was always that way. My mother has  early pictures of me holding a Frankenstein doll and the other holding a  Godzilla model kit."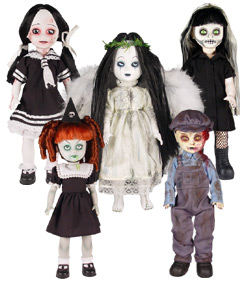 Damien Glonek, who  was  apparently named after Father Damien Karras from the classic The Exorcist novel, remembers as a child celebrating Halloween was a big as an event as Christmas. "My parents used to have Halloween parties and get all decked out," Glonek says. "I don't see it (Halloween) the way other people see it. To me it seems normal— horror, monster, blood, guts."
So, out of the company founders' longtime friendship and mutual love for horror films would inevitably come their own creation— Living Dead Dolls— and straight from their hearts and souls. "We're not looking at what we sell— it's coming more from a fan's perspective and an interest in, or obsession with, horror," Glonek explains. "There was no big marketing plan or boardroom discussions; our basic philosophy was always, 'to do what we like.'"
Living Dead Dolls or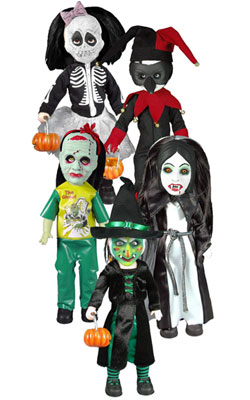 iginated as "craft dolls" that were individually customized by Long and Glonek. The customized dolls  were named "handmades" by fans and  collectors alike. The very first doll was designed by Long  using one of his mother's doll kits. Together Long and Glonek made 12 more and sold the dolls exclusively through Glonek's mail order company, Unearthly Possessions, and the East Coast Chiller horror movie convention. It was at one of these conventions that the founder of Mezco Toyz purchased a doll and later offered Long and Glonek a manufacturing contract to distribute the dolls commercially.
In 2001 the first full Living Dead Dolls, Series One edition sold out at the Chiller convention. Suddenly horror movie fans and serious doll collectors alike of all ages were snatching up dolls with names like "Sadie," "Sin," "Posey," "Eggzorcist" and "Damien." Sadie was the first ever Living Dead Doll created, originally retailing for $24. If you are lucky enough to find it these days on eBay, you may be able to pick it up for $800 to $1,000. Some of the older dolls from the first two series have sold on the auction site for equally as much.
So why are Living Dead Dolls so collectible these days?  For starters, each series, starting from 11 years ago, has sold out. (Earlier editions arranged from 3,500 to 4,000 sets, while some of the newer series averaged 1,500 and less).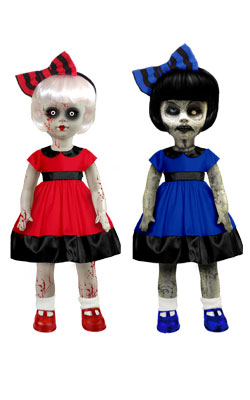 Even teens are into collecting the different Fashion Victims lines (dolls comes with outfit change and accessories), and women ages 20 and up seem to prefer some of the newer lines that depict scary movie characters. "We have just as many middle-aged housewives buying the dolls as young kids and adult men," the duo says.
Through the years, Living Dead Dolls has expanded its collection to exclusive editions, apparel, mini dolls, fashion dolls, baby dolls, rag dolls, Halloween costumes, stationary sets and even board games, among other products. Some of the latest dolls include "Friday The 13th," "Texas Chainsaw Massacre" and "Edward Scissorhands," among others.
Presently, there are more than 100 characters that have been created and new series are released twice a year. Series 17, which is based on urban legends, was recently released to stores. Each series is comprised of five dolls. In addition to the two series a year, four to six exclusive dolls a year are released through various select retailers.
In this exclusive DOLLS interview, Glonek talks about Living Dead Dolls:

DOLLS: What was the inspiration behind creating Living Dead Dolls?
Damien Glonek (DG): Back in the late '90s, we were both heavily into building and painting model kits. Ed's mom collected dolls and would at times bring home blank craft dolls to make. One particular time she brought home some dolls to make angels from, and Ed saw something completely different. Back then we saw these blank dolls as nothing more than model kits we could make. We both grew up raised on horror movies from the '70s and '80s, and we carried this love of a genre into all aspects of our lives. We put together two of the things that are sacred us the most: children and dolls. From there, all Living Dead Dolls were based and inspired upon the more macabre side of things. It was never our intention to be shocking for shocking sake, but to take the norm and skew it a few degrees so you weren't quite sure what you were perceiving. We wanted the dolls to have a cute, but creepy, kind of feel—something with a dark sense of humor thrown in with a good old-fashioned fright.

DOLLS: How did you and your partner get together to form the Living Dead Dolls, LLC?
DG: In 1996 I started a mail order company called Unearthly Possessions that sold horror movie memorabilia. We would set up a booth at various horror conventions around the East Coast and sell horror movie collectibles. In April of 1998 Ed showed me these dolls he made and asked if I thought anyone would be interested in buying them. I immediately saw a potential in them and told him to put them on the table and see. There was an immediate interest in them and all 12 dolls sold out in one night—the next show … the same thing. At that point we realized we may be onto something, so we joined forces and decided to brand these dolls ourselves. In the very beginning, while all the handmade dolls were each unique in there own way, they were all based off of what would become the Sadie character from Series 1. When we started to expand this new doll concept, we introduced different "characters," displayed them in coffin box packaging and came up with the name "Living Dead Dolls." We saw an opportunity to tap into something that no one else was touching upon.   We immediately saw a potential for growth and produced our own T-shirts brandishing images of the dolls with our logo and created a portfolio series telling a short story. We did everything on our own by hand and built a little reputation for ourselves. In 2000 a representative from Mezco Toyz purchased one of our dolls at a convention and sent us a letter asking if we would be interested in having them manufacture and distribute the dolls for us. It was what we needed to take things to the next level. We met with them, and everything seemed great. They didn't want to buy our idea as much as license it from us and keep us at the creative helm. With the help of Mezco Toyz, numerous possibilities for the dolls opened up that we would have never been able to achieve if we continued down the same road we had been on. So we signed a contract and officially formed Living Dead Dolls, LLC, and have been happily doing business with Mezco Toyz ever since.
DOLLS: Who is the average Living Dead Dolls buyer?  Age range too?
DG: There is no average Living Dead Dolls customer. Upon first glance, one would automatically think goth kid, but that couldn't be further from the truth. While we do have our share of goth fans, what we have noticed through the years is our fans come from all walks of life. Our message boards may be filled with teens, but we have met fans ranging from housewives to little girls, from dads to bikers. There is something in Living Dead Dolls we have found that appeals to the darker side of everyone. We never set out to cater one certain type of person. We never tried to market it to a demographic; we always just did what we wanted to see. We were glad to find out we aren't the only ones who liked it.
DOLLS: What do you think collectors like best about your doll line?
DG: I think one of the things people like best about the line is it touched upon a niche that no one else was doing at the time and with more than100 different unique characters we have a little of something for everyone with a touch of morbid curiosity. They are almost an anti-hero in a world filled with the perfect 'Barbie' look. Not everyone fits into that mold, and these dolls show you it is OK to be different … or fit into a cookie-cutter mold.

DOLLS: What about the fashion line ones—are these more for younger collectors and why?
DG: Actually the fashion line dolls were more intended for an older crowd, as they had much more of a sex appeal to them. When we made dolls by hand, we also made some women-type dolls and eventually wanted to bring them in under the Living Dead Dolls moniker. So these "Fashion Victims," as they were dubbed, allowed us to explore a more adult aspect of alternative culture that didn't fit into the standard Living Dead Dolls look that we have developed.

DOLLS: What are some of the more hard-to-find Living Dead Dolls, and what do they go for in the market today?
DG: Every doll sells out from the manufacturer almost immediately upon release. The earlier dolls from the first few series are probably the hardest to find and carry a price ticket of $100-plus. Recently, dolls like "Rain" from Series 11, "The Lost" from Series 8 or "Morgana" from Series 13 have been proven quite sought-after and range in price from $150 to $300 each. The most valuable dolls are the handmade dolls we made before they started to be mass-produced. Originally, these dolls were sold for $40 and now command a price on eBay from $600 to $1,200 if you are lucky enough to find one. The bloody Eggzorcist from Series 1is also a "holy grail" of sort for collectors, as only 30 were made and only 25 were sold. These have been known to bring in about $1,800. Recently, the Resurrection Series of dolls, which are re-imagined versions of past dolls and limited to 525 pieces, have been highly collectible and selling for about $250 each.

DOLLS: What did Mezco Toyz find so appealing about the doll line that they wanted to manufacture it?
DG: I imagine it was something that was unique in the sense that no one was doing anything like this at the time. The dolls had a unique, creative look that was already marketable, as they came in their own coffin packaging.
For more information, visit www.livingdeaddolls.com.
Remember "deader is better!"
Chronology of Living Dead Doll Names
Series 1 (2001)
Sadie, Sin, Posey, Eggzorcist, Damien
Series 2 (2001)
School Time Sadie, Kitty, Deadbra Anne, LIzzy Borden, Lou Sapphire
Series 3 (2002)
Bride of Valentine. Sheena, Lilith, Lottie, Schitzo
Series 4 (2002)
Inferno, Sybil, Lulu, Ms. Eerie, Macumba
Series 5 (2003)
Jezebel, Siren, Dahlia, Hollywood, Vincent Vaude
Series 6 (2003)
Jinx, Dottie Rose, Hush, Revenant, Calico, Isaac
Series 7 (2004)
Lust a/k/a Mistress Demonika, Vanity a/ka/ Madam Dysmorphic, Wrath a/ka/a Eve-A-Go-Go, Sloth a/k/a Bed Time Sadie, Greed a/ka/ Miss McGreedy, Gluttony a/ka Vulgar the Obscene
Series 8 (2004)
The Lost, Hollow, Grace of the Grave, Faith, Angus Littlrot
Series 9 (2005)
Elisa a/k/a Elisa Day, Toxic Molly, Toxic Molly, Dawn, Blue, Purdy
Series 10 (2005)
Mildred, Demonique, Arachne, Tina Black, Wolfgang
Series 11 (2006)
Maggot, Killbaby, Jubilee, Rain, Isaiah
Series 12 (2006)
Chloe, Tessa, Frozen Charlotte, Cuddles, Ezekiel
Series 13 (2007)
Evangeline, Iris, Morgana, Simone, Jacob
Series 14 (2007)
Alison Crux, Jasper, Daisy Sue, Dee K, Gregory
Series 15 (2008)
Death, Bathory, Gypsy, Flamingo, Judas
Series 16 (Halloween 2008)
Eleanor, Pumpkin, Mishlka, Squeak, Isabel
Series 17 (2009)
The Hook, The Vanishing  Hitchiker, The Unwilling Donor, Spider Bite, Bloody Mary
Series 18 (Halloween 2009)
Calavera, Ingrid, Gabriella, Jingles