By A. Glenn Mandeville
The Sound of Music, first released in 1965, has proven to be an enduring movie classic. Generations of Americans have viewed the multiple-award-winning musical, whether on the big screen, as an annual televised special, or as a recorded or streamed movie. So it should come as no surprise that Sound of Music collectibles, and particularly Madame Alexander's Sound of Music dolls, are still popular with collectors today.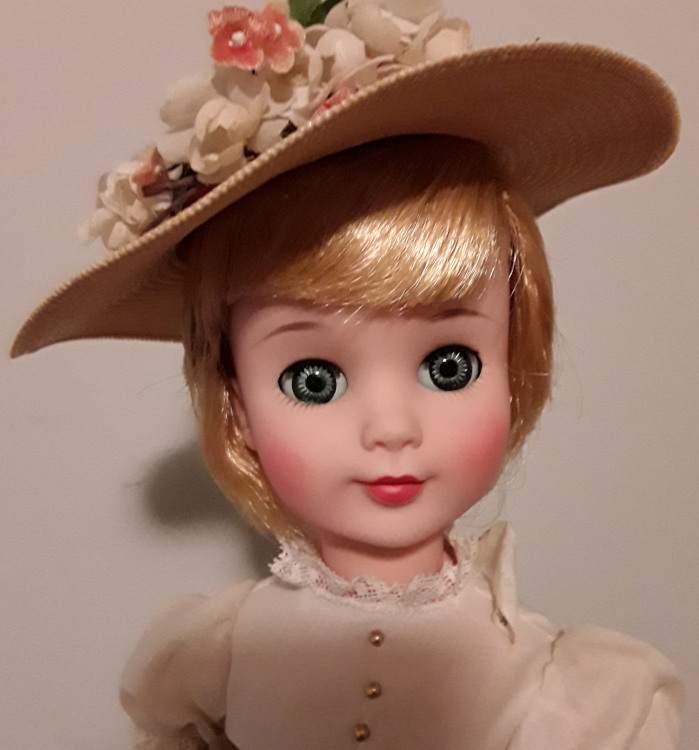 I have been fortunate enough to have been Madame Alexander's dinner companion at some of her appearances at doll shops where I was the appraiser and she was the guest. At one of these events, Madame and I chatted about the dolls made to represent the characters from the movie. She told me it was one of the largest undertakings of her career, due to the licensing requirements and the fact there are so many important characters in the movie.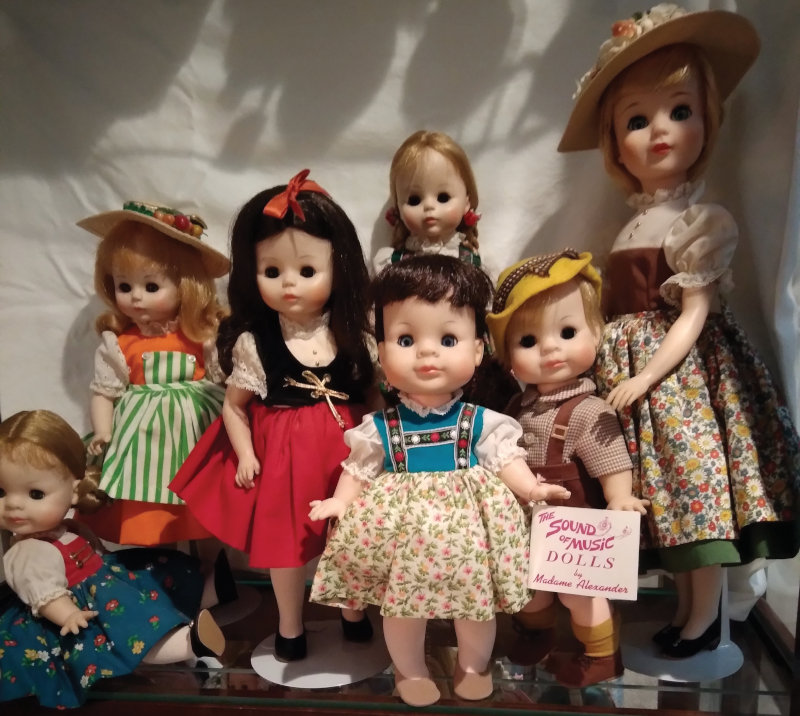 There's Captain Von Trapp, his seven children, and Maria, the children's governess, to start with. The challenge was to both successfully manufacture all the major characters from the movie and entice collectors to purchase all those dolls.
At first, Madame Alexander envisioned a set of 8-inch dolls that would include Maria and six of the children dressed in Austrian-style attire. While shown on a wrist booklet, this set was not made available in 1965. The 8-inch Maria was never manufactured, while the other 8-inch dolls were used for a later release.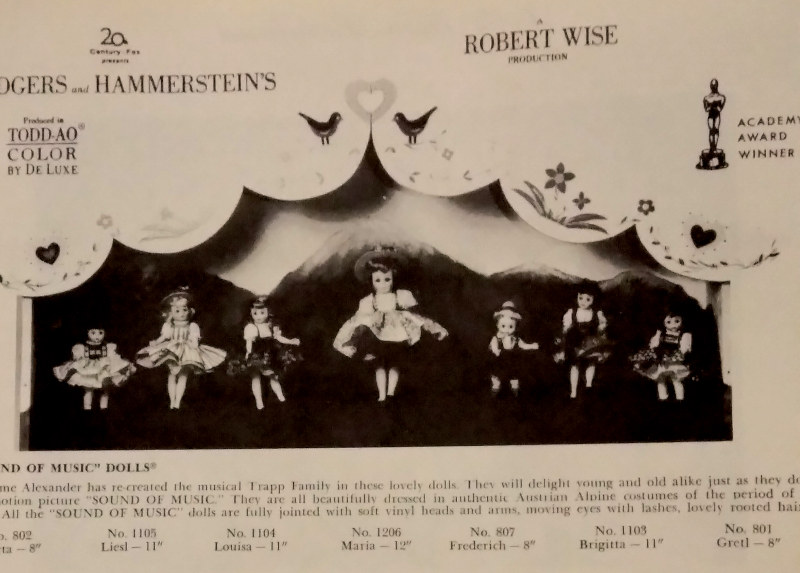 Madame told me that the set she loved the most had the six children all dressed in navy blue sailor suits with red ties. It used past Alexander dolls, such as a hard-plastic Lissy doll for Brigitta and a Smarty face doll for Friedrich. The suits were designed from an actual scene in the movie.
Her sales reps told Madame that it was doubtful a collector would buy six dolls all dressed in the same outfit, regardless of her use of past doll types. This advice would prove to be correct, as the dolls in the sailor suits proved not to be bestsellers. However, today a complete set can fetch several thousand dollars (it's not known how many sets were produced). Even the individual dolls sell in the $400 to $500 range.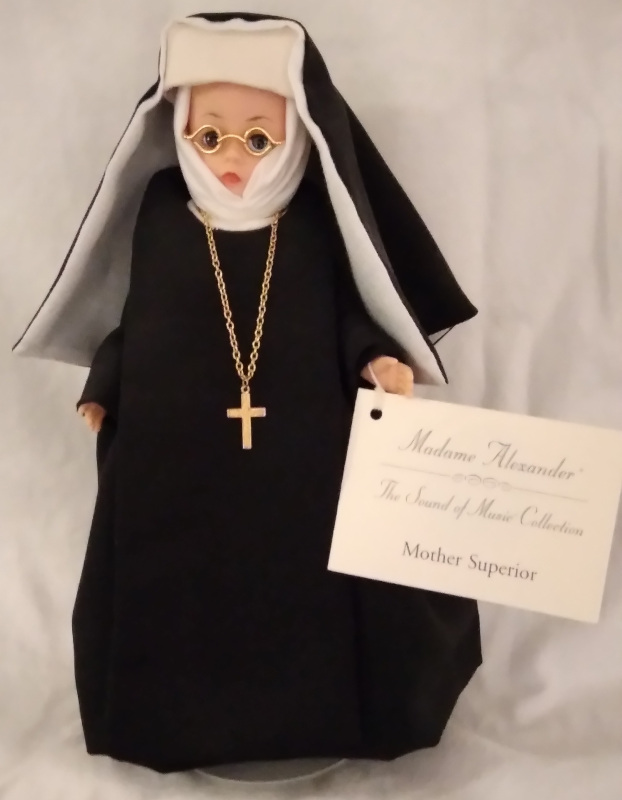 Madame Alexander's next attempt was a set of larger dolls dressed in individual Austrian-style outfits with a now hard-to-find 17-inch Maria using the Polly face mold. Later issues would use the vinyl Elise face mold. This set, manufactured from 1965 to 1970, was a huge success and is the easiest to find today. Madame Alexander told me that she used Liberty of London fabrics in numerous prints, which accounts for the many variations found in the dolls.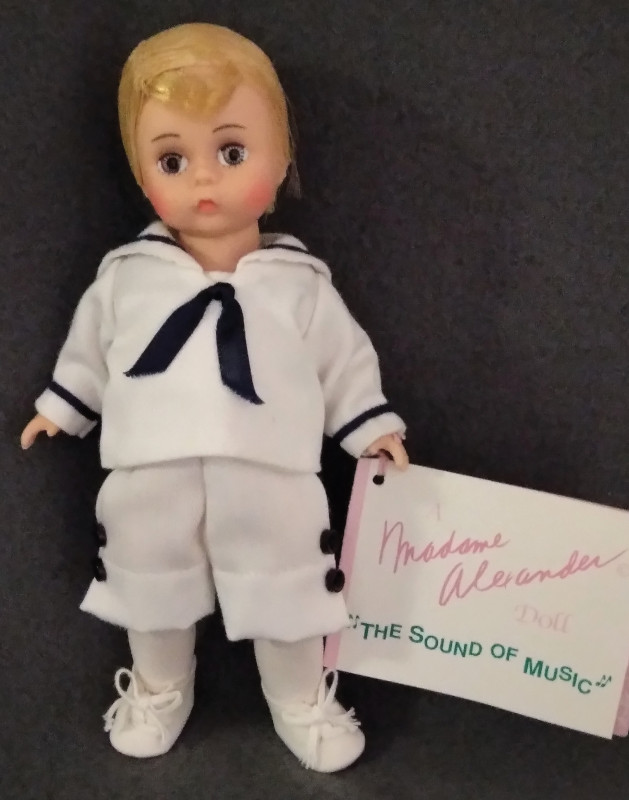 The movie's original theatrical run in the U.S. lasted four and a half years, making it one of Hollywood's biggest commercial successes, as well as snagging the 1965 Academy Award for Best Picture, among five others (out of 10 nominations). The movie was re-released in theaters in 1973 and again in 1990.
With the movie remaining so popular, Madame Alexander released what collectors refer to as the small Sound of Music set, which featured 8-inch Marta, Friedrich, and Gretl dolls; 10-inch Brigitta, Liesl, and Louisa dolls; and a 12-inch vinyl and hard-plastic Maria with what collectors refer to as the Nancy Drew mold. This set was highly successful as well and was available until 1973 for dealer orders.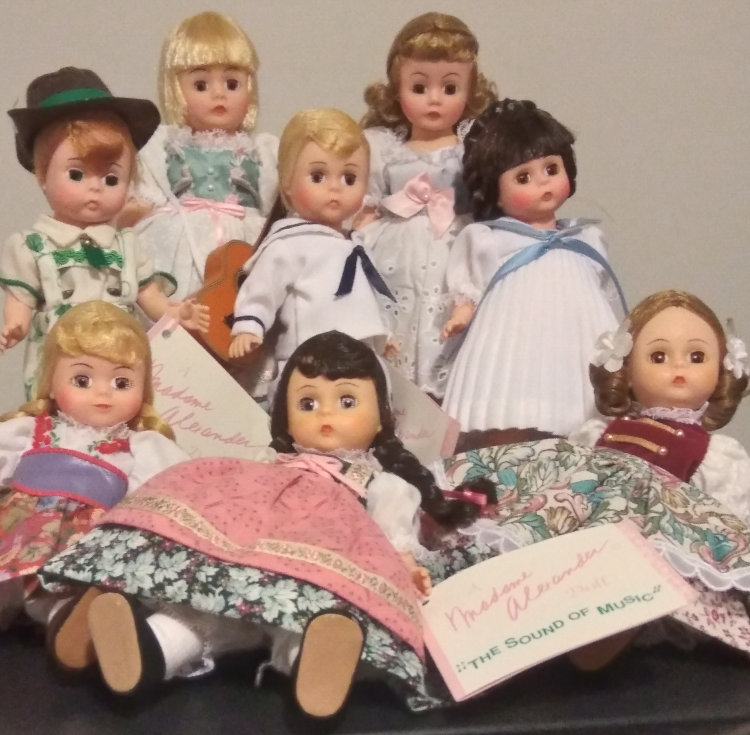 ABC became the first television network to air the movie in 1976, followed by NBC in 1977, which broadcast the movie annually for two decades, introducing it to even more new viewers. And of course, it's been released in videotape and DVD formats, as well.
In keeping with its continued popularity, The Alexander Doll Company released a partial Sound of Music doll set in 1992 and 1993, which for the first time included son Kurt in an 8-inch size, wearing a white sailor suit. This doll became very popular as he had been omitted from the previous edition and was the perfect missing piece for the 1971-1973 set.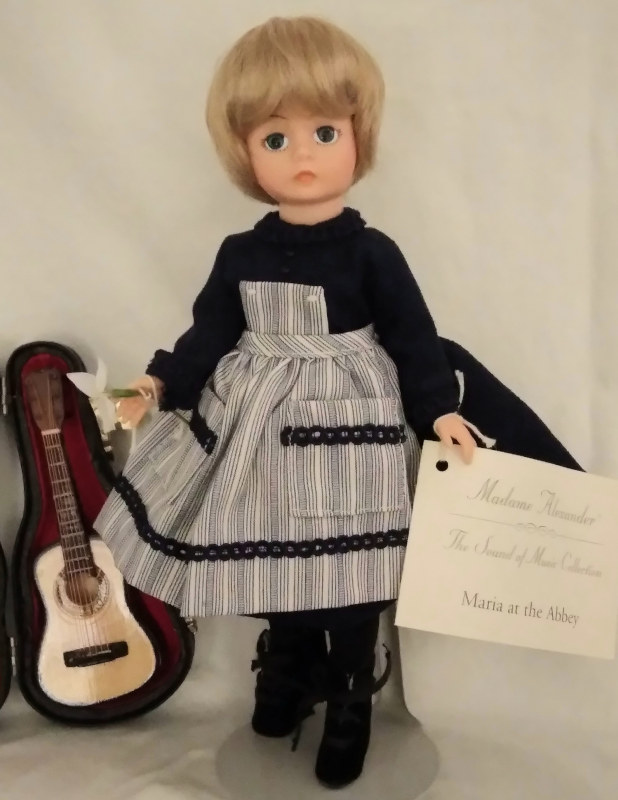 The '90s set also included 8-inch Gretl, Brigitta, Friedrich, and Marta dolls along with 10-inch Liesl and Maria dolls. Additionally there was a 12-inch Maria dressed as a bride — now one of the hardest Sound of Music dolls to find today — and the also hard-to-find 10-inch Maria at the Abbey.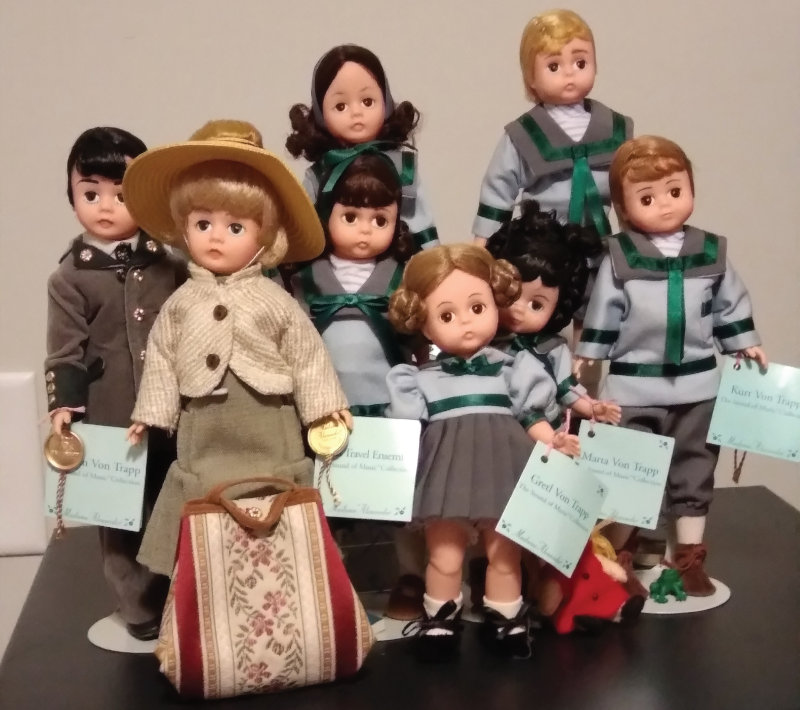 Collectors were surprised and happy when yet another set was released from 1997-1999, with the children dressed in green sailor-type suits, based on another scene in the movie. This set included all the children, plus a Mother Superior and Captain Von Trapp. Some of the dolls used a different body mold, and the set came with many accessories for the dolls.
Both doll collectors and Sound of Music collectors continue to count these amazing editions from Madame Alexander as among their favorite things.