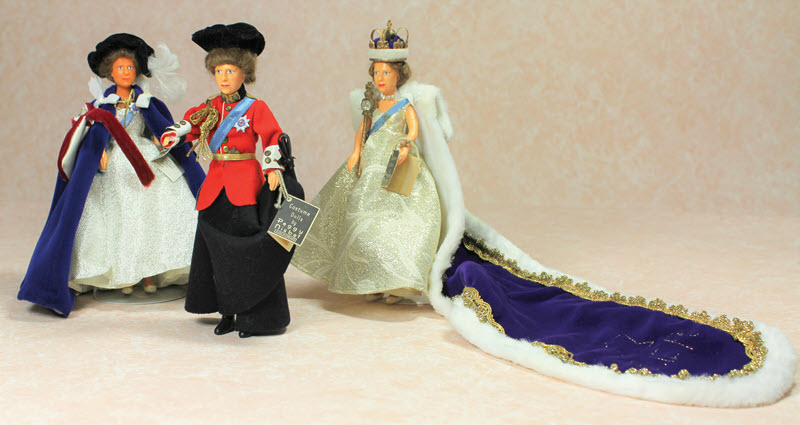 By Karen B. Kurtz 
Photos by Mark A. Kurtz (except where indicated) 
House of Nisbet Dolls got its start in 1952 with a doll commemorating Queen Elizabeth II's coronation and grew to encompass a wide range of dolls, many celebrating British royals and other celebrities, along with traditional British costumes and traditions. Founded by British businesswoman Peggy Nisbet (1909-1995), the company grew to become one of Britain's largest doll manufacturers. As Britain prepares to crown King Charles III May 6, after the death of Elizabeth II in September, a look back at Nisbet dolls reveals how they served as a chronicle of the changing tastes and tempos of their times and of their British roots.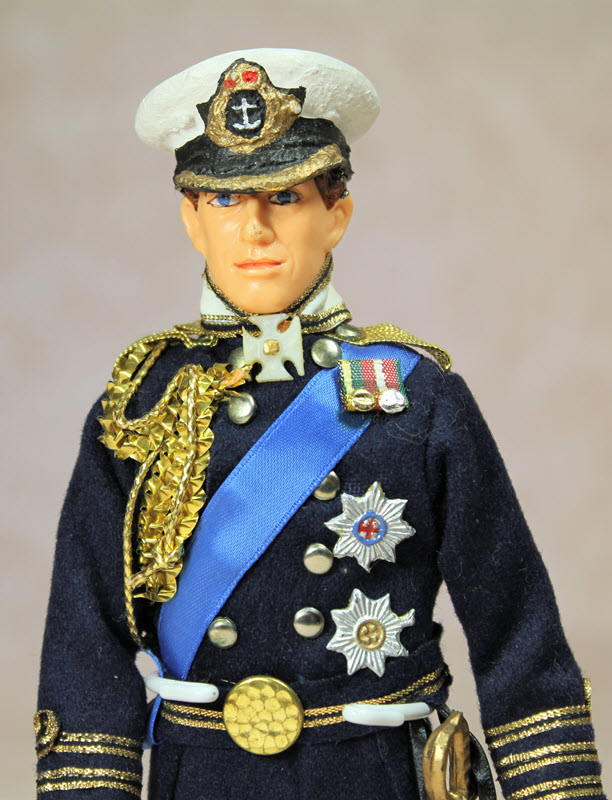 Nisbet's 8-inch dolls are still relatively easy for collectors to find at reasonable entry points. Collectors recognize Nisbet dolls by their meticulous costuming. Peggy combed the markets to obtain just the right fabrics, juxtaposing textures, colors, and designs against each doll's special requirements. She selected trim according to size, shape, and material. She produced special accessories after additional study and design. Fortunately, most original Nisbet dolls still retain their wrist tags, which identify both the doll and the real person portrayed.
Coronation Days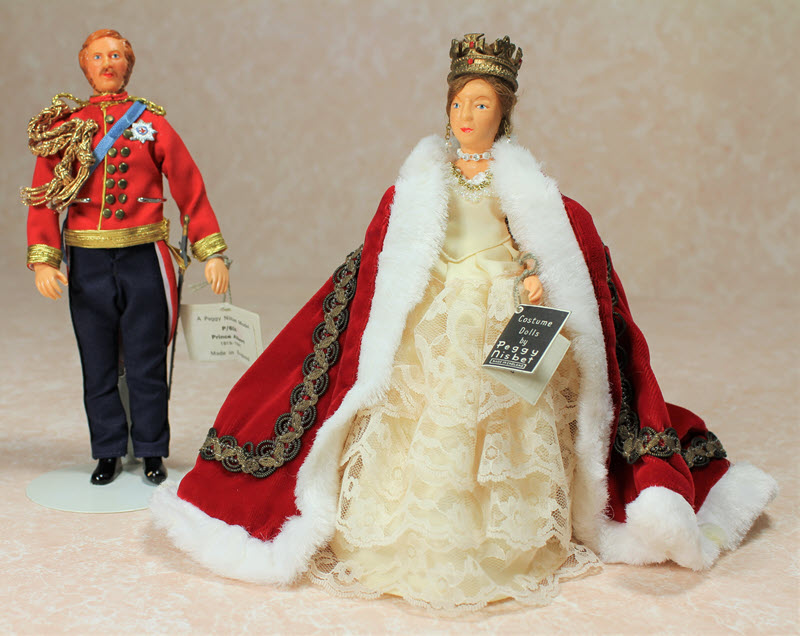 Peggy Nisbet developed Her Majesty Queen Elizabeth II in Coronation Dress in 1952, before the Queen's ascension. In her first dollmaking attempt, Peggy obtained permission from the Lord Chamberlain, secured financial backing with a bank loan, and hired Cyril Lancaster to sculpt the figurine in English bone china and another artist to paint the dolls' faces. Then she vetted a group of highly skilled needlewomen "who were meticulous in their work and dependable on their promises to complete it on time," Peggy wrote in her autobiography, The Peggy Nisbet Story (Hobby House Press, 1988).
Peggy also published her Peggy Nisbet Collectors' Reference Book in 1976, ensuring that correct documentation about The House of Nisbet remains preserved. Directory of British Dolls, an undated booklet by Luella Hart, describes and illustrates other British manufacturers who made souvenir dolls to celebrate Elizabeth II's coronation.
"Many an experienced seamstress found herself unable to work on so small a scale," Peggy wrote, "[but] engaging only the best was a wise policy long-term because the work was expertly done, making it possible for me to keep to my planned schedule without sacrificing quality."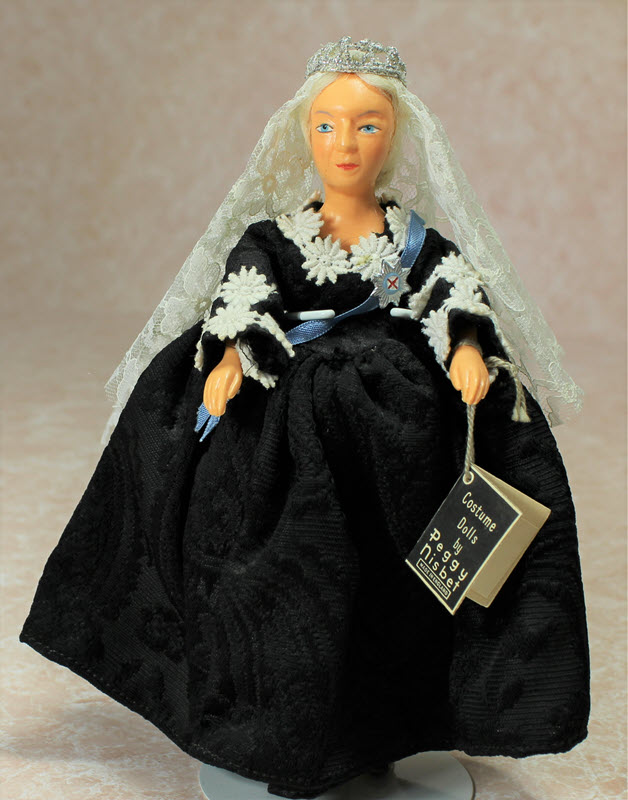 Peggy's "inspired guess" for a costume meant researching robes from previous coronations at the Tower of London and searching for the "correct shade of royal purple." Peggy recalled that it was hard to find a lightweight velvet to use "on so small a figure. I wanted a supple cloth that would give a flowing line, not a hard appearance. After much searching, success crowned my efforts, and we started work on the prototype."
Harrods' Department Store bought and sold all 250 of those figures, and they rarely surface today. After this first successful venture, Peggy was off and running, designing other dolls with Aunt Kitty making the prototypes. Peggy's husband, William, assisted her in the business. With help from her family and staff, The House of Nisbet eventually expanded into a globally recognized doll-manufacturing firm.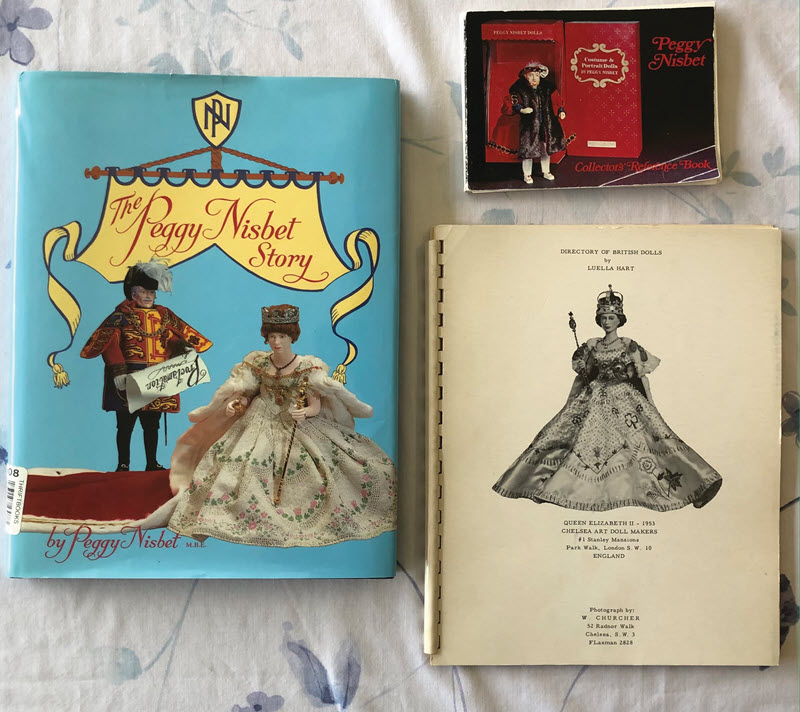 Developing the Dolls
"Peggy Nisbet was probably the first person to realize tourists and collectors would appreciate and display small dolls in a wide range of characters," said Susan Brewer, a longtime Nisbet collector and British author. "Her techniques were later copied by others, such as Cornish Shallowpool Dolls, Sheena McLeod Scottish dolls, and Irish Jay dolls."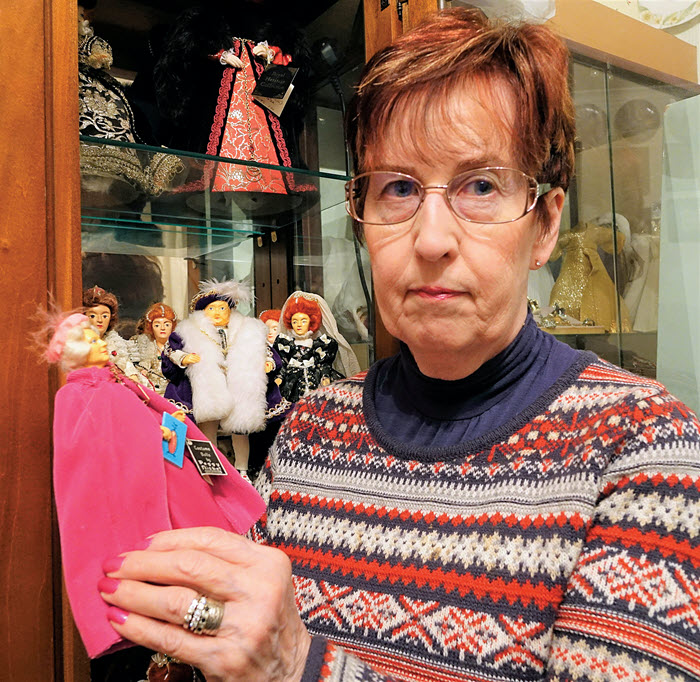 "The amount of inventiveness that went into the creation of every Nisbet doll is phenomenal," said Christine Poulten, who, along with her husband, David, is known for their website www.peggy-nisbet-dolls.co.uk. Christine researches and collects; David runs the website and takes photos. Their shared mission: to document and record as much information about Nisbet dolls as they can. Susan, Christine, and David have all collaborated on research, photographs, articles, and museum exhibitions. 
"Peggy adopted injection molding with thermoplastic materials for the 8-inch styrene dolls that made her famous," Christine said. "She wanted a heavy body that would not shatter easily. Since the plastics industry was in its infancy at the time, she had to overcome a number of technical problems. She also went through several iterations before finding a [flesh-colored] resin that satisfied her."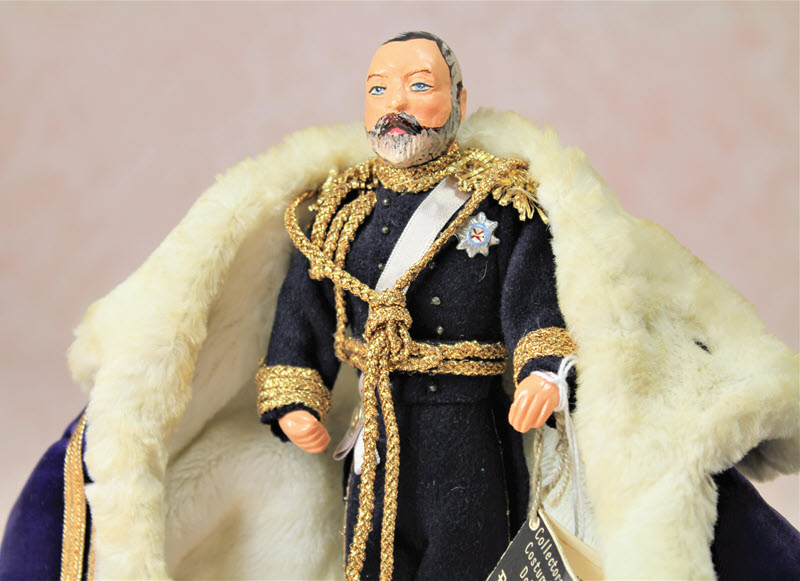 Peggy exhibited her doll line at British toy fairs and at the International Toy Fair in New York City. Saks Fifth Avenue, FAO Schwarz, Marshall Fields, and Neiman Marcus placed large orders. She placed ads regularly in American doll-collecting magazines and attended United Federation of Doll Clubs (UFDC) conventions every year. In 1979, the Queen awarded Peggy the Member of the British Empire (MBE) medal for her long-term significant impact and outstanding service to export trade.
"Nisbet dolls were never cheap," Christine said. "High cost was probably a consequence of the handmade attention to detail so evident in their construction, particularly in the early years, and in the richness and generosity of the selection and materials used to make them. New Nisbet collectors should concentrate on what is affordable for them, but even more importantly, what they really like."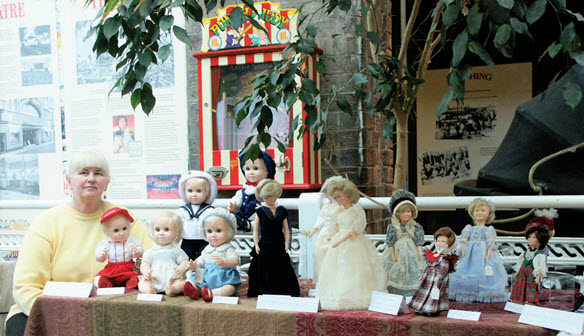 "I particularly like the Tutankhamun and Nefertiti dolls because of their beautifully detailed, stunning metal headpieces," Susan said, "but Nisbet prototypes and some of the later dolls made in very small production runs are actually most important overall."
Christine agreed. "Peggy Nisbet reintroduced the art of wax dollmaking to England — only three models were made — and successfully collaborated with English porcelain manufacturers, most notably Royal Doulton and Coalport."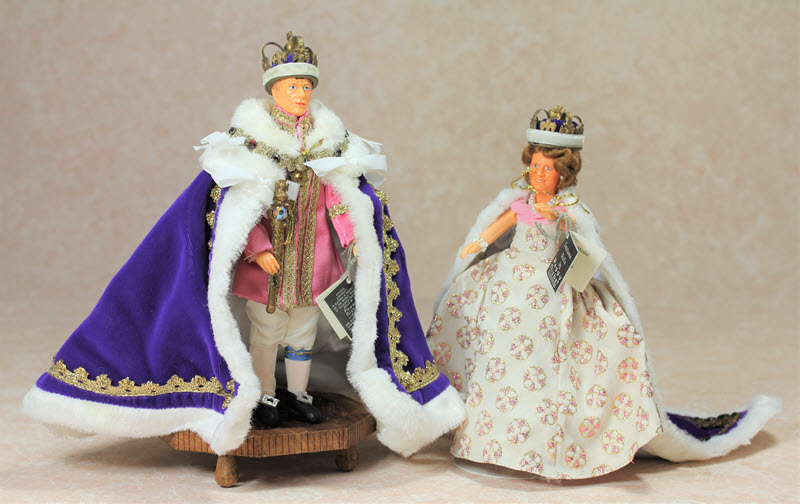 "Transition dolls like Cinderella are popular," Susan continued. "The 18-inch vinyl dolls are still very collectable, particularly Diana in her various outfits and Sarah, but they don't come up for sale often. I really like the 18-inch Prince Harry, a seated toddler in a red-and-white outfit with sun hat. Prince William toddlers are also lovely."
Changing of the Guard
Jack Wilson, Peggy's son-in-law, eventually assumed management of The House of Nisbet. He expanded rapidly into plush bears, wax dolls, and the Nisbet-Royal Doulton ceramics partnership. Jack sold The House of Nisbet to Dakin, Inc. in 1988. In turn, Dakin sold the Nisbet doll rights to Diane Jones International, a company in Pontypool, South Wales. Owners Diane and Keith Jones used some of the Nisbet molds to reproduce high-quality Nisbet dolls, but upon their retirement in 1999, Nisbet production ended. Reproductions are tagged "Made in Wales."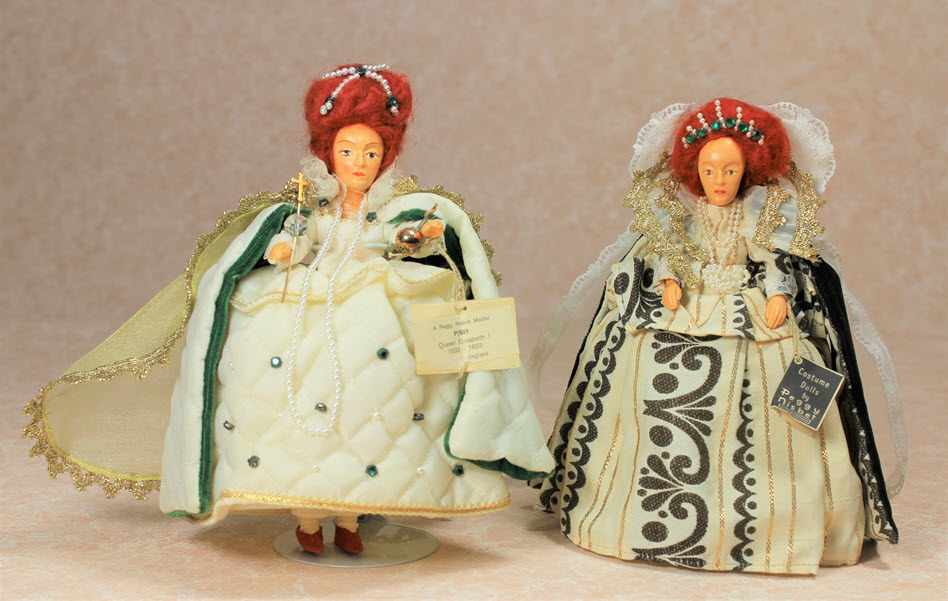 The Nisbet homes in Weston-super-Mare are private residences now that are not open to the public. Dunster Park workrooms gave way to a retirement home. When Peggy Nisbet died in 1995, tributes from collectors and the dollmaking industry poured in from around the world as they remembered and honored Britain's premier dollmaker.
A year later, more than 1,500 dolls from the Nisbet Archives sold at a Florida auction. At least one model of nearly every Nisbet doll made was sold. Among the highlights were important prototypes, like the one-of-a-kind Beatles set costumed in psychedelic uniforms from Sgt. Pepper's Lonely Hearts Club Band, wedding models of Prince Rainier III and Princess Grace that the prince pulled before production, and hand-carved wooden dolls from the Nativity Collection. About 125 dealers and collectors bid on the lots. Four dealers purchased most of the rare prototypes and samples.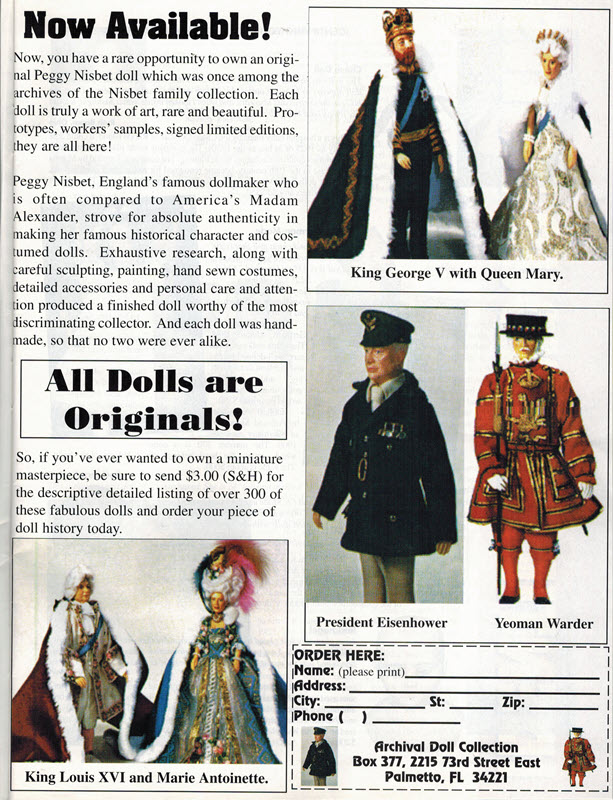 Sadly, Nisbet dolls are now a part of history. But Peggy Nisbet's legacy still lives on, preserving the British monarchy's splendor in detailed miniature snapshots of the past.
Karen B. Kurtz writes about dolls, history, and antiques. Find out more at www.karenbkurtz.com and sophiasgiftbook.com. 
Chris Poulten and Peggy Nisbet Dolls: How It All Began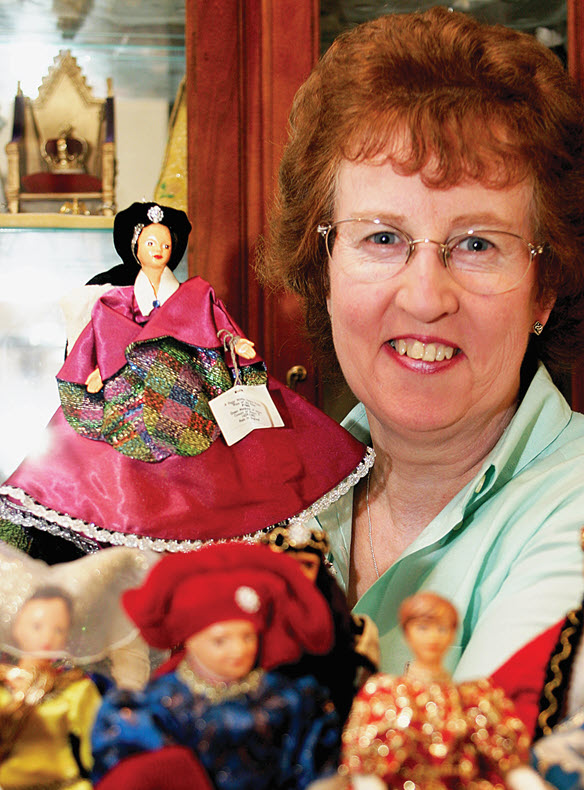 By David Poulten 
One Saturday afternoon, back in September 1996, Chris had been shopping with her best friend. She arrived home glowing with excitement. She was carrying a large bag containing a set of dolls of Henry VIII and his six wives, which we later learned were from the Nisbet Portrait series. I cast a baleful eye over them, while Chris told me how much she had paid. Eyebrows raised, I asked, "You paid how much? For these ugly little dolls?" We laughed about that comment for years afterwards!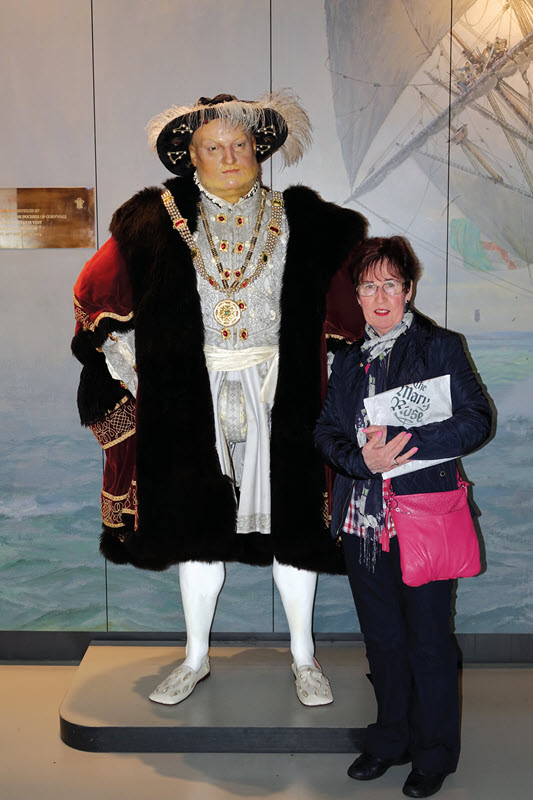 Chris had always been fascinated with Tudor and Elizabethan history and was undeterred, urging me to look closer at each doll. I grudgingly admitted that, though not to my taste, they were well-made. Most importantly, I was very happy that she was so pleased to have found them!
Our eldest son made Chris a personal computer and introduced her to the world of online auctions — the beginning of the end! Over 25 years later, Chris was still surfing the listings, and her collection had grown to over 2,000 Nisbet creations, reams of catalogs and other information, and a sizeable number of Nisbet teddy bears and other Nisbet soft toys.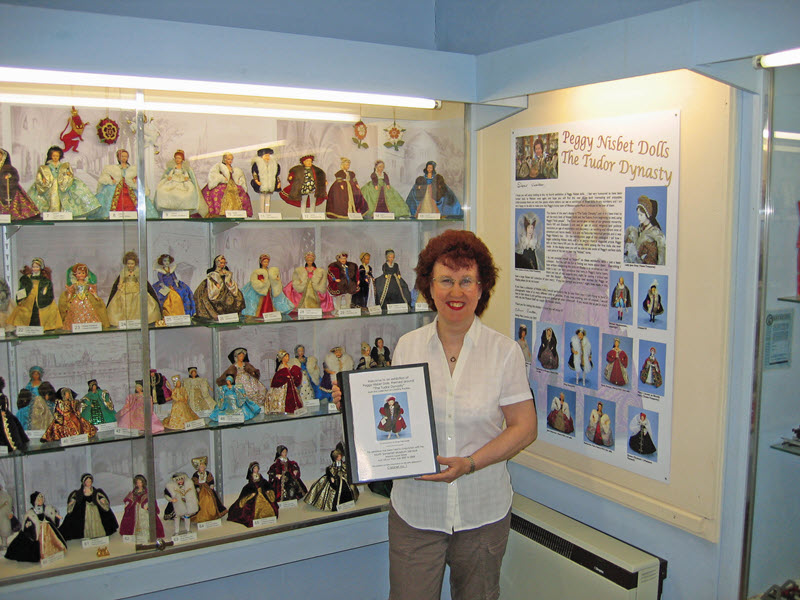 In the course of our research (yes, I was hooked, too), we made numerous trips to Weston-super-Mare, staged six exhibitions at the North Somerset Museum in Weston, and established many links with collectors across the U.S., Canada, the U.K., Australia, and New Zealand.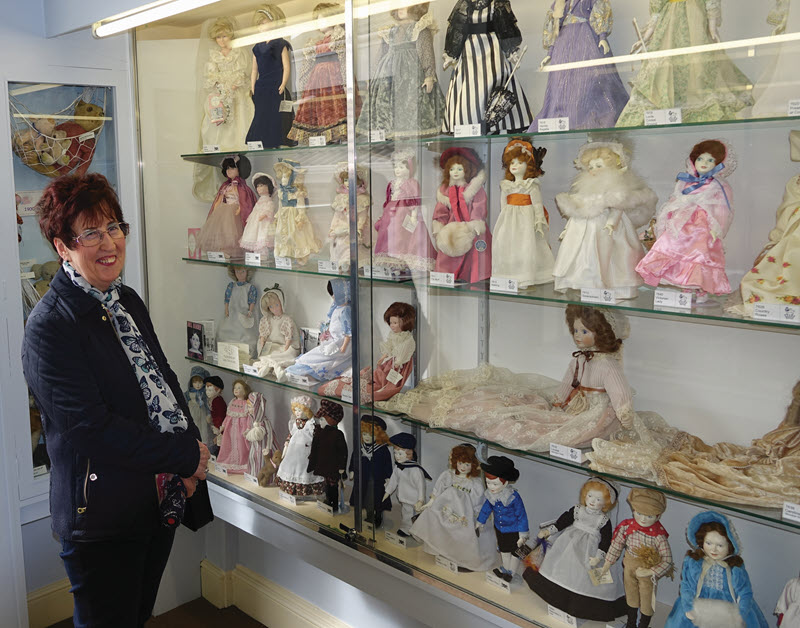 In 2012, we set up the website, with Chris supplying the knowledge while I battled the software and took the photos. In later times, Chris and I talked about the new things she would like to see on the website, and I agreed that we should make the changes — a vow I intend to honor, in her memory.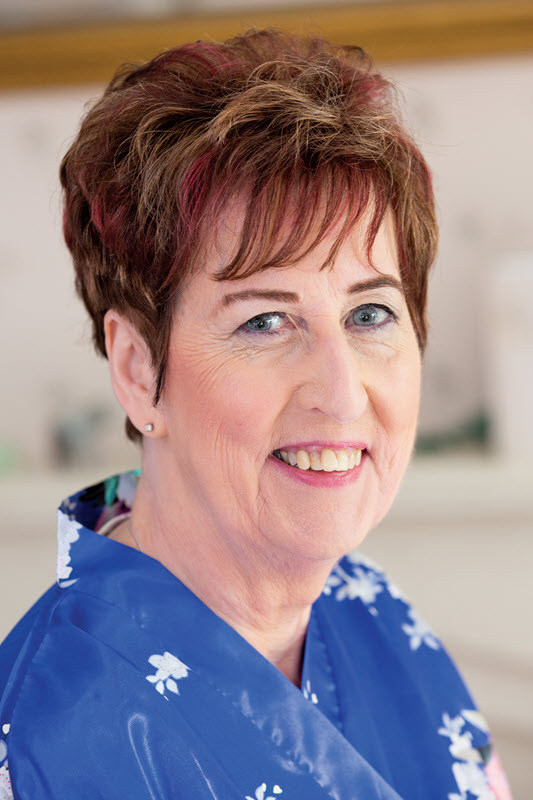 Peggy Nisbet's dolls gave us a common shared interest and brought us even closer, for which I will always be thankful to those (not so) ugly little dolls!