Anyone who thinks bigger is better obviously is not familiar with the work of Helen Kish. The doll artist, owner of Kish & Company, is well known for her richly detailed one-of-a-kind pieces, limited editions, and dolls she's designed for com­panies like Dakin and Pleasant Company. Lately, though, she's been reaping enormous re­wards from downsizing, both in art and life.
Whereas artists often are inspired by adventure and exploration, for Helen, all it took was a return to her roots. A native Denver girl, she launched her doll career and raised her family in the suburbs. However, in 2003 Helen and her husband, Tamas, who is Kish & Company's Chief Financial Officer and photographer, re­turned to the city, living and working in a historic building. Serendipitously, their new home also provided the perfect birthplace for her new doll Riley, "the quintessential 21st century urban toddler."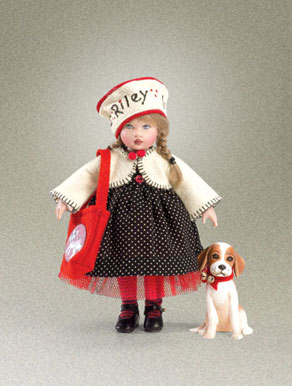 The doll stood out from all the other sample bodies and heads filling a cabinet of clay models, "waiting patiently," as Helen puts it, "for me to choose her." She is a composite of the beautiful features of all the little children her creator has known over three decades of sculpting. Riley has a story, too: at three years old, she's already got an Internet buddy named Anjali in India, and attends L'Ecole Gaia, a preschool that encourages her wide-eyed curiosity. Riley's always happy, though, just to play and romp with her best friend, a beagle named Jingles. In fact, Katherine Atkins, an illustrator and artist, has collaborated with author Margaret Burk on a miniscule Riley book (The Perfect Puppy), which is going to be self-published as part of the limited-edition gift set Riley & the Perfect Puppy.
Riley holds a special appeal for many doll lovers. "Riley is vinyl and therefore very 'play-able,'" comments Paula Reding, owner of the Denver Doll Emporium in Denver. "Riley is the little girl in all of us." Her diminutive height only adds to her charm, notes Paula: "Riley is the perfect size. Let's face it–many of us are just plain running out of room to display our massive doll collections! A small doll will fit in anywhere."
Pint-sized Riley, barely clearing eight inches, has been a tremendous hit with collectors and retailers alike. Helen believes that "there is something completely disarming about a little doll; I call it the Ahhhhhh! factor." The doll premiered at the 2003 UFDC National Convention but was exclusive to the Kish Collectors' Society, managed by Helen's daughter, Annalise.
Demand was so strong for this tiny treasure, with her adorable outfit sets and modest pricing, that earlier this year Kish & Company made Riley available to the general public. According to Helen, "Riley's small stature contrasts dramatically with the titanic impact she has had on us."
Janice Toser, a collector based in Norristown, Pennsylvania, notes that some Riley fans have even designed clothing lines for her, written stories featuring her and devoted websites to the doll. "She is the essence of a Helen Kish doll," Janice remarks. "Collectors now realize that one Riley is just not enough, and her popularity is exploding."
Indeed, the Riley juggernaut is just getting started. Kish & Company selected this year's Doll & Teddy Bear Expo for the debut of the toddler's newest neighbor, Tulah. Helen describes this companion as "a red-headed, freckled spitfire who wastes no time in making Riley's acquaintance and declaring Riley her new 'bestest' friend." The contrast between the introspective Riley and her "exuberant" new pal should provide for plenty of interesting fun, according to the artist. "They will have many adventures together and naturally, will share each other's clothes," says Helen.
The new addition is sure to be em­braced by collectors like Marianne McGarrity, of Metuchen, New Jersey, who owns 38 (and counting!) Kish & Company dolls. She thinks Riley "looks like a real little girl" and that her size makes her a terrific doll to set up with props and accessories. "People have created entire 'worlds' for their Rileys," observes Marianne. "They have houses, pets, toys, furniture, families, vehicles, etc!" She herself is not immune to indulging in the life of Riley, having taken the doll on a trip to Italy last year. "I'd never taken a travel doll along with me as many collectors do," Marianne admits, "but Riley was perfect for this…small, unbreakable and with a great wardrobe! She caused quite the sensation wherever she went."
"There are no words to describe how wonderful it is that Riley has inspired so many other people's creativity," Helen notes. "Grown-up people are playing and having FUN with Riley!" She mentions one woman who snapped out of a collecting dry spell as soon as she laid eyes on the tiny doll. "I am so thrilled and touched by the response to Riley," says Helen, who hopes Tulah becomes just as beloved.
Not that there's not plenty of affection going around at Kish & Company already. Everyone's crazy about Annalise's beagle Carlo (the inspiration for Riley's dog), and Katherine Atkins, the co-collaborator on The Perfect Puppy, just happens to be dating Helen's son. "When people you love, love what you do and are there to help make it all happen, you are well and truly blessed," Helen says.
Another newcomer to the vast array of dolls is Bitty Bethany, an 11-inch version of the artist's Bethany series, which collectors treasured despite production problems. Helen explains that Bitty Bethany "never would have been realized without the insistence of Robert Tonner that I give a new vendor a chance to make my dolls. Bitty Bethany was the first of a new wave of affordably priced LadyKish Whimisies dolls."
Janice has nothing but praise for the little charmer, "which is beautifully sculptured with details down to her fingers. Bitty Bethany's signature Kish face with painted eyes and Kish lips is 11 inches of sass. Every time I see this doll in new clothes, or different colored or styled hair, she looks like a different doll–now that takes talent!"
"Bitty Bethany is another Kish prize!" agrees Paula. "Again, a wonderful petite size, 'hands-on' vinyl construction (as opposed to 'sit on the shelf' porcelain) and a beautiful Kish face. I see Bitty Bethany as an older sister to Riley. They both work very well together."
In addition to Riley and Bitty Bethany, both members of the LadyKish Whimsies collection, Helen is still producing the hand-painted ladies of her Signature Editions line, which features very limited editions of dolls hand-finished by the artist. And she is also keeping herself busy with two fashion dolls, Electra and Rio, who represent "Facets of the Eternal Feminine" and are presented in basic costumes and as the Spirit of the Four Seasons.
"As for 2005, exciting things are in store," promises Helen. Collectors who can't get enough of little Riley and her friends may have lots to look forward to. "New families are always moving into the neighborhood!"