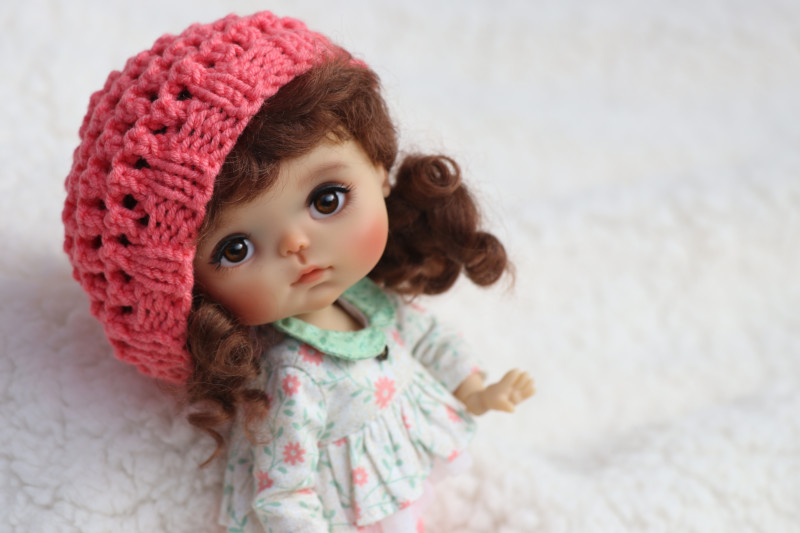 For the third year in a row, Meadow Dolls' award-winning mother-daughter team of Miroslava Brodlova and Mjusi Mjus have designed a new resin ball-jointed doll (BJD) to be offered exclusively through DOLLS magazine.
Fabbi is a 20 cm (about 7.8 inches) BJD cast in sunkissed resin for this limited edition of 30. She uses Meadow Dolls' smaller Chibbi body, unlike previous DOLLS exclusives Mae and Aya, which were both 16 inches tall.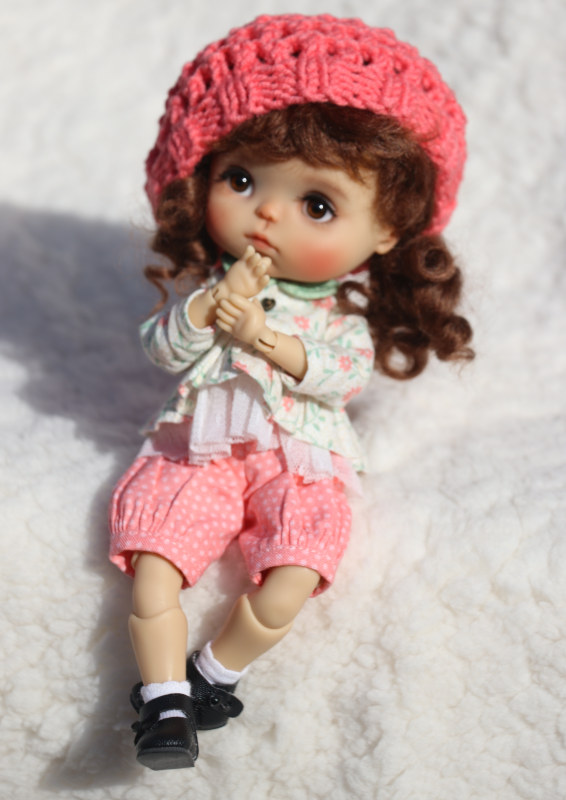 "The Chibbi is based on the Asian chibi culture — a small version of an (often) adult character with a lot of personality, while keeping all the cuteness of small things," Brodlova said. "In choosing sizes, I try to do sizes that our customers are able to find clothing and shoes for easily, which makes it more fun for everyone.
"Tops for my Twinkles, Holala dolls, and Lati yellows, and even some small Imda dolls clothing will fit her. Most of the pants of the Holala dolls will fit. She can wear Blythe shoes, and there are many to choose from, so our customers will be able to transform the Chibbi Fabbi into a doll with their favorite looks.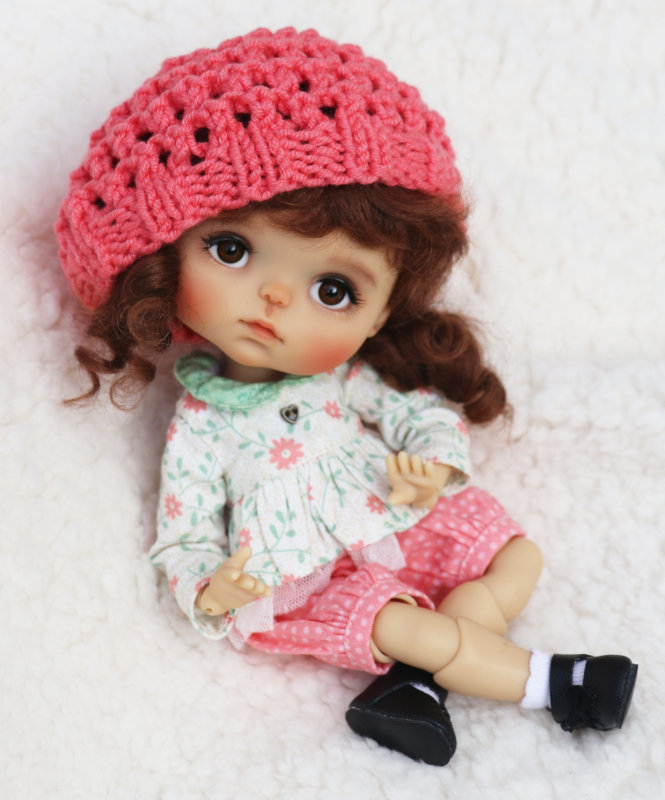 "This doll will fit in any collection, and she is such a good size for traveling! We currently have my samples traveling all over the world with a two-week visit with people who signed up to be a part of the travels. Such fun!
Fabbie will come with a factory faceup designed by Mjus, a pair of rich brown handmade glass eyes and a curly synthetic mohair wig, also a rich brown. She comes dressed in an outfit by Olga Permyakova made from cotton and white tulle. "She has a tiny heart on her top to celebrate her February debut," Brodlova said. "Charlene [Smith] asked Olga if she would like to take on this project — her first time participating is such an event. Her work is wonderful! Fabbi's hats were made in the U.S., in Florida, by a wonderful knitter, Merle Perch. Merle is always up to help with one of our projects."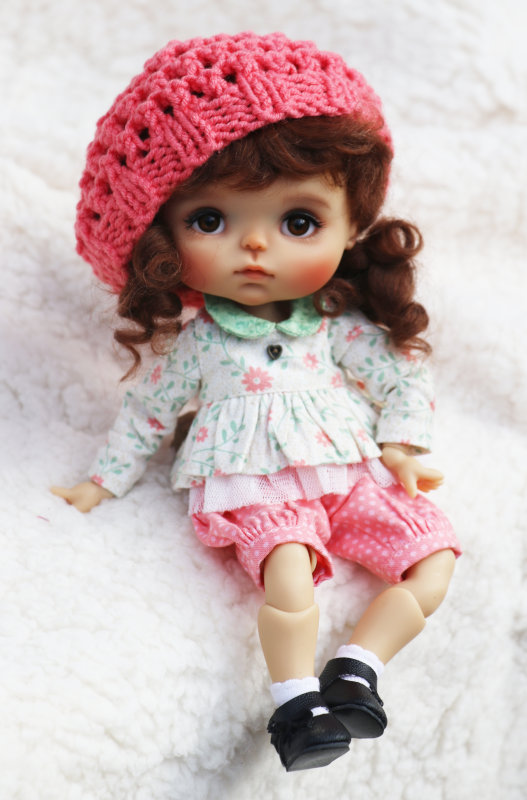 More to come from Meadow Dolls
As fans of the prolific artist know, Brodlova's inspirations for new dolls often outpace her ability to sculpt and finish them. "The ideas seem endless, and just trying to find the best time to debut each new doll can be a challenge," she said. "We know everyone loves the Chibbi with the travel dolls already out there, so we thought it would be a lot of fun bringing this little luvbug to an exclusive debut with DOLLS. There will be many more new dolls this year, and still people are asking for dolls that already have been made. It keeps us busy!
"We at Meadow Dolls are really looking forward to a year with more doll fun and easier shipping, and being able to attend some shows and see our friends. We are thankful for all the love our customers show our dolls. We enjoy seeing all the pictures people share, and watching new people join the Meadow Dolls group. It is a challenge to keep up with everything, with pre-orders, painting, and working on upcoming debuts."
Meadow Dolls plans to be at the Modern Doll Collectors Convention this year. In addition to their doll work Mjus is also continuing her studies, while Brodlova has moved and is "a little more than knee-deep in house remodeling as well as designing her garden and chicken house, along with sculpting new dolls."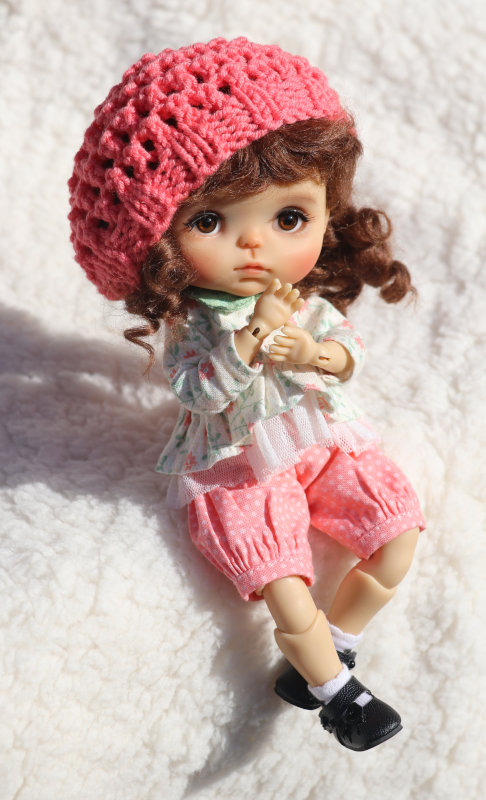 How to order Fabbi
Because of the popularity of Meadow Dolls' BJDs and the truly limited size of this edition, as well as to ensure the ordering process goes as smoothly as possible, DOLLS will make Fabbi available via a "right-to-buy" pre-order drawing process. Collectors can sign up for the drawing online at no cost from now through 11 a.m. CST Wednesday, Feb. 24, 2021. On that day, 30 winners will be randomly selected and notified by JP Media LLC, and will have 24 hours to complete their purchase of the doll. Any dolls which have not been paid for by the deadline will be offered to another randomly selected collector. The dolls are expected to ship by March 15, 2021.