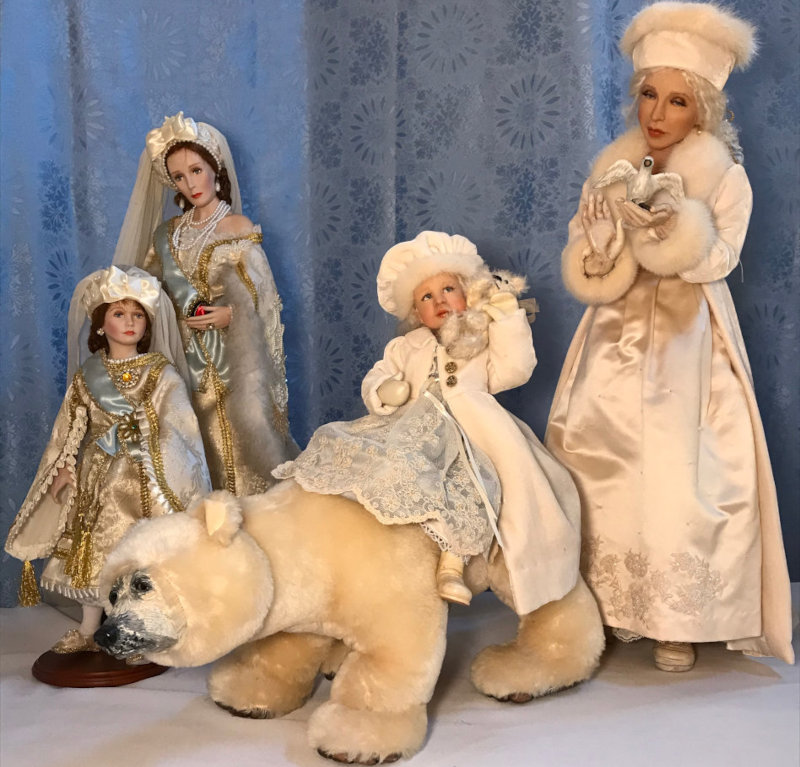 To celebrate National Doll Day (August 1), the Women's Club of Glen Ridge will unveil a selection of their newly acquired collection of fine art and commercial dolls in an exhibition entitled Figures of Fantasy, A Collection of Doll Artistry. The exhibition will run from July 30 through August 1, 2021 at the organization's historic clubhouse in Glen Ridge, New Jersey.
The Figures of Fantasy exhibit includes a display of more than two dozen dolls, a small part of the full collection donated by Women's Club member Dr. Roberta Rubin D'Ull. D'Ull has spent over 35 years collecting these pieces, many by renowned doll artists including Sylvia Weser, Jamie Williamson, Blythe & Snodgrass, Lyle Wong, and Susan McMullen. The figures on display includes dolls of wax, porcelain, and ceramic, with intricately detailed clothing made from fine materials. Women's Club President Sandra Lefkovits said, "Dr. Roberta Rubin D'Ull has endowed the club with a unique collection that simply must be seen to be believed."
The Women's Club plans to bring the dolls back for future events, including at their annual Favorite Doll Tea. The exhibit will be open at the Women's Club of Glen Ridge at 219 Ridgewood Ave on Friday, July 30, from 5 to 8 p.m., and from 11 a.m. to 4 p.m. on Saturday and Sunday. Tickets ($5 per person or $10 per family) may be reserved at womensclubglenridge.com or by calling 973-748-5459. Masks are required for unvaccinated guests.
Serving the community since 1905, the mission of the Women's Club of Glen Ridge is to bring together a diverse group of women in an inclusive environment who, through friendship, volunteerism, education and leadership, engage in civic, social and cultural activities to serve the Club and the greater Glen Ridge community. Find out more at the club website, Facebook page, or Instagram page.