It was the 1970s," Hildegard Günzel reminisces, "and I was determined that my oldest son, Kai, would not grow up with the usual gender stereotypes. I wanted to raise him to be a nurturing, peaceful man."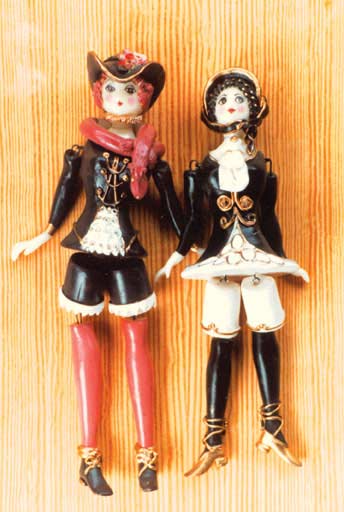 Günzel, who had studied fashion design in Munich, thought that giving Kai a doll would be the perfect start, and she decided to make him one herself. The intention was better than the result. "It was hid­eous," she laughs now, "It actually scared him. He cried when he saw it."
From those inauspicious beginnings almost three decades ago, Günzel has reached the pinnacle of the doll world. Collectors all over the globe covet her museum-quality wax-over-porcelain creations, and her vinyl play dolls are considered among the best designed in the world. Through her seminars and instructional videos, she has taught hundreds of other dollmakers, many of whom went on to illustrious careers of their own.
DOLLS magazine is teaming up with its sister publication Teddy Bear Review to present Günzel with a Jones Publishing Lifetime Achievement Award, to honor her contributions to the collectibles world. (Günzel began making bears in 1995.) The prestigious prize will be presented at a gala banquet, which will take place during the 2003 Doll & Teddy Bear Expo, to be held August 29 to 31 in Wash­ington, D.C.
"The Expo is always a wonderful event," Günzel enthuses, "and getting an award of this magnitude is an incredible honor. I'm so excited and so grateful."
Even though Kai re­jected that first effort, Günzel was never one to back away from a challenge, and she continued to hone her skills. The time was ripe for a new entry into the collectibles world. Children who had lost treasured dolls during World War II were now adults, and they were scouring flea markets and tag sales to find examples of their beloved childhood friends. "I have even read stories of women stumbling across their very own lost dolls, as evidenced by individual imperfections or marks," Günzel says. This burgeoning nostalgia opened the market for reproduction dolls, and Günzel found her delicate creations, which she displayed at frequent Euro­pean expositions and shows, eagerly re­ceived by collectors.
By the 1980s, Günzel had become so accomplished that she was invited by a large German department store to display her dolls there. She had also begun sculpting molds for use by other dollmakers for M. Wanke GmbH. The molds were in great de­mand–partially because Günzel was now engaged in what would become one of the most rewarding aspects of her career, the workshops in which she mentored numerous aspiring doll artists.
In the mid-1980s Günzel brought three dolls to the United States to attend Toy Fair, the giant trade show held yearly in New York City. "I had a tiny room tucked all the way off the beaten path in the Toy Building on Fifth Avenue," she remembers. De­spite the less-than-optimal location, word spread about the delicate beauty of her work, and American toy buyers came to the little room to see for themselves. "I loved the American people," Günzel enthuses. "From that first day they were so open and welcoming. Europeans are much more reserved, so it was a real change for me!"
In the late 1980s Günzel was invited to display her dolls at the German Pavilion of Disney World's Epcot. There she met Franz Götz, the head of the doll company that bears his name. So impressed was Götz by Günzel's dolls that he invited her to design a line of vinyl dolls for him. Because of her contract with M. Wanke GmbH, she had to decline, but the two never lost contact. Every year at the annual Nuremberg Toy Fair their booths were in close proximity, and they delighted in discussing the doll world together.
Later, Günzel worked with Mad­ame Alexander, and when officials at that company decided that they didn't want to export her dolls out of the United States, they granted her permission to work for a European company simultaneously. She was excited to learn that Götz Puppenmanufaktur was interested in developing a vinyl play doll line and that she would have a chance to work with her old friends after all. In 1998 she designed the Kinderland Collection for the company, and the line has been a success ever since. In 2001 the artist began to sculpt high-end collectibles for Götz; the first of these artist dolls were part of a series of romantic young girls, dressed in signature outfits. (Günzel has never forgotten her early training as a fashion designer, and among the most highly praised aspect of her work is her dolls' unique garb.)
"Hildegard's fabrics are always of the highest possible quality, and you'll notice that they are always in lovely pastel colors," says Linda Breler, a Götz executive. "One of her specialties is the outstanding design of her doll shoes. It took us quite a while to find a craftsman who could reproduce her exquisite shoes for us."
Günzel visits the Götz factory several times a year and is involved in every step of the production process. Günzel's agreement with Götz leaves her ample time to work on dolls for her own company, Puppenmanufaktur Hildegard Günzel.
"The main appeal of Hildegard's dolls is that every one tells a story or relates to a specific theme," says Karen Richardson of Houston, Texas, who owns several of Günzel's creations. "They're not simply 'pretty' dolls. It goes far beyond that."
Valerie Sexton, a collector from Elmont, New York, agrees. "Of course these are gorgeous dolls," she states. "And everyone can tell you that Hilde­gard's clothing designs are simply the best. But it's really the personality of each individual doll that makes them so irresistible. There is a sweetness that shines right through.
"I met Hildegard earlier this year," Sexton continues, "and do you know what I realized then? Her dolls are created in her own image! She is incredibly sweet, and she has that childlike sense of joy–the same as her dolls!"
Louis Camilleri, the proprietor of Dear Little Dollies in Bellmore, New York, also attests to Günzel's sunny personality. "We had a signing scheduled at the store, and the day Hildegard flew in for it, a blizzard blanketed the entire area," he explains. "She insisted on carrying on with the event anyway. She is one of the most gracious and dedicated people I've ever had the pleasure of meeting. You wouldn't think many people would turn up at a doll signing in a raging blizzard, but Hildegard's collectors are so passionate that we still had an amazing turn-out."
Thomas Boland, a well-known figure in the doll world, sums things up nicely: "I have worked with some truly great artists, but Hildegard is one of the greatest. She combines creative talent and artistry with people skills and business skills. It's an unbeatable combination. No one deserves a lifetime achievement award more than she does."