For more than 40 years, Barbie has embodied a world of infinite possibilities, of countless choices. Whe­­ther decked out in blue jeans or a navy power suit, starched lab coat or a lacy tutu, the curvaceous trendsetter has always looked spec­tacular while leaping over her play­ful competition. It's not sur­prising, then, that the pony­tailed teen, who has been a candy stri­per, a veterinarian and a NASA astronaut, has or­bited into a billion-doll­ar collectible giant. Bar­bie has had a tremendous im­pact on our pop culture, our lan­guage and our art, but we–the contemporary collectors of Amer­ica–have likewise had an effect on the Mattel mascot.
The influence of the present- day United States on Barbie is quite striking in the 2002 line. True, Malibu Barbie, a re-creation of the 1971 long-legged, sun-kissed, bux­om Cal­ifornia blonde, is back, but in her current incarnation she is wisely accompanied by a bottle of SPF-30 sunscreen. This L.A. lass may spend her days lounging on a yellow beach blanket, clad in a clinging aqua bathing suit, with pink specs perched on her head, but she's smart enough to face down the rays and plan for a healthy fut­ure. It may not seem like much, but that little bottle symbolizes Barbie's and Mattel's awakening to new rules and changing ideals.
Rather than sending out a treadmill of Stepford Wife-like Barbies–one blue-eyed party-dress wearing blonde after another– Mattel has wised up to the fact that the American woman comes in all shapes, sizes, colors and dimensions. There are blondes, brunettes, redheads, Caucasians, Af­rican Americans, Egyptians, Hispanics and Asians in this year's launch. And there is also Kayla, identified by Mattel as "a multiethnic combination of races and nationalities. She is whatever a girl wants to see in it." Kayla is a beautiful rendering of what the all-American girl is evolving toward: a lovely mosaic of the best this country has to offer.
"This doll is really grounded in reality," says Karen Kirschbaum, a children's book editor who has worked with the Barbie character in chapter books, coloring books and activity games. "More and more, little girls are going to the playground or they're standing with classmates in their schoolyards and they're meet­ing children who are of mixed heritage. They're making friends with children who have incredible dark eyes and olive skin and silky long reddish hair, and you can't immediately say, 'Oh, that child is Irish or German or Italian.' You can't make a snap judgment. You have to get to know the child and her family, and learn about her background. That is a great thing."
Today's collectors seem open to embracing all shades of glam­our. The modern mar­ketplace isn't all black and white, like the original 1959 Barbie swim­suit. Nowadays there are var­ia­tions and gradations. DOLLS magazine recently in­ter­view­ed several collectors and re­tail­ers about which new editions are the most desired, the most delectable, the most wanted. The an­swers are as diverse and dynamic as this year's line.
According to Judene Han­sen, proprietor of Dream Dolls Gallery, in West Palm Beach, Flor­ida, "Everybody wants to get their hands on 'All That Gli­tters Barbie.' She's part of the Diva Collection, and she is so stunning. Her outfit is abso­lutely trendy and she has so much attitude in her face. She looks just like a winner on an MTV award show. She is just so, so real."
There's that word ag­ain: "real." People want their dolls to be glorious and mesmerizing, but yet somehow real. That's why Han­sen feels "Rad­iant Red­head Barbie" is also a sure bet. "I think this doll represents Bob Mackie returning to his roots. He is a show business designer and he made his reputation doing costumes for TV and stage. He went away from what he does best when he was doing these fantasy interpretations of other coun­­­­tries and other times. His new "Radiant Redhead Barbie" is sophisticated and it really looks like a movie star on the red carpet. She looks like a cross between Rita Hayworth and Nicole Kidman. She's old-fashion­ed Hollywood and she's mod­ern. I know collectors are going to be impressed by her."
The "Radiant Redhead Barbie" does manage to straddle the bygone days of Liz Taylor and the modern days of Liv Tyler. Her costume is so impeccably fash­ioned that you can easily imagine Joan and Melissa Rivers descending upon her to chat, gab and gossip.
Margie Price, a col­l­ector from Louisville, Kentucky, is extremely partial to this russet-haired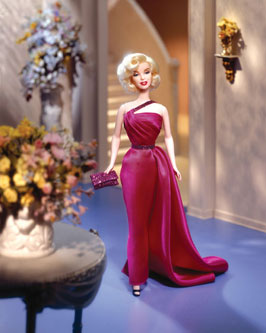 Mackie. "She's a contemporary doll and she's a good-looking doll. I could never fit into any kind of outfit like that. I would never bare my tummy, but it's not outlandish to see her dressed that way. She doesn't have big feathers in her hair or any oversize cape or headdress. She's just elegant and gorgeous.
"The other dolls I like this year are the Maria Therese bride doll and the African American Lingerie Barbie," Price continues. "They're both Silkstone dolls and I can't wait to add them to my collection. I don't keep them in boxes. I tear them out immediately and I try on different clothes. It's like Christmas when they arrive."
Irene Michon, a customer service represen­tative for the Ontario, Canada-based Browns Gallery, seconds Price's enthusiasm. "I have taken so many requests already for the Lingerie Barbie number 4 and number 5. The African American one (number 5) is especially being sought after. She's the first black doll in the Fashion Model Collection, and everyone wants to own the first in a series. Collectors hope that she'll have extra value down the road. She is a beautiful doll, and it's easy to sell her. People see her picture in the catalog and they want her."
A serious doll collector herself, Michon jokes that her paycheck from Browns "just goes right back into the store. I don't think I'm paid in cash. I think I'm paid in Barbies and Genes." She's a recent convert to the Silkstone Fashion Models. "I admit I still like to play with those dolls. I don't just like to have them on a shelf. That's why I like the Silkstone dolls from Mattel. I think they were made with the knowledge that collectors were going to be taking them out and undressing them and putting them into new outfits. That's the thrill of having a doll. I work here in a doll shop and I think I'm good at my job. And that's be­cause I believe in what I'm doing. I couldn't sell Avon or aluminum sid­ing. I wouldn't be able to con­vince you, but dolls are different. I love dolls."
The ardent doll lover recommends the "Country Bound Barbie Fashion" ensemble and the "Con­tinental Holiday Barbie Giftset" as must-haves for 2002. "Customers seem to be going for the Country Bound outfit. I think it's the color and the whole feel of that outfit. It's very pretty and sweet. And the "Continental Holiday Giftset" is a great choice for people who like to play with their dolls and for people who just like to display them on the shelves. It comes in a window box and the doll and her clothing are really nicely shown inside. You can just put it on a shelf and people will comment on it." Of course, Michon would never let it languish for long. She truly believes in the power of playing, an almost magical call to unwrap and unwind!
"There is something whimsical and iconic and timeless about Barbie," says Liz Krenek, a product manager for Barbie Collectibles. "She does have a special place in people's hearts, and that's why we chose to dress her this year as Samantha Stevens from TV's Bewitched."
Krenek, who has fallen under the spell of Barbie, has a Barbie as Wonder Woman on her desk at Mattel headquarters. "Samantha Stevens, Wonder Woman, Barbie–they all seem different on the surface, but they have traits in common. They all represent really strong, identifiable characters. You have a response to them. And it's a positive one." Krenek and her Mattel peers recognized how successful Bewitched had become on Nick at Nite and on TV Land. "After September 11, people have really wanted to return to happier, safer days. Nostalgia, which was big before, has grown even bigger in popularity. That's why we have such a need for dolls like the Lucille Ball or the Marilyn or the Elvis. People want to remember what makes them feel good.
"When we decide to do Barbie in the role of a legend, we have to think long and hard. We want to surprise collectors with what we come up with, but we don't want to shock them. It's got to be a perfect match. Barbie and Samantha seemed made for one another. Samantha was a beautiful, smart, clever woman; she was a witch, but a good witch. Barbie is perfect in that role. She looks great in the costume and she is going to turn TV viewers who have never bought a doll before into first-time buyers."
Now that's what we call magic.