Photos courtesy of Lorella Falconi
Among cinephiles — a fancy-schmancy term for movie lovers — there is always debate about whether a sequel can live up to its prequel's quality. For film buffs, they always point to the "Godfather" trilogies. Some maintaining that number II was just as good, if not better, than the original that kicked off the franchise. (Everyone, however, agrees that III was a "dog." The cast was made an offer to re-assemble, but they should have refused!)
I feel that way as I write this week's post. It is a follow-up — a sequel, in cinematic parlance — to last week's entry. Readers loved that posting and have clamored for more. It makes sense. The dolls, and the versatility, of Lorella Falconi are awe-inspiring. The same way that "Star Wars" fanatics have clocked the arrivals of each and every installment — having to do mind-boggling mathematical calculations to figure out where the movies fit into the canon — Falconi fans really came alive with the look at some of her greatest hits.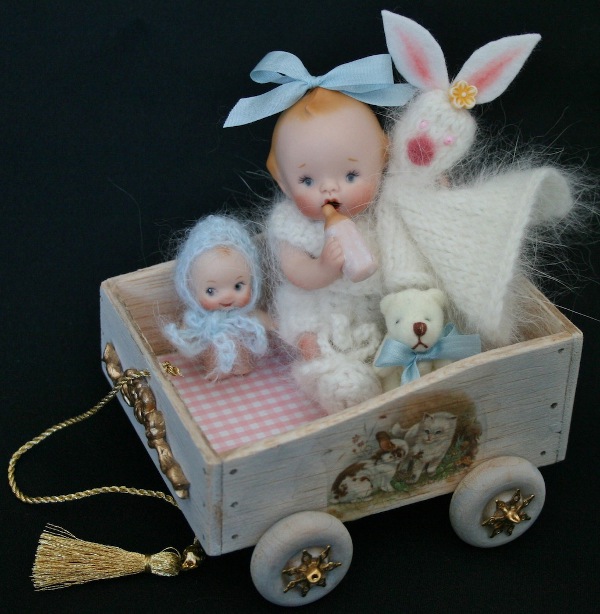 ("Among my favorite lines to work on are my little Lorikins!" Lorella enthused.)
Here, then, are some more photos that didn't make it into print for the big story of her career. A few of these were in the layout, but most have been "languishing" and waiting for their triumphant return! These dolls are certainly ready for their close-up, as are Lorella's personal and very relatable observations.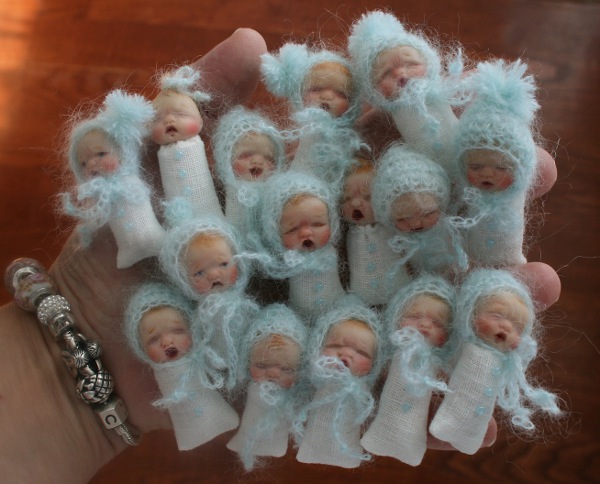 (Lorella Falconi's line of one-of-a-kind little babies made of polymer clay.)
Like many of her doll colleagues, Lorella thrives on feedback and interactions with her customers and collectors: "I like to listen to what my collectors have to say, but in the end it seems that whatever I create seems to evolve into exactly whatever it wants to be. I don't have control over it. I have always found that things work out best when I don't have set plans. It often surprises me when I see what my hands and my mind have decided to do. It's not conscious; it's instinctive."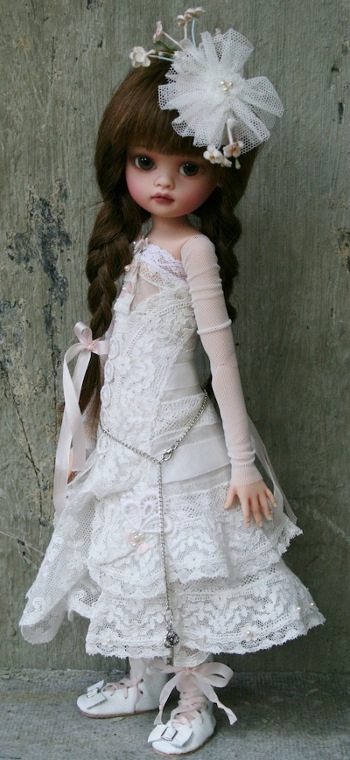 (Ivory Pearl is a OOAK faceup and costume of Lorella's Violet Skye sculpt.)
Since Lorella is so well-known and highly regarded, she has had many occasions to view her work and take stock of what she has created. Her observations of what her offerings represent are an invitation into her mind-set and her sense of purpose. "I would have to describe my dolls as 'antique dolls meet modern dolls.' I think that they are a definite twist between the two," she shared with me. "There was one point where I would accept commissions from collectors. I've found, though, that it is easier and less stressful to create what's in my imagination and then offer it to my collectors. As an artist, I seek to be creative. Doing what is in my mind — even if I am not totally aware of it — allows me to grow as an artist. It permits me to experiment with different ideas. It is a way of working that I have learned to love."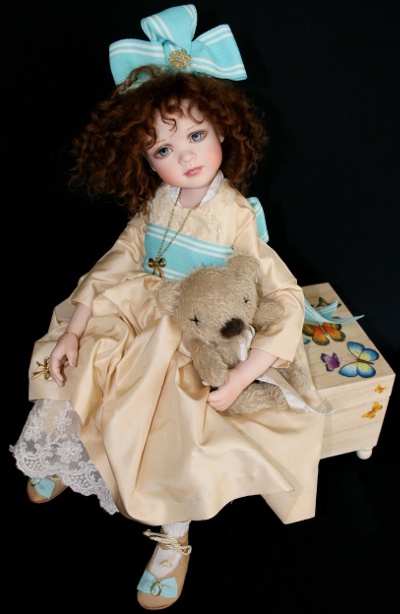 (An example of Lorella's early porcelain work.)
It is quite interesting that Lorella has gravitated to this realm of individual creativity, a free-spiritedness that lets her dig into her subconscious and ushers forth dolls that seem to have a mind and a purpose of their own. Working without a net — doing dolls as the mood envelops her — is a far cry from how she began her artistic career. "When I first started making dolls, I started off making antique reproduction dolls. Everything — from the dolls' china painting to the costumes — had to conform to certain strict rules. Later on, I worked on modern dolls," she revealed to me. "With modern dolls, anything goes! You can let your imagination run wild. When I began to create my own dolls, I combined the two. It changed the course of my artistic life!"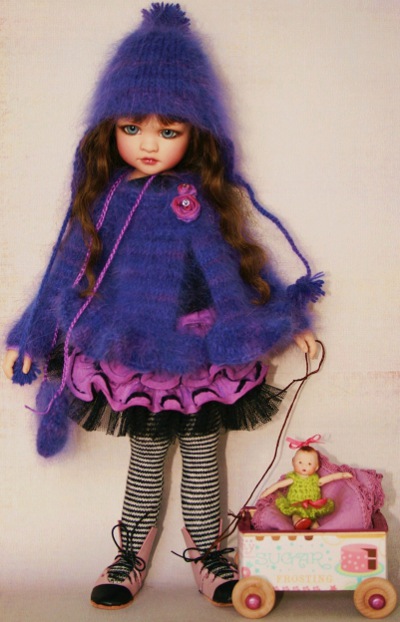 ("I find Iris Blue to be a doll that is stylish and very unique," Lorella shared.)
Like an astronaut who is blasting off into uncharted territory, Lorella hopped aboard this brand-new creative shuttle and let her inner compass guide her into different, unexpected dimensions: "Now you have both worlds coming together, both new and old. In the end, they end up having a certain look about them. That 'look' is my signature style, and that is what makes them unique."

(Amethyst Fairy is a lovely homage to Lorella's ethereal side.)
After living in Italy and resettling in Canada, Lorella had a treasure trove of inspirational material to draw from. She has always responded well to her environmental influences — the personal and the public, the jubilant and the sorrowful. "Living in Pescara, Italy, by the Adriatic Sea, opened my heart and my eyes to the wonders of nature. Living in a city like Toronto, Canada, is the exact opposite," Lorella declared. "I love living in a city. It is different from my childhood home. Toronto is known for its hustle and bustle. Because it is such a large city, it is filled with diverse nationalities and many, many cultures. In Toronto, each heritage is celebrated with different festivals, fairs, and exhibitions. Living there, I have always gotten a lot of inspiration for my dolls. The uniqueness of the city found its way into my dolls."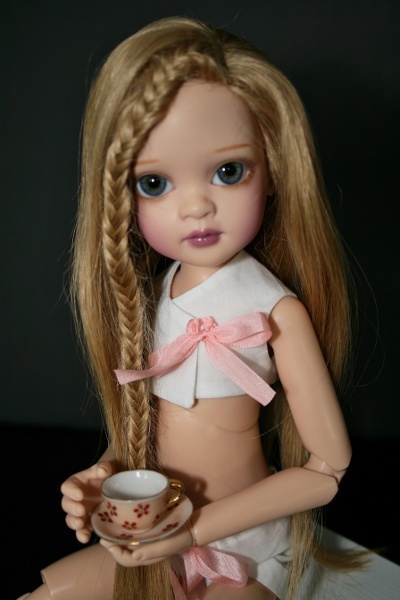 (Solace provided comfort to Lorella during a difficult period in her life. "I hope it can do the same for collectors," she stated.)
The artwork of Lorella Falconi is as meaningful to her as it is to her admirers. This is not just a craft or a business model to her. This is a measurement of her spirit and her psyche: "I see my dolls as an extension of what's in my heart. They truly are an expression of what I feel deep down in my soul. I want my dolls to reflect my love and passion that I have for dolls. I want them to reflect my life."