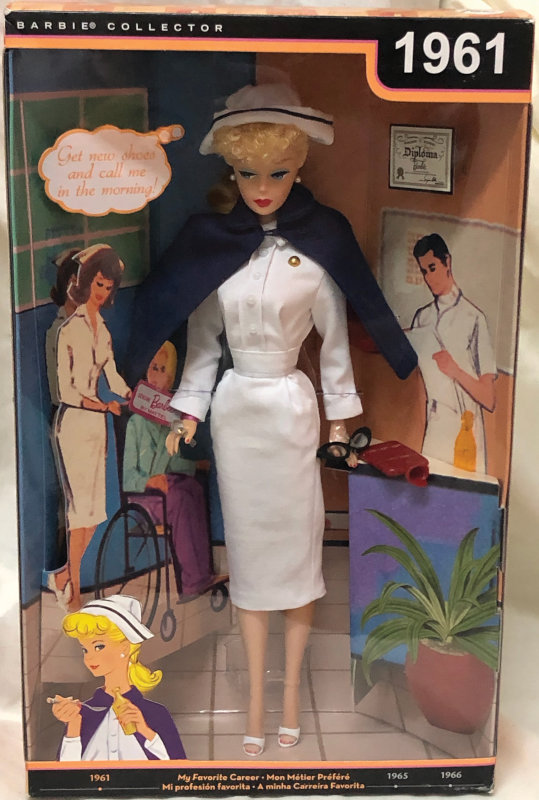 By A. Glenn Mandeville
Q: I am a retired nurse and I remember the original Barbie registered nurse outfit. I learned that a Barbie doll and the outfit had been reissued, but I didn't know it at the time. Fortunately I found one on eBay. I was very pleased with it. There were a few listed, and prices varied considerably. I was wondering if you could comment on this?
A: The original registered nurse outfit for Barbie came out from 1961 to 1963 with the stock number 991 and was issued again in 1964 with stock number 0991. The full outfit is very difficult to find today due to its small parts and pieces, including a metal spoon, hot water bottle, diploma, and black-rimmed glasses. Prices on the original outfit, when mint and complete, can be $150 and up.
This outfit was groundbreaking at the time because it was one of the first Barbie outfits to show that careers were possible for little girls. Remember that Barbie was originally marketed as a "teenage fashion model." The 2009 reproduction of both the doll and registered nurse outfit was not highly promoted nor widely available. Both doll and outfit are among the best of the reproduction Barbies. In checking various sources, including dealer prices and private sales, it seems that the reproduction sells for $150 and up. I am glad you found this doll, as it relates to your career. Thank you for your service and the interesting question!
A. Glenn Mandeville is the author of numerous books on dolls and doll collecting and writes his Curious Collector column for each issue of DOLLS magazine. Send your queries about vintage and modern dolls, with photos, to Curious Collector.
Subscribe now to get access to DOLLS online archive of past issues!