Patis Tesoro is well known in the Philippines for her indigenous fashion designs, and more importantly, for almost single-handedly reviving dying local textile and fashion industries, such as the production of piña and abaca cloths, and natural dyeing. Last July, she added another feather to her cap when she, and business partner Guia Gomez, officially launched "Ninay, The First Filipino Doll."
The Ninay Collection
Ninay, the 51-year old Tesoro explains, is the eponymous heroine of the first Filipino novel, written by Pedro Paterno in the 19th century. "The story is about Ninay, and Ninay has many faces," says Tesoro. "There's Ninay as a baby, as a grown-up and as a grandmother."
The Ninay collection, however, is not just about a single doll. It is a set of 58 tableaus that portray and document the Philippine cultural and social life during the Spanish era, as depicted in the novel. "Our focus, really, is Filipino traditions," says Tesoro. "And what I like about Ninay (the novel), is it really shows the traditions."
This rich heritage is accurately represented in the collection, which includes "Nagsisimba" (Going to Mass), "Santacruzan" (The Procession of the Holy Cross), "Lola Nagno­novena" (Grandmother Praying the Novena), "Panunuyo" (Courtship), "Do­mingo de Ramos" (Palm Sunday), "Pas­kong Filipino" (Filipino Christ­mas), just to name a few.
In addition to the Ninay heroine, the tableaus also feature other types of people who lived in the 19th century, like "Tindera en Dimasalang" (Merchant in Dimasalang), "Almacen de Parian" (A Shop in the Chinese Quarter), "Trabajadora" (Peasant Worker), "Tindera ng Pamaypay at Tsinelas" (Fan and Slipper Vendors), "Burdadora" (The Embroiderer), "La Maestra y su Niña" (The Tutor and her Girl), and "La Mujer de las Flores" (Lady of the Flowers.)
When Tesoro tries to articulate how it all started, she inevitably betrays her passion for dolls, recounting her lifelong romance with them. "When I was a little girl, I was always making rag dolls from the scraps from my mother's dress shop," relates Tesoro.
Her brother, Myk Pamintuan–the project coordinator of Katutubong Filipino Foundation (KFF), a Tesoro brainchild that aims to revive all indigenous aspects "through livelihood, culture, and arts and crafts," bears this out. "As a child, she was always making clothes for dolls," he recalls.
As an adult, Tesoro, the fashion designer, was asked to outfit Snoopy twice. She also designed two series of Filipino Barbie dolls, complete with storylines.
In 1999, while seeking funding from the government for their livelihood programs for KFF–which include revitalizing the piña, abaca and natural dye industries–she met Gomez, who heads the Balikatan sa Kaunlaran Foundation, another organization with similar aims to KFF. Gomez, well connected in the government, was able to help Tesoro re­­ceive $100,000 for KFF's projects.
The beneficial collaboration was only just beginning. The two women discovered that they shared the same passion for dolls. Gomez, who was already exporting angel dolls, confided to Tesoro that her dream was to create a genuine Filipino doll. When Tesoro revealed that she had the same vision, it did not take long for the two women to pair up and establish their company, which they named Perfectly Intricate, Incorporated, to pursue their shared objective.
Creating a Cultural Icon
Tesoro and Gomez went to great pains and expense to make the dolls as accurate, realistic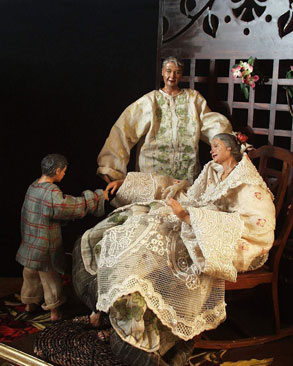 and detailed as possible. The faces and limbs are made of resin using clay molds, while the rest, including the torso, are made of paper, wire and stuffing.
Initially, the two entrepreneurs hired a dollmaker who exported her own dolls to the U.S. market. "The doll was very beautiful, but it wasn't what we wanted," says Tesoro, noting they found the dollmaker's dolls too big, and with features that weren't sufficiently Filipino.
Not about to give up so easily, they commissioned another popular dollmaker, Paulette Cui–who also exported her works to North America–to make the dolls. Cui hired two sculptors from a nearby province to create the molds. This time around Tesoro and Gomez were pleased with the output and they gave the nod to the production of 20 clay molds, including ten heads.
For what Tesoro calls the "first edition" of the Ninay line, 160 dolls were made (20- to 22-inch "adult" and eight- to 12-inch "child" dolls); 98 of these dolls were used for the 58 tableaus.
There was still another problem. Tesoro was not satisfied with the expressionless look of the dolls. Seren­dipitously, famous Filipino painter Romulo Galicano dropped by her shop. When she showed him the dolls, Galicano, who shares Tesoro's love for all things Filipino, offered to teach–free of charge–Tesoro's workers how to paint the dolls using oil.
Rich in Filipino Heritage
Tesoro oversees the construction of the tableaus herself since she doesn't yet have a full-time person to supervise production. Tesoro starts with the basic concept, and determines the look of the tableau and the number of dolls to be used in it.
The workers then create the doll parts from the clay molds, and construct the dolls. Next, the dolls are painted and dried. "Oil is not easy," says Tesoro, explaining that it takes a long time to dry (about two to three weeks; even a month, if the weather is humid).
Costuming is the next step in the pro­cess. Tesoro, emphasizing that the dolls are fashion dolls, explains that their outfits are all made using her fabrics, which include jusi, piña, sinamay, t'nalak, abaca, cotton and linen.
Each doll's costume requires about three to four yards of cloth. "We're not scrimping," she stresses. She illustrates this by counting the layers of a doll's saya (skirt); there are seven in all, excluding the bloomers. Indeed, the dresses are miniature versions of Tesoro's works, complete with beadings, embroideries and other embellishments.
After the carpenters have constructed the platforms, everything is assembled. Tesoro says that most of the parts are hand-made and hand-painted. Everything except for the miniature flowers, which are ordered from China, is made in the Philippines.
Pamintuan explains that some of the miniature accessories–like the birds, or the paynetas (ornamental combs of silver with gold coating) are ordered from department stores. When they can't find what they're looking for in Metro Manila, they scour the neighboring provinces.
Prototypes are usu­ally made. "We just want to see," explains Tesoro, "because from theory to actual creating you don't know what will come out. It's like a painting."
Definitely more than a painting, the entire process is a lavish production that employs around 20 workers, and in which a single tableau can take up to two months to finish.
Selling Ninay
"Our marketing is still raw," Tesoro admits. "Since we don't have a store yet, we have exhibitions. We show one-day, one-month exhibitions."
The first of such exhibitions was during the launching. The dolls, which ranged in price from $600 to $3,600, were such a hit that 25 tableaus were sold right there and then. "Collectors appreciate the kind of work put into the pieces and they understand that these are works of art," says Tesoro.
Spurred on by the initial favorable response to the dolls, a new set of Ninay dolls is presently being created, with the launch tentatively set for the early part of 2003.
Tesoro notes that everything is evolving and improving. For the next edition of Ninay, more appropriate materials will be used to replace some fabrics. They will also pay more attention to diversifying the details–like different sets of slippers for the various classes of people represented by the dolls. More affordable tableaus are also part of the future game plan. "May­be more single pieces be­cause sin­gles are less expensive and therefore more af­fordable for a lot more people," Tesoro says.
Doll lovers on tight budgets can buy the mass-market and smaller version called Nenita (small Ninay), which BSKF produces. These dolls–there are more than ten versions of Nenita–are dressed in the same materials as the Ninay collection; the only difference is that they are painted with acrylics instead of oils. Nenita, which costs $50, has been so popular that a male version, still nameless, is already in production.
Ever the visionaries, Tesoro and Gomez conclude that their ultimate dream is to build several doll museums for Filipino children that adults can enjoy as well. "Everybody loves a doll. Even a man would love a doll," Tesoro insists. "There are so many beautiful things to look at and enjoy." Feasting one's eyes on each of the Ninay tab­leaus, one can only agree with her.
For more information about the Ninay tab­leaus, e-mail patisboutique@­pacific.net or call (632) 726-5058.